Many couples are putting off their dreams of having children through Ukrainian sur­rogacy and IVF because of the Covid pandemic. Concerns about closing borders, long quarantines, exit scares and interruptions to the surrogacy processes have caused many intended parents to put their Ukrainian surrogacy journeys on hold.
Covid is not affecting Ukrainian surrogacy. The Corona Virus is not affecting Ukrainian surrogacy. Now is a great time to start.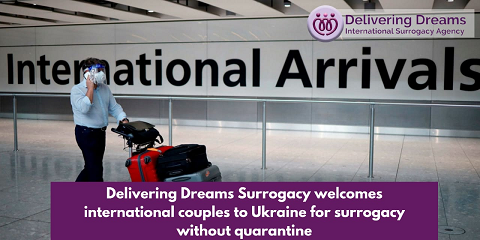 One Can Enter Ukraine With Little To No Quarantine
Recently the Ukrainian government has closed borders for short periods of time, a month in August and again in January. These times are announced in advance so we can plan and make sure you can get in to be at your child's birth.
The Ministry of Health of Ukraine announced that they do not plan on closing the borders in the future.
How can one come to Ukraine for their IVF before Ukrainian surrogacy, or to pick up their newborn child?
Green Zone Countries: Some countries, labeled "Green Zone" countries can enter without any documentation, quarantine, or anything at all. These are countries with lower rates of Corona Virus infection, specifically less than 315 cases per 100,000 people. This list is constantly changing. One can find a list of Red Zone and Green Zone countries and more information on the blog post: Entering Ukraine: Green and Red Zones.
Red Zone Countries: If they are from a country listed in the "Red Zone" fear not. There are two simple ways to enter Ukraine without having to quarantine.
Avoid Quarantine Even When Coming From A Red Zone Country
Ukraine recognizes Covid PCR tests (nose swab) done in other countries. If one has negative test results with the date on the report or results less than 48 hours of their arrival, they have no restrictions all. Getting the timing down to the hour can be stressful, however, we have found that they are somewhat lenient on the timing. Best to strive to have it within the 48 hours of arrival.
Proof of vaccination or an antibody test is not accepted.
Need to jump on a plane and be there for the birth of their child? Testing is too difficult? There is another way. When they enter they can get a COVID test right at the airport. Signage is excellent so they can't miss it. They scan QR code and it brings up all the information in English. They will need to insert their Ukrainian telephone number and the address of the apartment where they will be staying (Delivering Dreams will provide this).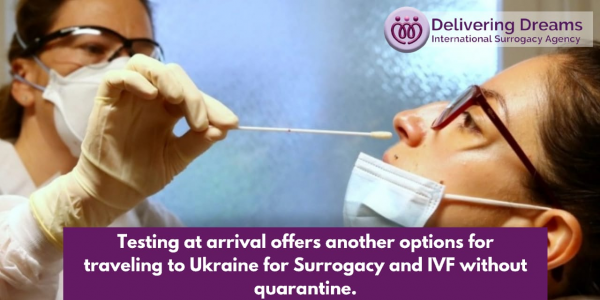 Once they have their sim card with their Ukrainian telephone number, they download an app called VDoma. With this application they are supposed to be quarantined for 24-48 hours until they receive their negative test results from their Covid test by email.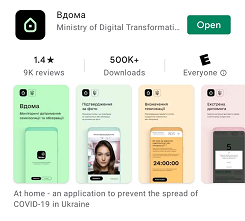 They should arrive at their apartment within 24 hours of arrival and set it up by taking a photo in their home of their face. Strangely, it asks them to turn from side to side and up and down. It has a very helpful funny photo to show them what they are supposed to do! Every 3-4 hours, it will notify them by text to open the app at their home and turn their head this way and that based on the instructions. This app will search them by GPS location to check that they are at home until they get their negative Covid test certificate by email.
We do not understand the head turning bit for monitoring where they are. All it proves is that they have a decent range of motion with their neck. It took some 36 hours to get their certificate, but the program did not shut off, so they ignored it. Even when they returned home, it loves to ping them.
What they need to know is that if they need to leave their home for medical reasons, like visiting fertility clinics, in reality, their surrogacy journey will not be disrupted, and they will not be quarantined.
Covid travel Insurance: To enter Ukraine Covid health insurance is required. It must be purchased from one of several authorized providers before they arrive. It is very inexpensive, costing about 700 UAH per 15 days about $25. Fifteen days it is a minimum term that they can buy this kind of insurance. Here is more information and a link to purchase insurance. Things To Do Before Traveling to Ukraine for Surrogacy During Covid
Now is the time to start. With less people traveling and taking holidays, the cost of visiting Ukraine for delicious food and comfortable accommodations during their stay will make the cost of their Ukrainian surrogacy even more affordable.
Join Delivering Dreams' Facebook group for intended parents considering Ukrainian surrogacy Intended Parents FB Group.
Schedule a call to get to know the Delivering Dreams team and get information for their particular situation: Schedule A Call
Media Contact
Company Name: Delivering Dreams International Surrogacy Agency
Contact Person: Susan Kibler
Email: Send Email
Phone: +1 908 386 3864, +380 32 253-7541
Address:PO Box 36, 55 Main Street
City: Califon
State: NJ 07830
Country: United States
Website: delivering-dreams.com