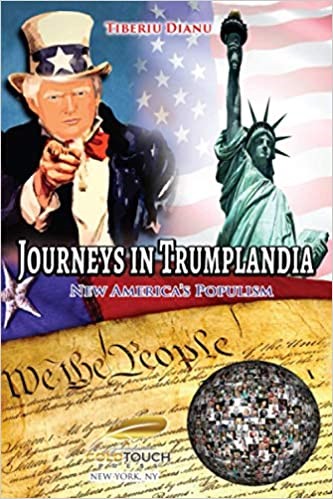 Washington, DC – February 9, 2021 – Tiberiu Dianu, a professor, lawyer and author, is thrilled to announce the release of his new book titled, Journeys in Trumplandia: New America's Populism. Tiberiu is an Amazon bestseller, and a renowned political author – his new book is a collection of essays about the transformation of America. The process emerged before the United States presidential election of 2016 and has been in full swing ever since. The book is now available on Amazon in both Kindle and paperback formats.
Each chapter of Journeys in Trumplandia: New America's Populism contains essays on topics arranged chronologically about various facets of the American nation: elections, the federal government, Trump administration, political parties and their ideologies, society, and foreign affairs. The original dates of writing and updating, respectively, are provided in brackets at the end of each essay for better understanding.
"Trumplandia is a welcome addition toward understanding current events, Washington's international policy, and the present American society; a society polarized and divided as it has not been since the Civil War," said NICHOLAS DIMA, Ph.D., Adjunct Professor, and Research Associate, Nelson Institute, James Madison University, Virginia
ERNESTO MORALES HIZON, Ph.D. Candidate in American and Comparative Politics at Claremont Graduate University, Member, Integrated Bar of the Philippines, while reviewing this book, mentioned: "Indeed, Trumplandia should be a welcome addition to any scholar, student, or layman's library, especially in its international edition. If anyone loses sleep over its challenging assertions, then it will have been well worth it."
This book will serve as the best political book for 2021 and beyond. Since most of the essays deal with controversial issues, they can strike a chord with audiences and thereby provide a more cohesive and dynamic image of what has been going on in America in the past three years. The book has been published in multiple international editions.
To know more about Journeys in Trumplandia: New America's Populism, visit the Amazon book link, Tiberiu Dianu's website, or any of his social media links: Facebook, Twitter, Tumblr.
About the Author
Tiberiu Dianu has practiced law in Romania (as a corporate lawyer, judge, senior counselor at the Ministry of Justice, university professor, and senior legal researcher), and in the United States (as a legal expert for the judiciary). He published several books and a host of articles in law, politics, and post-communist societies. Tiberiu currently lives and works in Washington, DC.
About GOLDTOUCH PRESS, LLC
GOLDTOUCH PRESS, LLC is an established and experienced group of various publishing houses who teamed up to bring their clients accessible and competitive author services.
Media Contact
Company Name: GOLDTOUCH PRESS, LLC
Contact Person: Tiberiu Dianu
Email: Send Email
Phone: 888-404-1388
Address:420 Lexington Avenue, Suite 300
City: New York
State: NY 10170
Country: United States
Website: www.goldtouchpress.com/