DelveInsight's "Multiple Sclerosis Market Insights, Epidemiology, and Market Forecast-2030" report delivers an in-depth understanding of the Multiple Sclerosis, historical and forecasted epidemiology as well as the Multiple Sclerosis market trends in the United States, EU5 (Germany, Spain, Italy, France, and United Kingdom) and Japan.
What is Multiple Sclerosis?
Multiple Sclerosis is an unpredictable, autoimmune disease that affects the central nervous system. In Multiple Sclerosis, the body's immune system produces cells and proteins (antibodies) that attack the fatty substance, myelin, which is responsible for protecting the nerve fibers.
How many people are affected by Multiple Sclerosis?
Multiple Sclerosis (MS) is the most common demyelinating disease seen in high-income countries, and has a heterogeneous prevalence worldwide: it is highest in North America (140/100,000 population) and Europe (108/100,000), and lowest in East Asia (2.2/100,000 population) and sub-Saharan Africa (2.1/100,000).
Assessments by DelveInsight's analysts reveal a higher prevalence of Multiple Sclerosis in the United States.
Among the European five countries, Germany had the highest prevalent population of Multiple Sclerosis, followed by France. On the other hand, Spain had the lowest prevalent population in 2017. Japan had the lowest prevalent population of Multiple Sclerosis.
How will Multiple Sclerosis Market change in upcoming years?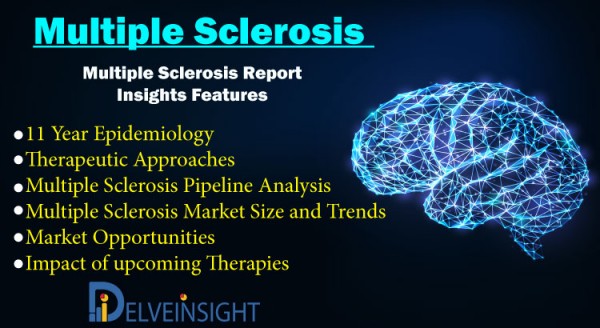 The global therapeutic market of Multiple Sclerosis (MS) was estimated to be USD 23,344 million in 2017. The United States had the highest market size of Multiple Sclerosis in 2017, which accounts for ~71% of the total market.
Multiple Sclerosis (MS) is a multibillion-dollar market, flooded with many potential disease-modifying therapies (DMT), like Copaxone, Tecfidera, Gilenya, Tysabri, Avonex, Aubagio, Lemtrada, Ocrevus, Rebif, Betaseron, Extavia, Plegridy, Fampyra, and Zinbryta. All of these drugs, along with the upcoming therapies, have been considered for our market forecast calculations.
The DMTs used in the treatment of Multiple Sclerosis are mainly segmented into intravenous infusions (Tysabri and Lemtrada), injectables (Avonex, Copaxone, Rebif, Betaseron, Extavia, and Plegridy), and oral therapies (Aubagio, Tecfidera, and Gilenya). Traditionally, the treatment regimen was dominated by injectables and intravenous therapies, but gradually, oral therapies have taken up the majority of the percentage share, leading to becoming the most prescribed therapies.
With six approved DMTs [Avonex, Plegridy, Zinbryta, Fampyra (outside-US), Tysabri, and Tecfidera], it was noted that nearly 80% of Biogen's revenue was generated by the company's Multiple Sclerosis segment, which makes Biogen the strongest player in this market.
Increasing healthcare expenditure, rise in R&D activities, and awareness among patients about the treatment options will support the market growth for Multiple Sclerosis.
DelveInsight forecasts suggest that the launch of upcoming therapies and an increase in the drug-price of already approved therapies shall increase the Multiple Sclerosis market size in the eight pharmaceutical markets during the study period (2017–2030).
For free sample pages, request here @ Multiple Sclerosis market size

Scope of the Report
The report covers the descriptive overview of Multiple Sclerosis, explaining its causes, signs and symptoms, pathophysiology, diagnosis and currently available therapies
Comprehensive insight has been provided into the Multiple Sclerosis epidemiology and treatment in the 7MM
Additionally, an all-inclusive account of both the current and emerging therapies for Multiple Sclerosis are provided, along with the assessment of new therapies, which will have an impact on the current treatment landscape
A detailed review of Multiple Sclerosis market; historical and forecasted is included in the report, covering drug outreach in the 7MM
The report provides an edge while developing business strategies, by understanding trends shaping and driving the global Multiple Sclerosis market
For free sample pages, request here @ Multiple Sclerosis Market Landscape
Media Contact
Company Name: DelveInsight
Contact Person: Priya Maurya
Email: Send Email
Phone: +919650213330
City: Albany
State: New York
Country: United States
Website: https://www.delveinsight.com/