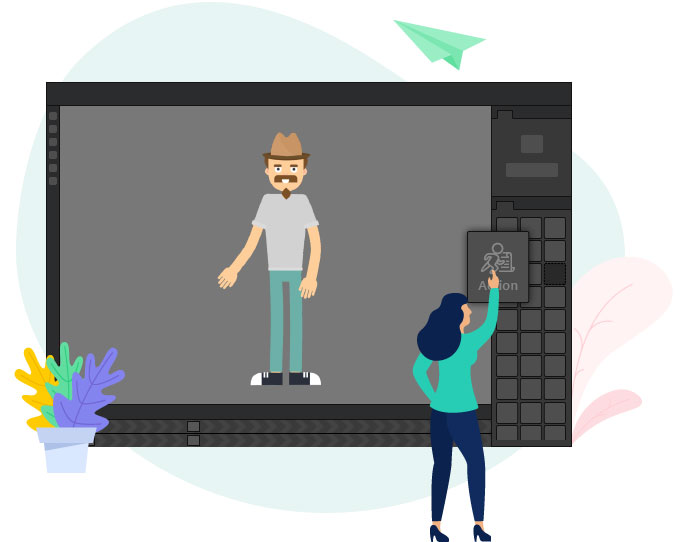 Mango Animate's new software allows designers to use skeletal animation 2D technology for simulating human movements.
Mango Animate's new product, a skeletal animation 2D software, allows anyone to transform an image into an engaging animated character. Mango Animate Character Maker offers users one of the quickest, most effective ways to draw attention to any video instantly. Mango Animate CM is ideal for business, personal, and educational uses alike.
"Our new software is pushing boundaries, and we are confident it will provide significant value to each of our customers, no matter what field they are in," says Winston Zhang, CEO of Mango Animate.
This skeletal animation 2D software allows users to upload their PNG or PSD file and add bones to the image. This way, it will move and operate, mimicking a real human. This powerful bone tool offers easy character rigging, even for those who have never used animation software in the past. For maximum customization, users can manipulate each bone's position and coordinate the timeline to produce a character with fluid movements. Mango Animate CM also provides plenty of premade character templates that come fully rigged and ready to use.
The vast collection of premade bone structures precisely reflect authentic human and animation skeleton structures. These structures can be completely personalized to create the exact movements the user envisions. The skeletal animation 2D software also allows for customization through its massive library of clothing, accessories, facial features, hair, and other decorative items. The options are infinite, so users can build a totally unique character to deliver their messages.
Thanks to Mango Animate CM's advanced premade motion options, users don't have to worry about customizing each bone position. These decorations and movements can be dragged and dropped onto the character for a fast creative process. The skeletal animation 2D software even implements smart IK (Inverse Kinematics) to amplify the logic of each movement, fostering a more trusting relationship between the character and the audience.
Mango Animate CM makes it simple for users to boost their projects with appealing audio. Users can import their own audio files to correspond with their character's movements, allowing for a more comprehensive animation. The skeletal animation 2D software also allows users to build more than one character simultaneously, demonstrating Mango Animate's focus on saving users their valuable time.
To learn more about skeletal animation 2D, please visit Mango Animate.
About Mango Animate
Mango Animate gives users from all environments the tools to develop an exciting and successful animated character. The company's newest release, Mango Animate Character Maker, demonstrates the advanced technology and forward-thinking concepts that are propelling them to the top.
Media Contact
Company Name: Mango Animate Software Co., Ltd.
Contact Person: Paul
Email: Send Email
Phone: +86 020-61972665
Address:Room 1003, 10/F, Tower 1, Lippo Centre, 89 Queensway, Admiralty
City: Hong Kong
Country: HongKong
Website: https://mangoanimate.com/