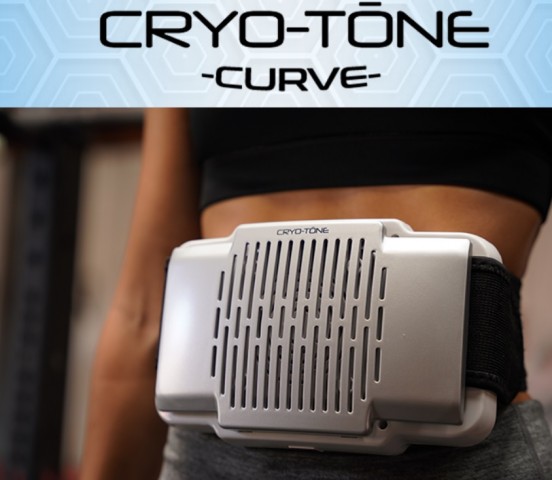 For all the people tired of stubborn body fat, CryoTone Curve will be their new best friend. Designed specifically to freeze unwanted fat, CryoTone uses the similar cryolipolysis process that the cold spa clinics use. With no need to travel out of their houses or pay high prices for professional cryolipolysis treatment, as this amazing device, CryoTone Curve, will give them the same benefits at affordable prices, and in the comfort of their own home.
CryoTone Curve comes with a unique curved design that fits every body type and targets the stubborn fat areas. All this is achieved using the cryolipolysis process, which is also known as fat freezing. Certain bulges in the body consist of fat cells, which may be repellent to exercise and diet but not fat freezing. The entire process of cryolipolysis uses controlled cooling to freeze the fat cells. This doesn't cause any harm to nerves or other cells of the body.
CryoTone Curve is Patented as a result of seven years of research and development. CryoTone Curve is compatible with all body types and can be applied to different body areas including, biceps, belly, love handles, forearms, thighs, etc. It is a unisex device that can be used by men and women alike. This device helps people freeze the unwanted fat. People will now be able to retake control over their bodies using this non-invasive cryotherapy treatment, which is very safe and effective. The large surface plate and curved shape of this device gives a great and comforting experience.
CryoTone Curve recently launched a crowdfunding campaign on Indiegogo. Through this campaign, the makers of CryoTone Curve aimed at raising $10,000, but it surpassed its goal with a whopping amount of over $70,000. More than 400 backers contributed to raising over $70,000 so far, beating its funding goal. And the campaign isn't closed yet, so the interested backers still have a chance to pre-order this amazing device in the next few days.
CryoTone Curve is available for $99 through the limited, early bird reward, which is 66% off the retail price of $299. The product is shipped worldwide.
More information about CryoTone Curve and other rewards can be found on its Indiegogo Campaign Page.
Media Contact
Company Name: Cool Slender Inc.
Contact Person: Justine
Email: Send Email
Country: United States
Website: www.indiegogo.com/projects/cryotone-curve-freeze-your-stubborn-fat-at-home