Successful entrepreneur and reality TV star Vicki Gunvalson launches Reality with Vicki, a podcast series to inspire listeners to live an inspired and engaged life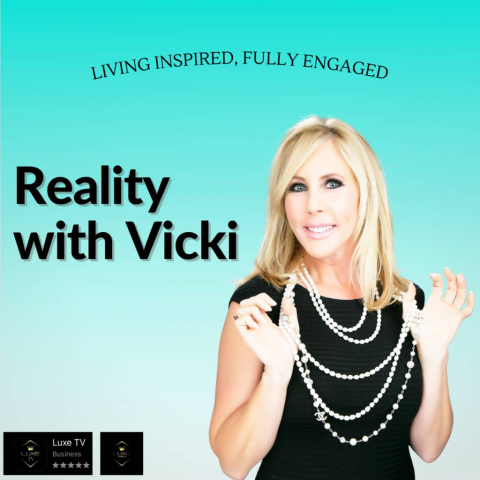 Vicki Gunvalson is referred to as the OG of the OC after 14 successful years of entertaining her fans on The Real Housewives of Orange County. As the founder of Coto Insurance and Financial Services, Inc., and Financial Wellness with Vicki, Vicki inspires people to achieve financial wellness. She recently took this cause a notch higher with the launch of her Reality With Vicki podcast.
Some have described financial illiteracy as a pandemic that has continued to wreak havoc globally for centuries. Studies have revealed that women are often on the receiving end of the problem. Unfortunately, financial literacy and wellness are not subjects in public school, which leaves gaps in knowledge. However, Vicki Gunvalson is looking to change this narrative with the launch of her Reality With Vicki podcast that seeks to educate and guide listeners on achieving financial and overall wellness.
Listeners will leverage Vicki's wealth of experience and expertise as a finance expert and successful entrepreneur to learn how to become financially well. Vicki aims to inspire her audience to have a healthy relationship with money as part of overall wellness in their lives.
The podcast series' launch is particularly timely, considering the effect of the covid-19 pandemic and how it has significantly impacted many people's finances. The series will showcase to listeners how to achieve financial wellness while leveraging skills to attain overall wellness within their lives. This show's guests have inspiring stories that encourage listeners to take steps to live a fully engaged life.
In a related development, the Financial Wellness with Vicki platform will provide several varieties of educational and interactive resources to help listeners learn the basics of financial wellness at their own pace. There is also a supportive private community on Facebook, where members further their financial knowledge under Vicki's expert guidance and interaction.
For more information about Financial Wellness with Vicki and other initiatives from the financial expert, please visit - www.vickigunvalson.com. Financial Wellness with Vicki can also be found across social media, including Facebook and Instagram.
Media Contact
Company Name: Vicki Gunvalson
Contact Person: Analisa Cleland
Email: Send Email
Phone: 720-218-0667
Address:Coto Insurance/Vicki Gunvalson 200 Spectrum Center Dr 150
City: Irvin
State: California 92618
Country: United States
Website: vickigunvalson.com