Guided by a desire to create inspiring and uplifting music, Jason Rylan digs deep into the hardships and curveballs that we all experience. His latest track "Powerless" describes that sense that we all feel at times, where forces greater than us dictate our path. While we are all experiencing turmoil, Rylan believes that the message of faith and that this pain is only temporary will resonate with his listeners.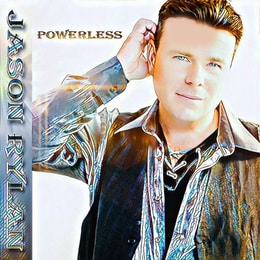 Hailing from California and based in Las Vegas, singer/songwriter Jason Rylan's music has often been described as a blend of EDM, electronic and dance pop. Growing up with musicians for parents, Rylan recalls his parents hanging a microphone above his crib as a child while they practiced music in the garage. From there he gained an interest in visual arts as well as music production, which would lead to working with some of the biggest names in production including Disney and Rolling Stone magazine.
Influenced by numerous bands ranging from Van Halen to Lady Gaga, Rylan's eclectic tastes translate directly to his music, which combines a variety of electronic and rock based genres seamlessly. Having taught himself to play keyboard and guitar by ear, the melodies backed by the deep and powerful vocals of Rylan's voice conveys the pain and meaning behind "Powerless". A commentary on the current global crisis, "Powerless" represents the views of not only the artists affected by global lockdowns, but also those who enjoy and support their music. The current geopolitical landscape has no doubt affected every individual from every walk of life. At the heart of the Covid-19 shutdowns are the live music industry, much of which has all but disappeared from daily life.
And while the message may seem bleak, the main takeaway from the heart-wrenching single is that having faith is important and that this current pain is only temporary. Rylan wants to leave his listeners with a sense of hope and assurance that they will make it through this and be stronger than ever. Set to appear on his latest upcoming album, "Powerless" is just a taste of what to expect next from an artist who has spent his career reinventing himself.
Recorded in Soundmasters of Las Vegas, "Powerless" possesses the clean and polished studio feel with crisp, clean, and encapsulating vocals. The track will hopefully bolster the faith of going through tough times as the United States and virtually all countries around the world experience social and economic strife. Rylan provides an easy outlet to reflect on one's experiences and realize that they are truly not alone. Currently, Rylan and his team are working on a video for "Powerless", but in the meantime learn more about the electric and eclectic music of Jason Rylan at www.jasonrylan.rocks.
Listen to "Powerless" in its haunting entirety at HearNow, or watch the "Powerless" Video on Vimeo.
Media Contact
Company Name: 3000 Records
Contact Person: Terrance Schemansky
Email: Send Email
Phone: 586-480-3000
Address:P.O. Box 285
City: Fenton
State: MI
Country: United States
Website: http://www.jasonrylan.rocks