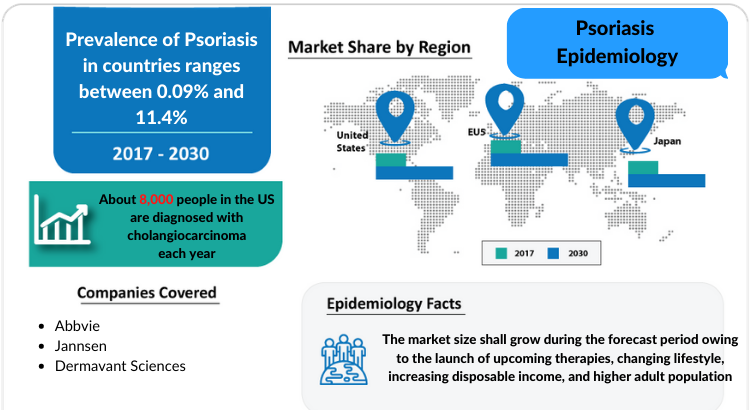 DelveInsight has launched a new report on Psoriasis Epidemiology
Psoriasis is a chronic, immune mediated inflammatory skin disease characterized by the presence of papules and plaques occurring most commonly on the elbows, knees, scalp, and lower back, but is not limited to these areas. Psoriasis has a both pediatric and adult onset with the former accounting for more number of cases. Plaques vary in terms of variable morphology, distribution and severity. Psoriatic patients are frequently categorized into two groups: mild or moderate to severe psoriasis, depending on the clinical severity of the lesions, the percentage of affected body surface area, and patient quality of life.
Request for free sample copy– https://www.delveinsight.com/sample-request/psoriasis-epidemiology-forecast
The Psoriasis Epidemiology Report covers the overview, treatment practice and forecasted epidemiology of Psoriasis Epidemiology from 2020 to 2030
Psoriasis Epidemiology
As per WHO (World Health Organization), Psoriasis is a chronic, noncommunicable, painful, disfiguring and disabling disease for which there is no cure and with great negative impact on patients' quality of life (QoL). It can occur at any age, and is most common in the age group 50–69. The reported prevalence of psoriasis in countries ranges between 0.09% and 11.4%, making psoriasis a serious global problem. The study quoted data on the prevalence in the United States from the National Health and Nutrition Examination Survey, indicating an increase in prevalence from 1.62% to 3.10% from 2004 to 2010.
Key facts of Psoriasis Epidemiology
The National Psoriasis Foundation (NPF) estimates that approximately 8 million Americans are affected by psoriasis, resulting in a prevalence of 2–4% in the United States, according to population-based estimates.
According to a research study by Mease et al, up to 40 % of patients with psoriasis go on to develop PsA, usually within 5-10 years of cutaneous disease onset.
According to a study by Lizuka (2008), psoriasis vulgaris represents 90% of cases, psoriasis arthropathica around 4%, followed by guttate type psoriasis (3%), psoriatic erythroderma (1%), and generalized pustular psoriasis (1%) in Japan.
Psoriasis Epidemiology Segmentation
Prevalence of Psoriasis in Pediatrics in the 7MM [2018–2030]
Type-specific prevalent case of Psoriasis in the 7MM [2018–2030]
Severity-specific prevalent cases of Psoriasis in the 7MM [2018–2030]
Location-specific prevalent cases of Psoriasis in the 7MM [2018–2030]
Prevalence of Psoriasis in Adults in the 7MM [2018–2030]
Psoriasis Epidemiology Report Scope
The Psoriasis report covers a detailed overview explaining its causes, symptoms, classification, pathophysiology, diagnosis and treatment patterns
The Psoriasis Epidemiology Report and Model provide an overview of the risk factors and global trends of Psoriasis in the seven major markets (7MM:US, France, Germany, Italy, Spain, UK, and Japan)
The report provides insight about the historical and forecasted patient pool of Psoriasis in seven major markets covering the United States, EU5 (Germany, Spain, France, Italy, UK), and Japan
The report helps to recognize the growth opportunities in the 7MM with respect to the patient population
The report assesses the disease risk and burden and highlights the unmet needs of Psoriasis
The report provides the segmentation of the Psoriasis epidemiology
Request for free sample copy– https://www.delveinsight.com/sample-request/psoriasis-epidemiology-forecast
Table of content
1. Key Insights
2. Executive Summary of Psoriasis
3. Psoriasis: Disease Background and Overview
4. Patient Journey
5. Epidemiology and Patient Population
6. Treatment Algorithm, Current Treatment, and Medical Practices
7. KOL Views
8. Unmet Needs
9. Appendix
10. DelveInsight Capabilities
11. Disclaimer
12. About DelveInsight
What are the reasons to buy?
Develop business strategies by understanding the trends shaping and driving the global Psoriasis market
Quantify patient populations in the global Psoriasis market to improve product design, pricing, and launch plans
Organize sales and marketing efforts by identifying the age groups and sex that present the best opportunities for Psoriasis therapeutics in each of the markets covered
Understand the magnitude of Psoriasis population by its epidemiology
The Psoriasis Epidemiology Model developed by DelveInsight is easy to navigate, interactive with dashboards, and epidemiology based with transparent and consistent methodologies. Moreover, the model supports data presented in the report and showcases disease trends over 11-year forecast period using reputable sources
Related Reports
Media Contact
Company Name: DelveInsight Business Research LLP
Contact Person: Yash Bhardwaj
Email: Send Email
Phone: +919650213330
Address:304 S. Jones Blvd #2432
City: Las Vegas
State: NV
Country: United States
Website: https://www.delveinsight.com/