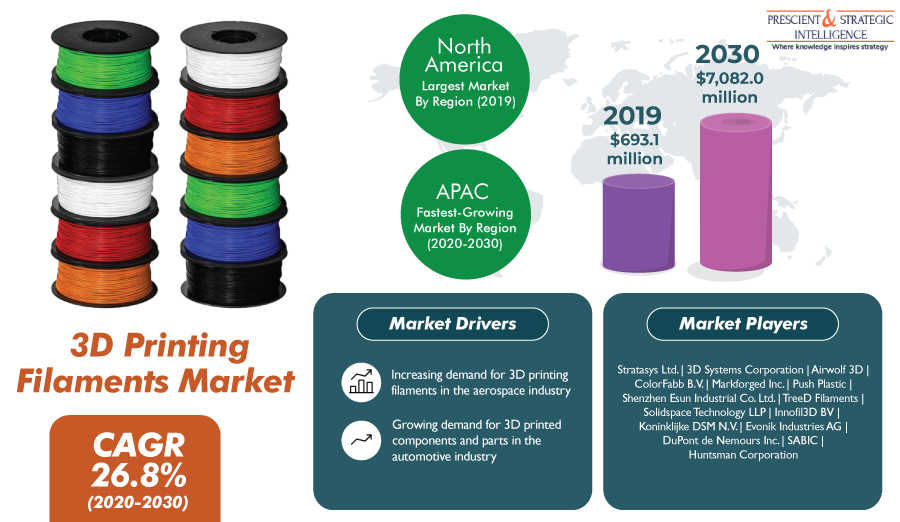 The global 3D printing filament market is predicted to generate a revenue of $7,082.0 million by 2030.
As per a report by P&S Intelligence, the global 3D printing filament market is expected to witness a robust growth, 26.8% CAGR, during the time period 2020–2030, and is predicted to generate a revenue of $7,082.0 million by 2030. The market is being driven by the growing utilization of 3D-printed components in end-use industries, majorly in automotive and aerospace & defense industries. Companies in these industries are further making investments for technological innovations, so that they can incorporate the technology with the existing machinery.
In terms of application, the 3D printing filament market is divided into automotive, industries, aerospace & defense, healthcare, consumer goods and others. Out of these, the aerospace & defense division is predicted to account for the largest value share of the market in the years to come, which can be ascribed to the rapidly growing aviation sector. This has resulted in the increasing utilization of 3D printing technology, due to its effectiveness when it comes to the production of different aircraft components.
Download report sample at: https://www.psmarketresearch.com/market-analysis/3d-printing-filaments-market/report-sample
Other than this, the consumer goods division is projected to register the highest CAGR in the near future. This is owing to the fact that the consumer goods is a swiftly growing industry and needs to develop new products in a short period of time. As 3D printing technology reduces research & development time and decreases the dependence on raw material suppliers, its adoption in the consumer goods industry is projected to increase considerably in the coming years.
Based on geography, the Asia-Pacific region is predicted to register the fastest growth in the coming years in the 3D printing filament market. This is because of the rising manufacturing operations in the region, particularly in China, and increasing government support for utilizing latest technology. In addition to this, the presence of major companies and rapidly expanding healthcare industry in the regions are also expected to contribute to the rising demand for 3D filaments in APAC.
Browse full report at: https://www.psmarketresearch.com/market-analysis/3d-printing-filaments-market
The major companies operating in the 3D printing filament market include3D Systems Corporation, Stratasys Ltd., Airwolf 3D, ColorFabb B.V., Push Plastic, Shenzhen Esun Industrial Co. Ltd., Markforged Inc., TreeD Filaments, Solidspace Technology LLP, Koninklijke DSM N.V., Innofil3D BV, Evonik Industries AG, SABIC, DuPont de Nemours Inc., and Huntsman Corporation.
Market Size Breakdown by Segment
By Type
Plastics
Polylactic acid
Acrylonitrile butadiene styrene
Polyethylene terephthalate glycol
Acrylonitrile styrene acrylate
Metals
Ceramics
By Application
Industrial
Aerospace and Defense
Automotive
Consumer Goods
Healthcare
Geographical Analysis
North America
Europe

Germany
U.K.
France
Italy

Asia-Pacific

China
Japan
Australia
South Korea

Rest of World

Brazil
Mexico
Saudi Arabia
U.A.E.
Media Contact
Company Name: P&S Intelligence
Contact Person: Abhishek
Email: Send Email
Phone: +918887787886
Address:Noida Sector 2
City: Noida
State: UP
Country: India
Website: https://www.psmarketresearch.com/market-analysis/3d-printing-filaments-market