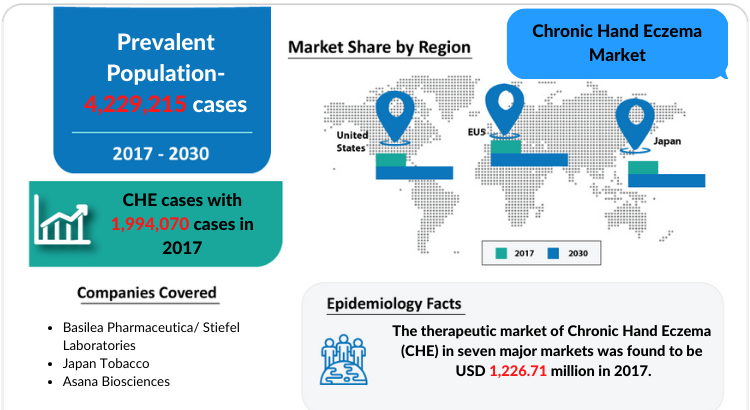 DelveInsight has launched a new report on Chronic Hand Eczema Market
Hand eczema (HE) are non-infectious, inflammatory cutaneous lesions and belongs to the most common skin disorder affecting the hands. In a substantial number of patients, HE can develop into a chronic condition that remain active even after avoidance of contact with potentially damaging allergens and/or irritants. Chronic Hand Eczema (CHE) has been defined as either a long-lasting, relapsing course of HE, or HE unresponsive to standard treatment with emollients and topical corticosteroids for more than 3 months or the recurrence of symptoms two or more times within a year despite treatment. It seems more relevant to define CHE as an anatomoclinic syndrome with multifactorial origin.
The key players elaborated in the Chronic Hand Eczema Market report includes Stiefel Laboratories, Japan Tobacco, Asana Biosciences etc
Download Free Report Sample- https://www.delveinsight.com/sample-request/chronic-hand-eczema-market
Hand eczema is an inflammatory skin disorder, clinically characterized by erythema, infiltration, hyperkeratosis, oedema, and vesicles. Secondary signs may be scaling, hyperkeratotic areas, fissures, erosions, and bacterial infections, chiefly with Staphylococcus aureus. Important symptoms are itching and pain if there are fissures. Erythema, oedema and vesicles are characteristic of acute eczema, whereas infiltration, hyperkeratosis and fissures are seen in chronic eczema.
Chronic Hand Eczema Market Key Companies
Stiefel Laboratories,
Japan Tobacco,
Asana Biosciences etc
Chronic Hand Eczema Market Key Strengths
11 Years Forecast
7MM Coverage
Chronic Hand Eczema Epidemiology Segmentation
Key Cross Competition
Highly Analyzed Market
Drugs Uptake
Browse Report Overview– https://www.delveinsight.com/report-store/bacterial-vaginosis-market
Global Chronic Hand Eczema Treatment Market
As per DelveInsight assessments, the therapeutic market of Chronic Hand Eczema (CHE) in seven major markets was found to be USD 1,226.71 million in 2017. The United States accounts for the largest CHE market size, in comparison to EU5 (the United Kingdom, Germany, Italy, France, and Spain), and Japan.
Among the 5 European countries, Germany had the highest prevalent population of Chronic Hand Eczema, followed by France, the United Kingdom, Italy, and Spain.
Chronic Hand Eczema Market Insights
The treatment of HE must take into account the general principles of treatment of stage-appropriate therapy, disease etiology (atopic, allergic, and irritant), acuteness (acute vs. chronic eczema), morphology (redness, scaling, lichenification, blistering, hyperkeratosis, rhagades, etc.) and location (dorsal aspects of hands, interdigital spaces, palms). Acute HE should be treated quickly and consequently to avoid the development of chronic HE. Topical corticosteroids, together with emollients, are the most effective treatment to control an acute flare of CHE..
Chronic Hand Eczema Geography Covered
The United States
EU5 (Germany, France, Italy, Spain, and the United Kingdom)
Japan
Table of content
1. Key Insights
2. Executive summary
3. Chronic Hand Eczema: Market Overview at a Glance
4. Epidemiology and Market Methodology
5. Organizations
6. Chronic Hand Eczema: Disease Background and Overview
7. Epidemiology and Patient Population
8. Total Prevalent Cases of Chronic Hand Eczema in 7MM
9. United States Epidemiology
10. EU5 Epidemiology
11. Japan Epidemiology
12. Prevention and Treatment of Chronic Hand Eczema
13. Unmet Needs
14. Marketed Drugs
15. Emerging Therapies
16. Chronic Hand Eczema: 7MM Market Analysis
17. United States: Market Outlook
18. EU-5 countries: Market Outlook
19. Japan Market Outlook
20. Reimbursement policies
21. Market Drivers
22. Market Barriers
23. SWOT Analysis
24. Case Report
25. KOL Views
26. Appendix
27. Report Methodology
28. DelveInsight Capabilities
29. Disclaimer
30. About DelveInsight
Enquire about Chronic Hand Eczema Market Report- https://www.delveinsight.com/sample-request/chronic-hand-eczema-market
About Us
DelveInsight is a premier Business Consulting and Market Research firm, focused exclusively on the life science segment. With a wide array of smart end-to-end solutions, the firm helps the global Pharmaceutical, Bio-Tech and Medical devices companies formulate prudent business decisions for improving their performances to stay ahead of the competitors.
CONTACT US:
Shruti Thakur
info@delveinsight.com
+91-9650213330
Media Contact
Company Name: DelveInsight Business Research LLP
Contact Person: Yash Bhardwaj
Email: Send Email
Phone: +919650213330
Address:304 S. Jones Blvd #2432
City: Las Vegas
State: NV
Country: United States
Website: https://www.delveinsight.com/