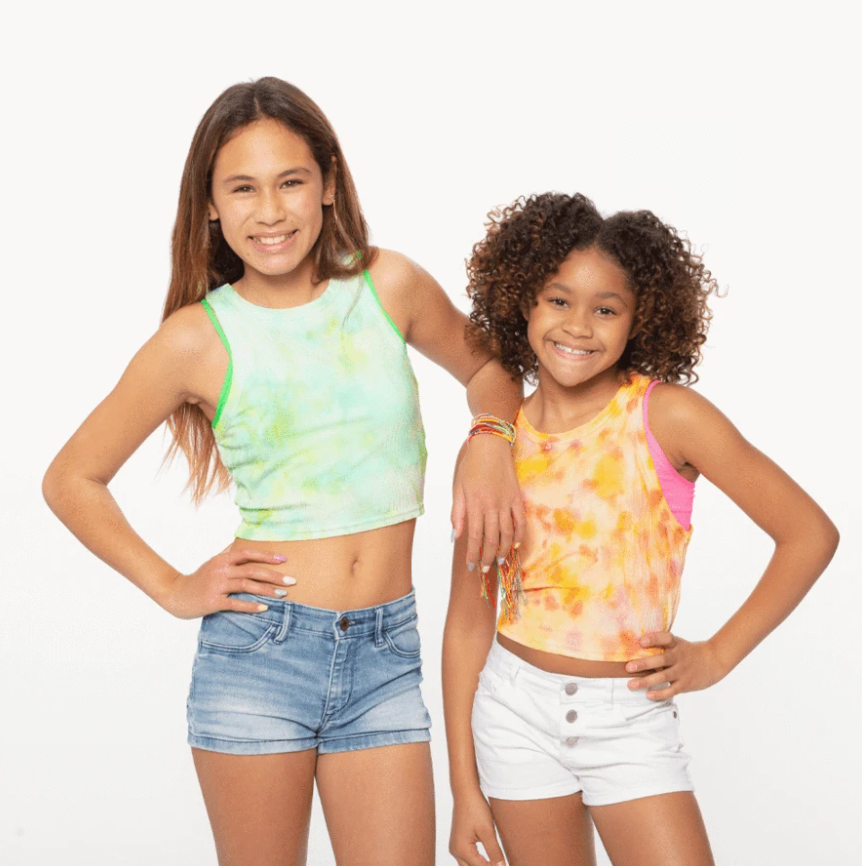 "I am so excited to be working with Jil and Triana of Malibu Sugar to help take Cheery's tie dye to a larger scale. Malibu Sugar helped bring my technicolor dreams to fruition."
New York – March 5, 2021 – Design-centric lifestyle brand and art studio Cheery Designs has collaborated with tween fashion brand Malibu Sugar on a new line of tie dye apparel
The new line features a brand new spring collection of tie dye tank tops in tween and children's sizes

Each piece is hand dyed by Cheery Designs owner Elyssa Dorf, with color pairings ranging from pink and blue, orange and pink, and green and blue

The products will be stocked throughout spring, available to purchase online now and in stores later this month
New York based design studio Cheery Designs has collaborated with tween fashion brand Malibu Sugar on a new line of tie dye apparel. The tank tops are designed by Cheery Designs founder Elyssa Dorf, whose work has previously been spotlighted in Forbes, Thrive Global, and CBS News. As well as designing apparel, Cheery Designs also creates wall art, cards, and home office accessories.
"I am so excited to be working with Jil and Triana of Malibu Sugar to help take Cheery's tie dye to a larger scale. Malibu Sugar helped bring my technicolor dreams to fruition." – Elyssa Dorf, Founder & Creative Director Cheery Designs
The ethos of Cheery Designs was a perfect match for the Southern California inspired line of apparel from Malibu Sugar. With everything being made in the USA, just steps away from the beaches of Malibu California, the brand aims to appeal to girls aged 4-14 with styles that make them feel happy, comfortable and confident.
"We are so excited about our first collab with Cheery Designs and are looking forward to many future collaborations! Elyssa's designs are so in sync with the Malibu Sugar girl! Girls already can't wait to be able to purchase these amazing hand-made tie dye designs which will be shipping to stores later this month." – Jill Garcia, President & CEO Malibu Sugar
New York-born artist and founder Elyssa Dorf established Cheery Designs with a mission to spread cheer, and all prints are designer-inspired, street art style, trend-centric and metropolitan. This line follows her previous collection of tie dye masks introduced as a response to the early days of the pandemic. Products are available to order now by phoning 310.883.8385 or emailing wholesale@malibusugar.com.
If you would like more information about Cheery Designs X Malibu Sugar and to shop the line, visit Malibu Sugar and Cheery Designs.
Cheery Designs is a lifestyle brand and design studio based in New York, stocking apparel, wall art, cards, home office accessories, face masks and more.
Malibu Sugar is a California based clothing brand for children and tweens, with products stocked in more than 500 specialty boutiques across the USA and Canada.
Media Contact
Company Name: Cheery Designs
Contact Person: Hollie Geraghty
Email: Send Email
Country: United States
Website: https://www.cheerydesigns.com/cheeryart.html