A few mainstream carmakers are competing for a space to crack the introduction of electric vehicles in South Africa, but there is one newcomer that is likely to steal the show. Mandrolli is the newest name in the Electric Vehicle automotive space, founded by a women's advocate, Tami Mase in 2018, making this the first EV brand in the automotive industry to be owned by women. Mandrolli Auto is moving forward to produce one of the super-exclusive EV hypercar prototypes in 2021, a rare and exclusive special edition, that will feature Madiba's signature, making it the only car in the world so far to ever apply the world iconic Nelson Mandela's signature on it, an initiative geared to drive electric mobility in Africa.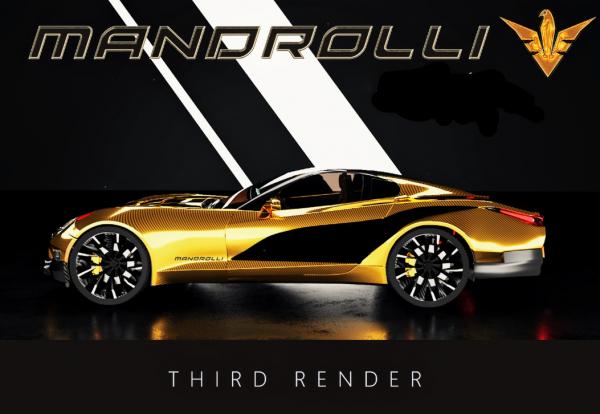 "The automotive industry is more than just dreaming up a car brand, putting all the ideas together and owning Intellectual Property, it requires enormous amount of research, passion, innovation, great partnerships and being an unapologetic trendsetter where digital transformation and electric revolution are concerned", says Tami Mase. "We are blessed to team with Co-Founders Ndileka Mandela, B.Taylor, and their organizations, which give much life to the soul of Mandrolli. Through our partnership we can confidently say we are more ready than ever before to pioneer electric mobility in Africa and to finally drive the empowerment of women and youth agenda home, something that has been particularly extremely close to my heart. I am more excited about the support system from the Eastern Cape Honorable Premier Oscar Mabuyane. The future never seemed brighter for our country, for our continent and for our women," she added.
"To say I'm excited about this ground-breaking initiative is an understatement. Women are breaking barriers and entering spaces they've never been before. This is yet another way of honoring my grandfather, giving hope to the youth and women to take up spaces they've been denied before. I truly look forward to this exciting partnership," echoed Ndileka Mandela.
As the first grandchild of the iconic Nelson Mandela, she is pushing boundaries and taking advantage of spaces that create legacies which outlive multiples of generations.
B. Taylor is a multi-award-winning top charting artist, producer, songwriter, best- selling author, speaker, and humanitarian, who debuted his "We Are One" song/music video February 7th at The NFL's Superbowl LV Pregame featuring ournation's heroes and The World Champion Tampa Buccaneers Organization. He is the first and only hip hop/urban artist/producer ever discovered by members of the first group of Motown, "Smokey and The Miracles" while also been backed and mentored by the other living Motown Legends. B. Taylor is also "A Global Ambassador and Advocate of Entertainment for the U.S. Military, Veterans, First Responders, and their Families" and is a 2018 Capitol Hill "Hillvets Top 100" Awardee as one of the most influential veterans in the U.S.
His new one stop shop state of the art 30,000 sq.ft 1 Life Wellness Center is being renovated in Houston, Texas, and will serve servicemen and women, veterans and first responders. He also debuted his song "We Are One" at The Superbowl LV Sunday PreGame on the Tampa Bay Bucs jumbotron featuring NFL Hall of Famer Terrell Owens and The Tampa Bay Bucs Organization. "I am so honored and blessed to be working with Tami Mase, Ndileka Mandela and the Mandrolli family, It's a dream come true, especially with my educational background in engineering, science, technology, and innovation. What I am doing is for our young black children, women, minorities, my military and veteran comrades that we can achieve anything that we set out to do. I give all thanks to Almighty God," says B. Taylor.
"Having worked very closely with the Mandela family for decades has given me insight to Tata Nelson Mandela's aspirations and dreams. I am very honored for a privileged opportunity to be part of such an innovative and forward-looking initiative that will carry his generational legacy forward", said Sonwabile Ndamase, the Nelson Mandela fashion stylist, inventor of the iconic 'Madiba shirt' and also the head of Mandrolli Lifestyle.
Mandrolli exclusivity hinges on the fact that it was birthed in Nelson Mandela's home Province, Eastern Cape, with all its renders carefully and passionately designed by a young woman from the Eastern Cape, Lisa Nkanyuza, with its manufacturing plant set to be established in the Eastern Cape. Mandrolli is not just about car manufacturing but about getting our women and youth into the scarce skills industries and helping them hone and own skills of the future like engineering, technology, systems architecture, digital transformation. Mandrolli strategy strives to be inclusive in this hardwired automotive space.
For more information on the brand, visit www.mandrolli.com.
ABOUT MANDROLLI AUTO (PTY) LTD
Mandrolli is an innovative Electric Vehicle Start-up that is set to drive Electric mobility pioneering in Africa. It plans to disrupt and shake the Automotive industry by defying the laws of physics and advocating green manufacturing including 100% mushroom leather, carbon fibre exterior and hybrid power harvesting technologies, driving electric mobility right into the future. The company has plans to unveil more innovative features and products soon, bent on keeping its consumers on their toes for the next big thing.
Media Contact
Company Name: Pumza Media
Contact Person: Sixishe Liaison
Email: Send Email
Country: United States
Website: www.mandrolli.com