Blue Mind Coworking is excited to announce its soon-to-be-launched co-working office space for today's entrepreneurs, startups, and professionals. Located at 301 Government Center Drive in Wilmington, NC, the formal launch is slated for April 1, 2021.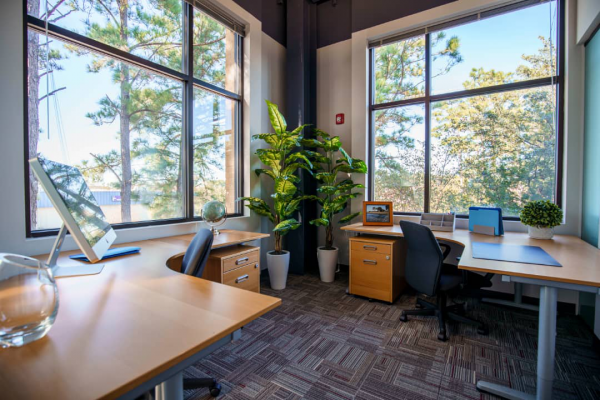 The tagline, 'Work, Create and Collaborate' says it all about Blue Mind Coworking, a name inspired by the rejuvenating effect of water and the positive effects on creativity and productivity when in close proximity. The shared office space is 7,600 sq. ft and hosts 16 enclosed private office, along with dedicated desks and multiple workspace options for coworking.
With health and safety uppermost in everyone's minds, Blue Mind will be managed with Covid-19 precautions in place and enforced. The night janitorial service will execute CDC guidelines issued for offices, along with the use of Squeak cleaning products, who is located right here in Wilmington.
Blue Mind Coworking features every piece of infrastructure and amenities required by today's growing businesses. Members who join can choose from open co–working, dedicated desks or private offices. Other features and amenities include mobile 24/7 keycard access, high-speed internet, and essential services like kitchen, coffee, lounge, multiple conference rooms (including a specially designed virtual presentation studio for video conferencing, podcasts and recording), and conversation booths. Anyone searching for Wilmington NC Coworking or Wilmington NC private offices will find in Blue Mind a complete co-working space and community.
"With more remote workers than ever before, we wanted to create a convenient, affordable, and motivating shared space to support the growing business community of Wilmington, while keeping the health and safety of our members a top priority. By providing a collaborative, inspiring place to work, and access to a wider professional community, we aim to create more jobs and keep talented entrepreneurs and small businesses local," says Michael Donlon, Co-Founder of Blue Mind Coworking, health-tech executive and a former member at Tek Mountain.
For ease of access and networking, along with booking conference room space, an exclusive app allows networking among members and also offers attractive discounts to local partners and businesses, besides featuring events, bookings and directories in which to market a member's business offerings. The co-working space was necessitated because of high demand due to the rise in remote working after the closure of Tek Mountain. The office features several important amenities, such as conference and virtual presentation studio, adjustable desks, a print station, handicap access, and ample free parking. Social and community events can also be held on-site.
More than its strategic location, it is a center for the culture of collaboration and growth that Blue Mind Coworking promotes that make it an exciting and happening place. The real drivers are thus the people who use the space and contribute to its member value. For non-members, day passes, conference room and podcast room rentals will also be available to the public on an as needed basis if not already in use by a member.
Individuals and businesses are welcome to book walking tours to see the facilities first–hand and join as co–working members.

Media Contact
Company Name: Blue Mind Coworking
Contact Person: Julie Donlon
Email: Send Email
Address:301 Government Center Drive
City: Wilmington
State: North Carolina, 28403
Country: United States
Website: bluemindworking.com