Surf Simulator Events Hawaii introduces a new interactive software / hardware system that allows anyone to surf on full sized Virtual Surfboards on dryland while learning how to save our sea life in our polluted oceans worldwide.
The new interactive surfing software also has the ability to integrate real video wave footage so that the person truly feels that are surfing on and in a continuous 20 foot wave tube that is full of ocean trash. The wave can be inter-changed with any go pro wave tube footage.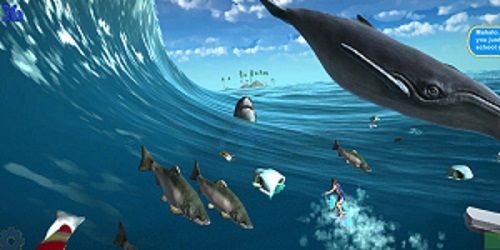 The lightweight / portable surfing simulators created by our company have been proven to be a great system for trade shows, corporate events, promotions and educational events. The system is less than 30 pounds and can be easily set up in 15 minutes using a standard laptop and large monitor – used indoors or outdoors without getting wet.
Our latest ECO SURF GREEN SOFTWARE is the new interactive dryland surf experience that requires balance, core exercise, and physical participation.
The educational, virtual interactive surf game is also being introduced in a kit form by Surf Simulator Events Hawaii. THE PORTABLE SURFING SIMULATOR DRYLAND EXPERIENCE – simplifies the deployment of entertainment events worldwide and eliminates the cost of shipping surfboards to locations. And at the end of the event, the actual surfboard can be removed from the electronic sensor platform and can be given away as a prize or kept for future use.
More than 25 years ago, the company received its first patent and then introduced the world's first electronic, waterless, surfboard simulator system for dry land. The launch of their new ECO SURF GREEN software series combines the power of successful 3D gaming. We can customize and quickly brand and change the actual wave footage.
The dueling version allows for two people to bump into each other to collect the most trash in the ocean for points displayed on a leaderboard at any event, trade show exhibit, etc.. Our new miniaturized technology offers a broader, new and exciting entertainment event for any aged guests at retail operations, trade shows, marketing / promotion, restaurants, hotels or exhibit.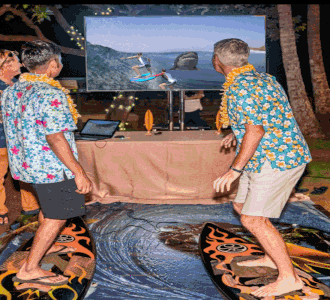 ​Surf Simulator Entertainment Events plans to offer the surfing system as licensed software for entertainment events as well as in a DIY kit form to engage guests at corporate events, trade shows and other promotional activities. Business operators, restaurants, bars and events as well as businesses.
The Surf Simulator Events Hawaii teams have a combined experience of more than 40 years in the software, marketing/advertising and promotions business for over 20 years across the globe from Dubai, Japan as far as South Africa delivering "experiential" events to promote brands and entertain. With team backgrounds coming from Atari, Nintendo, Sega and Nordic track, the group has developed successful, interactive software focused on engaging any age and culture.
Media Contact
Company Name: Surf Simulator Events Hawaii
Contact Person: Paul E. Goo
Email: Send Email
Phone: 808-256-8424
City: Honolulu
State: Hawaii
Country: United States
Website: www.surfsimulatorevents.com