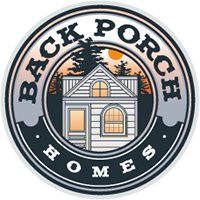 Innovative home solutions provider, Back Porch Homes, set to showcase their flagship project to help provide housing for students facing homelessness
San Bernardino, CA – March 11, 2021 – Back Porch Homes has announced that their El Centro project is near completion. Founded by Stephen McKee and Todd Bayer, two experienced real estate professionals, the company aims to solve the housing crisis in the United States with their unique Tiny Homes solutions. The Lotus Living, Rise Above Resilient Community project is designed to provide 26 tiny homes for some of the Imperial Valley College students experiencing homelessness. This is a further reiteration of the company's position in leading the way to end the housing crisis in America.
Back Porch Homes has delivered all of the 170- square-foot "The Associate" model homes to the site, located at 1998 N. 12th Street in El Centro, Ca. These homes are each fully equipped with a twin-bed, microwave, washer and dryer, refrigerator, HVAC heating and cooling system, and a full-size bathroom. This project is backed by the City of El Centro, in partnership with Imperial Valley College and the College Foundation, with support from Governor Gavin Newsom's Homekey grant program.
When asked about the project, The Founders expressed "We believe if we build enough high quality, affordable homes, no one will ever be without a home again."
This will be one of many projects for Back Porch Homes that focuses on providing comfortable, practical housing to all categories of homeowners. They are aiming to continue to work side-by- side with local city and governments to provide a quality solution for the housing crisis.
For more information about Back Porch Homes, please visit www.backporchhomes.com and follow their social media on Facebook, Instagram, YouTube, and LinkedIn.
About Back Porch Homes
Back Porch Homes was founded by Stephen McKee and Todd Bayer, using their decades of experience in California real estate sales, development, and investing to chart a new course in the housing market. They aim to deliver move-in ready tiny homes that come with simple luxury amenities, while offering an amazing blend of quality and relative affordability in a highly competitive housing market. The different models (The Associate, The Companion, and The Companion+) are the ideal solutions for aging parents, recent college graduates, remote- working professionals, non-profits, and manual/migrant workers.
Media Contact
Company Name: Back Porch Homes
Contact Person: Contact Brandon Bell
Email: Send Email
Phone: (951) 394-1844
Address:328 S. Mountain View Ave
City: San Bernardino
State: CA 92408
Country: United States
Website: https://www.backporchhomes.com/