Kitten Kay Sera, The Pinkest Person in the World just released her new musical short film "Pink Universe", being born into a very musical family with a band and rehearsed in the living room, she found her own style and made her life all-pink in 1980 and it changed her entire life. She has gone from doing music exclusively to being featured in TV and film. So, besides being a recording artist, she also wears many pink hats! She has a YouTube channel where she creates fun videos and is also a character actress, TV personality, influencer, and dog mom.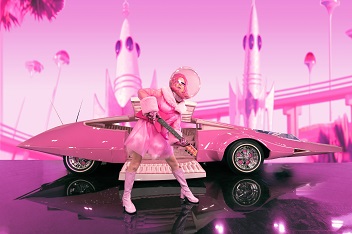 Directed by Kelly Kidd & written by Kitten Kay Sera and Kelly Kidd, photo by Jordan Ring, Pink Universe is sort of a fantasy and a bio of her own life. She is also known as The Pink Lady for Hollywood and is accepting interviews on all media platforms. As seen on NBC LA, New York Post and so many more.
Kitten is not only a monochromatic (someone who only wears one color), she is a talented recording artist and TV personality who lives in a pink palace in Hollywood.
Kitten Kay Sera says of her new film "I wanted people to feel what I feel and invite them into my pink world and I thought this was a fun way to do it! I was inspired by the film Barbarella and of course Star Wars! haha!!"
photo by Jordan Ring
pink panther limo in photo with Kitten provided by Galpin Motors is the actual car from the Pink Panther Show that aired in 1970.
Media Contact
Company Name: Kittenkaysera
Contact Person: Kitten Kay Sera
Email: Send Email
Country: United States
Website: https://linktr.ee/kittenkaysera