The ongoing lockdowns have been hard on lovers of dance music and clubbing. DJLiveStudio.com is delivering a remarkable live stream solution, bringing top sets and the club atmosphere to the living room.
Deeply experienced DJ Fred Fisher and technical wizard Dibblebee had a vision of a live DJ studio platform that not only showcased amazing music but also helps capture the community, and feel of dance music that has won such a loyal, growing following. DJLiveStudio.com was born to great success. And not a minute too soon. Fisher and Dibbledee recently celebrated how much the platform, its featured DJs, and high-energy followers have all grown over the last year. Clearly, with global lockdowns and social distancing the appeal and need for a professional and cool DJ live platform has been greater than ever.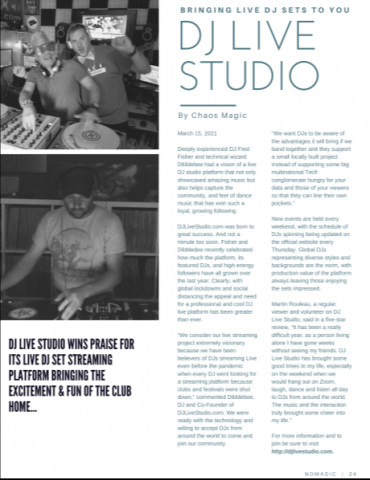 "We consider our live streaming project extremely visionary because we have been believers of DJs streaming LIve even before the pandemic when every DJ went looking for a streaming platform because clubs and festivals were shut down," commented Dibblebee, DJ and Co-Founder of DJLiveStudio.com. "We were ready with the technology and willing to accept DJs from around the world to come and join our community. We want DJs to be aware of the advantages it will bring if we band together and they support a small locally built project instead of supporting some big multinational Tech conglomerate hungry for your data and those of your viewers so that they can line their own pockets."
New events are held every weekend, with the schedule of DJs spinning being updated on the official website every Thursday. Global DJs representing diverse styles and backgrounds are the norm, with production value of the platform always leaving those enjoying the sets impressed.
Martin, a regular viewer and volunteer on DJ Live Studio, said in a five-star review, "It has been a really difficult year, as a person living alone I have gone weeks without seeing my friends. DJ Live Studio has brought some good times to my life, especially on the weekend when we would hang out on Zoom, laugh, dance and listen all day to DJs from around the world. The music and the interaction truly brought some cheer into my life."
For more information and to join be sure to visit http://djlivestudio.com.
Media Contact
Company Name: DJ Live Studio
Contact Person: Media Relations
Email: Send Email
Country: Canada
Website: DJLiveStudio.com