Juanita Hines, a human resources enthusiast and former recruiter is set to host an innovative boot camp to help young professionals and job seekers secure career-powering employment
The renowned consulting firm, Regional Consulting, led by skilled Speaker/HR & Career Optimization Consultant, Juanita Hines is set to celebrate 15 years of business. They have not only had the opportunity to place individuals in the right jobs but have also empowered countless students and professionals with insight on effectively navigating career transitions. Juanita Hines will be launching the powerful 'Job Seekers Boot Camp' to help unemployed and underemployed professional's walkthrough the job-search process. The Boot camp will also help correct some widespread fundamental misconceptions about the recruitment process. The consulting agency prides itself on over 15 years of changing and augmenting lives whether through training or recruiting services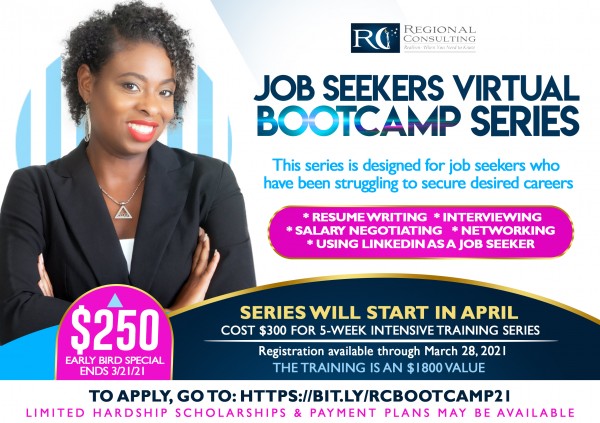 According to research, The National unemployment rate since the Coronavirus pandemic began, spiked to a record high of 14.8 and is currently at 6.3 percent — Trading Economics. While Coronavirus plays a vital part in these statistics, setbacks in the recruitment process have hindered most applicants. This simply means that more people are searching for jobs and it is important for job seekers to learn how to set themselves apart. Regional Consulting seeks to eliminate these setbacks, by equipping job applicants with insight that will help them to optimize their career search and improve the chances at securing their dream job.
The company articulated its mission eloquently in this press statement by Juanita Hines, "As a former recruiter who has had the opportunity to recruit and place across the employment spectrum. I am excited to coach individuals through the job search process from interviewing and resume writing to salary negotiating and using LinkedIn as an Active or Passive Job Seeker through this boot camp.
"We will coach students through how to effectively navigate their transition from high school to college through the professional sector. We pride ourselves on coaching students through effectively transitioning to lucrative post-secondary opportunities."
For more information about the Job Seekers Boot Camp, kindly visit http://bit.ly/RCBootcamp15. Regional Consulting also has a virtual presence on All Social Media Platforms.
About Juanita Hines – Career Optimization Consultant
Juanita Hines is Author of the Amazon Bestselling "Master Your Career Playbook: Resumes" as well as a seasoned Human Resources professional, with more than 15 years of experience within recruiting and training & development. Juanita Hines is one of America's finest Human Resource Enthusiast and she's a devout advocate for diversity and inclusion. She has helped a wide range of professionals secure their careers and within her recruiting tenure, she has provided recruiting support for organizations such as BearingPoint, Booz/Allen/Hamilton, Society of Human Resources Management (SHRM), KPMG, and The United Negro College Fund (UNCF).
Media Contact
Company Name: Regional Consulting
Contact Person: Juanita Hines
Email: Send Email
Phone: (703)731-2371
Address:PO Box 54
City: Fresno
State: TX 77545
Country: United States
Website: www.regionalconsult.com