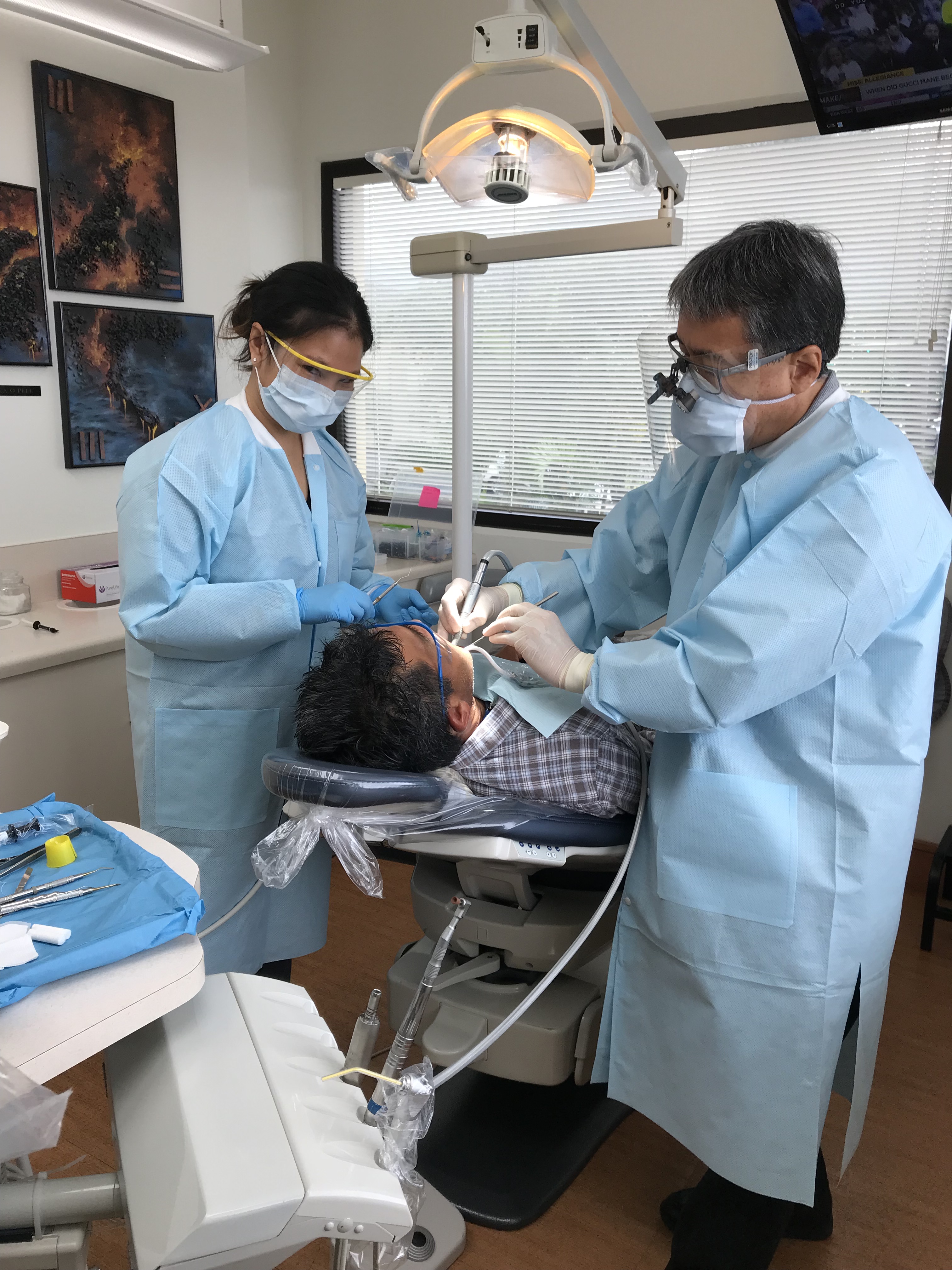 "Wailuku Dentist, Dr. Miyamoto (right) treating a patient with the help of his dental staff at his Maui, Hawaii, practice."
During a recent interview, Dr. Miyamoto in Wailuku, Maui HI, partnered with Doctor Relations to shed light onto a little known dental issue – TMJ or TMD Disorders. He wanted to discuss practical treatment options for those who suffer with this issue, because some people don't realize to look for solutions at the dental office. Yet, some dentists, like Dr. Miyamoto, happen to specialize in creating custom TMJ gear. More than 10 million Americans may be affected by TMJ disorders.
Dr. Michael Miyamoto, dentist from Miyamoto Dental Design Suite in Wailuku, Maui, HI, was recently interviewed on Doctor Relations' health network about TMJ disorders. Known as TMD, this disorder affects the temporomandibular joint. It is the misalignment of the jaw joint.
Learn more about Dr. Miyamoto's practice here https:/MyMauiDentist.com
A report published by the National Institute of Dental and Craniofacial Research recorded that 5-12% of the U.S. population suffers from TMD, which is generally the main origin of jaw pain. Female patients constitute 95% of TMD sufferers. Despite that, only two-thirds of victims seek treatment, mainly because they are not aware of their condition. The accompanying pain in TMD is often confused with simple chronic headaches, but it is a serious condition.
"TMJ disorder in many occasions is considered to be regular headaches, nevertheless, it is wise to seek treatment prior to mandatory surgery. Negligence in getting the accurate treatment for TMD can have very dire consequences. Excessive pain in the jaw joint and muscles responsible for jaw movement and control hinders daily responsibilities and life," said Dr. Miyamoto.
Conditions worsen over time when problems aren't detected at the beginning stages. TMD often starts out with simple headaches. Without treatment, it may lead to chronic jaw pain, recurring headaches and other adverse effects. Dr. Miyamoto offers a free dental consultation with X-rays to help patients begin treatment as early as possible. This service also provides a second opinion for those who have treatment plans suggested by another dentist and would like to get the treatment plan re-evaluated.
At the interview, Dr. Miyamoto said, "Getting TMD diagnosed early is important as it prevents the need for surgery and enables one to start treatment using non-surgical means first."
Dr. Miyamoto, in addition to this, gives 3D X-rays, containing radiation up to 80% less and sedation, which facilitates a relaxed and pain-free dental visit.
"The patient's overall health is important to me, and I want to help with ending headaches and jaw pain before it takes a toll on the whole body," said Dr. Miyamoto. "With the advancement of technology, those suffering from the consequences of TMJ disorder can find a variety of solutions at my office at any stage!"
Dollye P., a patient of Dr. Miyamoto's, talked about her experience: "I've been seeing Dr. Mike for a year for my TMJ/TMD and have always had the best possible experience and care. He was so gentle, and thorough. He was very conscientious about making sure I was numb so I wasn't in pain, which made me so comfortable. Overall, this was the best experience I've ever had with a dentist. Dr. Mike is the best!"
Dr. Miyamoto goes beyond the scope of his dental work in his office and has organized programs for community outreach hand-in-hand with Maui Food Bank such as food drives and other campaigns.
Information about Dr. Miyamoto's practice and services in Wailuku, Maui, and other areas, can be accessed on: https://g.page/r/CXPH3meEbpQfEBA
Media Contact
Company Name: Miyamoto Dental Design Suite
Contact Person: Michael R Miyamoto DDS
Email: Send Email
Phone: (808) 242-7007
Address:1885 Main St #203
City: Wailuku
State: HI
Country: United States
Website: http://mymauidentist.com/