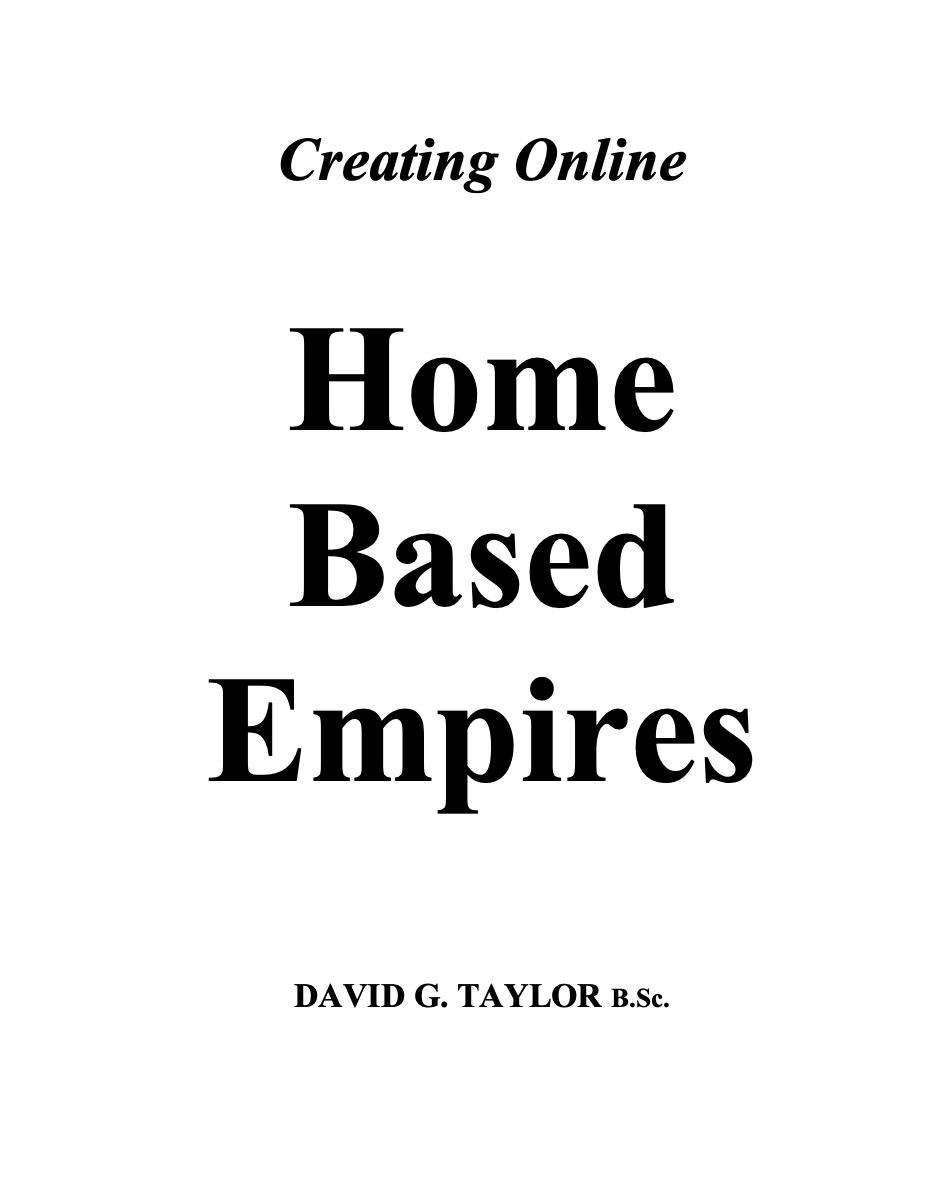 Good news for everyone interested in learning how to start an online business from home, David G. Taylor has launched a thorough guide in the form of a free course designed to teach readers everything about growing an online business and making it profitable for free. The extensive 8 module guide is titled "Home Based Empires" and is available on the Home-Based Empires website – https://homebasedempires.com/.
The phrase "work from home" has never been more popular and sought after than it is now. With the ongoing pandemic still affecting nations and individuals economically, physical businesses have had to reinvent themselves and explore other ways to minimize the inevitable loss that has hit them. While offline businesses have suffered severely, online businesses are booming unsurprisingly. The rules and regulations instated to curb the coronavirus have incidentally caused an increase in remote home shopping and "work from home" activities. Home Based Empires free course could not have come at a better time with more people looking to tap into the online market with assured returns.
Starting an online business is easy for many people, but making it grow into a profitable venture is often more complicated than perceived. It takes time and a well-thought-out strategy to make substantial earnings online, so many people fizzle out and give up before reaching their potential. An entrepreneur needs to learn the right process, the technicalities of the trade, learn how to digitally market one's property, and create strategies that will take one's business ahead of the competition. Through his free course at Home Based Empires, David Taylor teaches an entrepreneur the steps to starting an online business covering a course content that includes:
Hardware and Home Office

Software, Apps, and Browsers

Business Planning

Business Management

Business Marketing

Important Websites and Online Tools

Domains, Hosting and Keywords

Client Management

David is more than just the founder of Home-Based Empires. He has spent 25 impressive years building profitable online businesses. He is also the founder of Cybermark Communications, established in 1996, and is a Google Ads Partner for more than 12 years. David's commitment and business insights have transformed his own businesses into successful profit-making ventures. He has now made it his mission to inspire and teach others how to start small online businesses. Successful entrepreneurs will also benefit from David's new free course where they can learn how to transition from a physical to an online business or grow their existing business online.
Apart from its free course, Home Based Empires also conducts training sessions to educate people about business, especially online business ventures. David often puts together different tools, techniques, and systems that are sure to enhance success for his supporters. With Home Based Empires, he hopes to change lives.
Access the free Home Based Empires course guide here.
Media Contact
Company Name: Home Based Empires
Contact Person: David G. Taylor B.Sc.
Email: Send Email
Address:116 Cambridge St
City: Granville
State: QLD, 4650
Country: Australia
Website: https://homebasedempires.com/