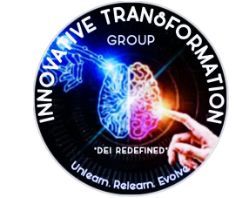 UNLEARN. RELEARN. EVOLVE.
Innovative Transformation Group is a Powerhouse DEI Consultancy committed to Inclusion, Education & Evolution for individuals, companies, campuses & communities.
The creative genesis seed was planted with The Free Your Mind Forum (2005) and The Neuro-Inclusion Group (2017) – and founded by serial entrepreneur/activist Kyle Young (Moncure). In 2021, the "Diversi-Tree" officially grew branches & blossomed to make room for a dynamic group of DEI specialists who are collectively bringing over 100 years of professional experience into the Diversity and Inclusion space.
"We are intentional & excited about our growth. Neuro-ITG is on a mission & will continue to forge meaningful partnerships that expand our reach & take the business of inclusion to the next level. I am proud to announce Jennifer Garcia as Managing Partner & Loki Mulholland as Sr. Consultant in the ITG Family." – KYM, Founder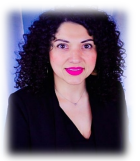 Jennifer Garcia
Former President of the Irving Hispanic Chamber and more than 20 years of corporate & nonprofit experience, Jenn is no stranger to the challenges associated with championing DEI. She joins ITG with passion, excitement & a commitment to making the world a better place, one client at a time.

Loki Mulholland
Emmy-winning filmmaker, author, activist and son of Civil Rights Icon, Joan Trumpauer Mulholland. Loki speaks across the country on issues of race and social justice and is the founder and Executive Director of the JTM Foundation which was created to end racism through education.
KYM – The Founder continues:
"Innovative Transformation Group will offer a robust selection of training programs & workshops that support individuals, teams, managers, educators, communities, colleges, companies & corporations. Our unconventional approach to DEI involves the marriage of Neuroplasticity, Inclusive Communication, Cultural IQ and Cognizance.
"ITG is not just about education; we are also about action, application & transformation. We are re-engineering 'Diversity & Inclusion' from Noun to Verb. As a fresh boutique consultancy, we are offering a free DEI Diagnosis Session to new clients through August 30, 2021. Once goals and objectives are established & training is underway; our team is present & engaged to guide your organization through to successful implementation.
"Our ITG Diversi-Team are knowledgeable professionals who engage with clients in the delivery of neuroinclusive based methodology. Our interactive programs can be delivered anywhere around the world, face-to-face or virtually.
"Neuro/ITG will promote the exploration, education and understanding of Color, Culture, Equity, Bias & Leadership. We cultivate Interactive Inclusion, Open Dialogue, Mutual Respect, Collaboration, Compassion & Competence".
This is consultancy is Innovative Transformation in action… #LetsGrow.
Innovative Transformation Group powered by Neuro-Inclusion, Inc.
www.innovativetransformationgroup.com
#UnlearnRelearnEvolve
Media Contact
Company Name: Neuro-Inclusion Inc. | Innovative Transformation Group
Contact Person: Kyle Young-Moncure-CEO
Email: Send Email
Phone: 214-552-6304
Country: United States
Website: http://www.innovativetransformationgroup.com/