Cambridge, MA – Kirunda Group, a successful real estate investment firm, has offered to mentor young African American entrepreneurs and other people who are struggling financially to help them become more successful. The CEO of the company and real estate guru, Kenny Kirunda, has many years of experience buying and selling houses and making huge profits, and now, he hopes to take others under his wing.
Kirunda Group is offering property investment and financial education through books, seminars, speaking events, and podcasts. They are also working on a four-week master class to teach people real estate investing with high returns.
Young people dealing with financial challenges, especially African American Entrepreneurs, need to understand the importance of investing in the future. But the first step to financial freedom is personal development. Young people must invest in financial education to improve their knowledge of how to build wealth. They need to read books, attend seminars and workshops, and seek expert advice to know the proper steps to take.
Kirunda Group offers top-rated investment education delivered by seasoned experts and professionals in various fields and industries. Entrepreneurs seeking to increase their income can join their monthly mentorship seminar and learn how to go from 0 to millions in assets. Students can also learn by listening to the "Invest in Your Future" podcast by Kirunda Group CEO Kenny Kirunda.
Financial education is the best investment with lifelong rewards and returns. It provides entrepreneurs the right tools and resources to run their own investment portfolio. People who have a solid education in investing make fewer mistakes and increase their earnings quickly. Learning from experts provides investors with an experience they can use to cope with challenges and increase profits.
Kirunda Group was founded by Kenny Kirunda who also happens to be the company's CEO. He grew up in Uganda before moving to Massachusetts at the age of 7. He took interest in basketball and at the same time got a degree, just in case basketball didn't work out. Not having anyone to give him money inspired him to work hard by taking on a number of jobs including working at grocery stores and cleaning people's houses.
After college, he worked at Nova Biomedical as a consumer technical engineer but wasn't satisified with the mundane 9-5. So Kenny started doing a lot of reading and research and that helped him discover his true calling. He eventually got into real estate, growing his company and brand in the past four years. He started his company with a 4-unit apartment building that has grown into a portfolio now consists of 27 buildings in three different states across the US. He is looking to expand into new markets and build it up to 2,950 units.
In line with his desire to help young African-American entrepreneurs succeed, Coach Kenny recommends financial education. This is precisely why Kirunda Group was established. The group has a team of highly trained and experienced staff who are willing to ensure that every participant finds success on their platform.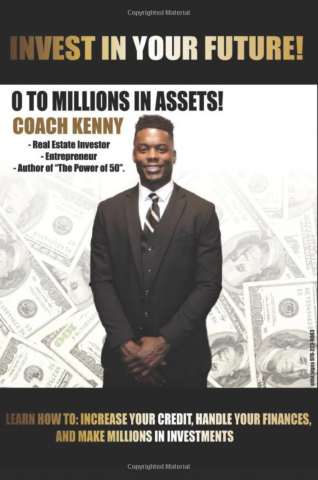 For more information, please www.kirundagroup.com.
Follow Kirunda Group
Facebook: https://www.facebook.com/kirundagroup/
Twitter: https://twitter.com/KirundaGroupKG
LinkedIn: https://www.linkedin.com/in/kirundagroup/
Instagram: https://www.instagram.com/kirunda_group_corp/.
Invest in Your Future Podcast!
By: CEO of Kirunda Group Corporation
Subscribe on: https://anchor.fm/investinyourfuture
YouTube: https://www.youtube.com/watch?v=uncGnunMT4Y&t=7sPD
Media Contact
Company Name: Kirunda Group
Contact Person: Lydia K
Email: Send Email
City: Cambridge
State: MA
Country: United States
Website: http://www.kirundagroup.com