Newly Updated for 2021 eBook contains useful tips and resources that has worked for thousands of people
Shreveport, LA – Marketing expert and entrepreneur coach, Lavell Frost, announces Newly Updated Ebook, "Easy Evergreen Profits" as a free giveaway for a limited time. The book is the ultimate guide for those who're looking for passive income or want to start a profitable online business as a side hustle.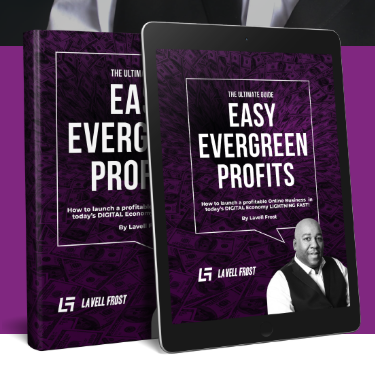 The book is full of wisdom and information for people who're tired of their 9 -5 jobs and need fresh business ideas. It also contains tips and guide for those who already have a business but want to expand or improve it by taking it online.
It took Frost decades to learn the information he's giving out for free in this eBook, which makes him such a generous and forward thinking person, with genuine desire to help others.
So, go download it here now before it's too late.
"No matter what you may have heard and believed before… starting or growing a profitable online business doesn't have to be hard or complex. Matter of fact, it's quite simple and can be achieved very fast. Money loves speed… And that's the key formula! That's why I wrote and updated this book, 'Easy Evergreen Profits', to help anyone looking to launch or grow any online business discover an easier and faster way to scale their business and generate BIG PROFITS almost overnight," said Lavell Frost.
Lavell Frost, aka The Digital CEO is the co-founder of UltimateFunnels.com a Full-Service Digital Media Marketing firm. He also is the creator/founder of LavellFrost.com as well as many other "digital" real estate assets. He has over 20 years of experience running his businesses, both offline and online. Frost has also provided mentorship, advice, and coaching for thousands of people to start a profitable business with little effort, using resources they have at their disposal.
In the internet community, Frost is a highly respected expert, consultant, and speaker in the subjects of sales funnel, digital marketing, and traffic generation through automated systems. He's one of the most powerful voices out there preaching the message of online business and how anyone can do it, using only the resources they have at their disposal.
The "Easy Evergreen Profits" is one of his latest philanthropic ideas to equip people with useful knowledge that can transform their lives. He wants to let people know how easy it is to set up an online business and become successful in doing what they love, by following simple instructions.
For more information, please visit here.
Media Contact
Contact Person: Lavell Frost
Email: Send Email
Phone: 253-881-7452
Country: United States
Website: https://www.lavellfrost.com