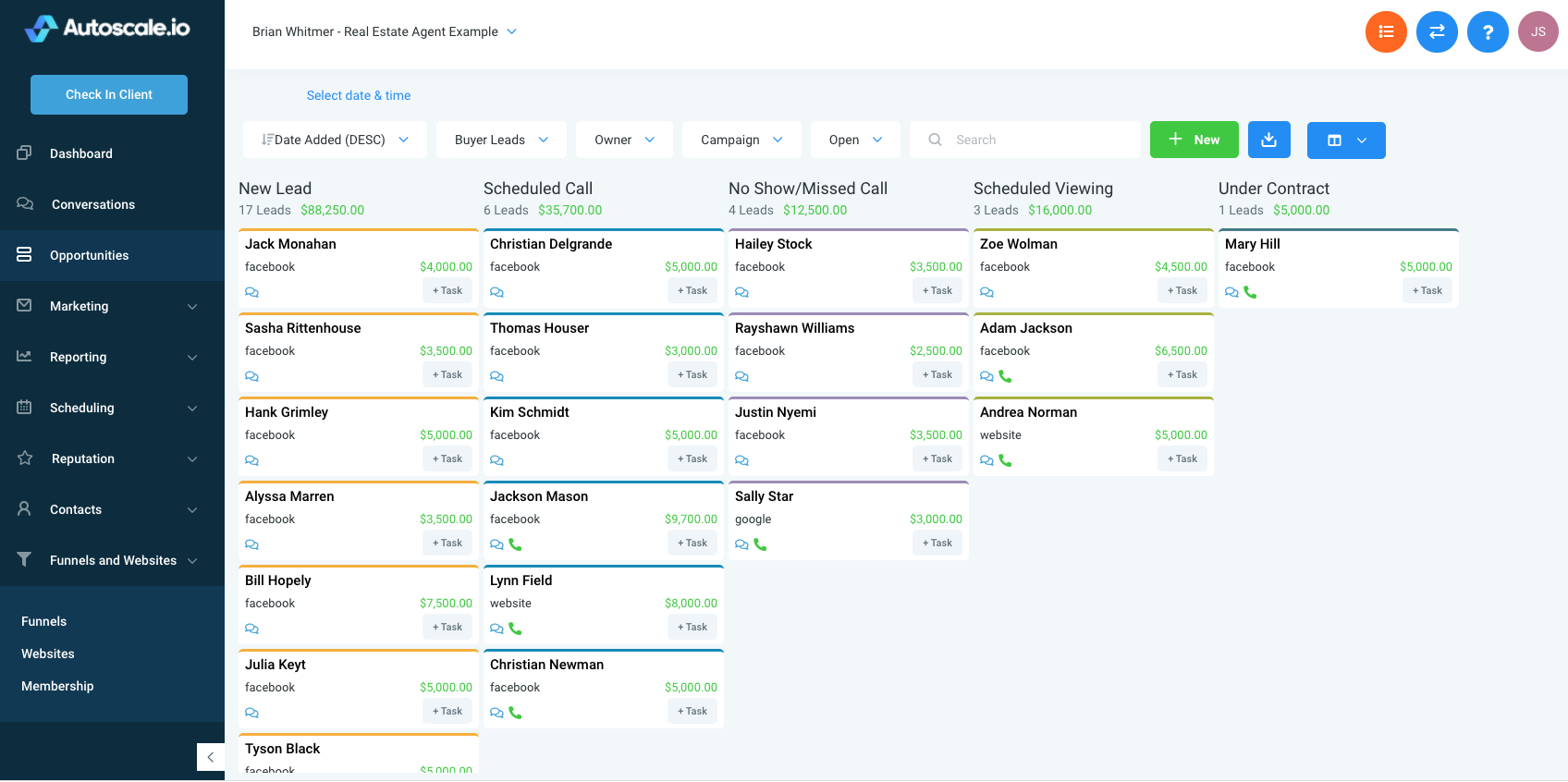 Realtors are doubling and tripling monthly earned commissions by implementing the Autoscale software into their marketing plan. Autoscale automated lead generation, lead qualification and appointment setting. Allowing agents to sit back and relax while they do the heavy lifting.
Over the past 2 years a SAAS startup has slowly started gaining attention, and during the coronavirus pandemic when the housing market boomed, Autoscale took off with it.
CEO Joe Staiber and Co-founder Thomas Bernier saw a common problem within the industry and set out to solve it, and that they did.
So many agents struggle to succeed, in an industry where 10% of agents generate 90% of the deals, there was definitely something going wrong, and after spending tens of thousands on paid advertising, split testing follow up and qualification automations, and working with dozens of agents across the country, Founders Joe Staiber & Thomas Bernier figured out what was causing this massive gap in agents success.
The 10% of agents generating the majority of deals were booking way more qualified appointments than the other 90%, but how?
The answer again boiled down to one simple fact, the 10% implemented new marketing strategies and automations, whereas the 90% were following 50 year old marketing strategies that just simply didn't convert the way they used to.
The days of overpaying for under qualified leads on zillow, competing in house with other agents for the leads your company provides, exhausting your network of friends and family for referrals, and wasting way too much time cold calling/going door to door is over. These are the strategies that once yielded results, and still do, just not anywhere near as effectively as paid advertising.
The problem with paid advertising however is that many try it and fail due to a lack of experience or understanding on how to properly market to a cold audience, and then retarget them effectively to convert leads, however it doesn't stop there. Even if an agent can find a way to generate leads by running ads or paying someone to do it for them, most do not have any systems or processes in place to neither qualify nor nurture that lead until they turn into an appointment on your calendar.
Leads do not equal commissions, appointments do. Joe and Thomas, who at this time each ran marketing agencies, decided to combine forces, and pair their already existing marketing skills with their own custom CRM software that would take the leads they generate and qualify and nurture leads until they booked an appointment. Autoscale was born. The results were better than anyone could've predicted. Agents began seeing their monthly commissions double, triple and for Christian Rowley, one of the first agents to hire Autoscale, saw his commissions quadruple in just 3 months.
According to Autoscale's website, they offer a 3 step proprietary solution. They begin by creating every agent a custom landing page, and running personalized ads on social media platforms such as facebook to find interested buyers and sellers, and traffic them to the landing page built specifically for you. Once that lead enters their information, they're immediately prompted to answer a variety of questions before being able to move forward. Prospects will answer questions such as desired bedrooms/bathrooms, budget, move in/out timeline, whether they are working with an agent, and other questions crucial for the agent to know in order to close that lead.
Once the prospect answers all the questions, they will then be nurtured and followed up with using our automated systems until they literally book a call on your schedule. Autoscale offers not only high quality lead generation, but they also handle lead qualification, lead nurturing, and appointment setting, all without the agent needing to lift a finger.
This allowed agents to stop focusing all their time on prospecting and lead nurturing, and more time closing new deals and finding clients their dream homes.
To succeed as an agent in 2021 means to implement the most up to date marketing and automation strategies that will separate you from the 90%, and allow you to join the 10% of agents that generate 90% of the deals.
To learn more about Autoscale.io, check out their website and book a demo! They are currently offering a guarantee to bring you over 50 leads and 15 Qualified appointments within your first month or they write you a check for $1000.
Media Contact
Company Name: Realtor Incubator
Contact Person: Sarah Mckinnon
Email: Send Email
Phone: 2678887654
Country: United States
Website: https://realtorsincubator.com/