Philippines – Mar 23, 2021 – Unifinity Philippines (UnifinityPH) today announces that their flagship event–VIRTUAL REALITY GLOBAL WOMEN EMPOWERMENT 2021 (GWE2021)–will be rescheduled to June. Due to scheduling constraints of some prestigious speakers, and with the growing demand of attendees, Unifinity has decided that rescheduling the event is the best course of action at this time. This decision was made after consulting with our speakers, partners, and organizing team, to whom Unifinity Integrated Solutions would like to express gratitude for their understanding, patience, and continued support.
"Our goal is to create a space for inspiring female experts from a plethora of industries in virtual reality. While most of the venues in real life have closed down their doors due growing concerns about the coronavirus (COVID-19), especially with the well-being of all individuals involved, our first thought was to use the power of the internet to bring different communities together.

We want to provide the most life-like user experience and that's why we are extremely excited to be using our newest virtual reality platform. Presented with our technology partner, LoudBear Creatives, we want to host upto 20,000 international attendees in a fully-immersive interactive-3D experience in a week-long event."
It will be a wonderful opportunity for women all across the globe to learn, exchange ideas, and bridge connections aimed to empower the next generation of female leaders." — Veronica Andrino, Founder – President of Unifinity Global.
About Unifinity Integrated Solutions
Unifinity is a software and mobile deveopment co running on the block-chain, which aims to be the easiest gateway for schools, teachers, parents and students to re-organize and upgrade their educational platforms. Our mission is to combine in one place everything that you need to monitor students attendance and performance in order to help you plan your kids' future. Our Vision is to create a rewards platform that will use block-chain technology to incentivize users to pursue their studies, help universities to organize their student filing system, and provide students with reliable certification of academic achievement.
GWE2021 Event was originally scheduled to take place on March 19-21, 2021.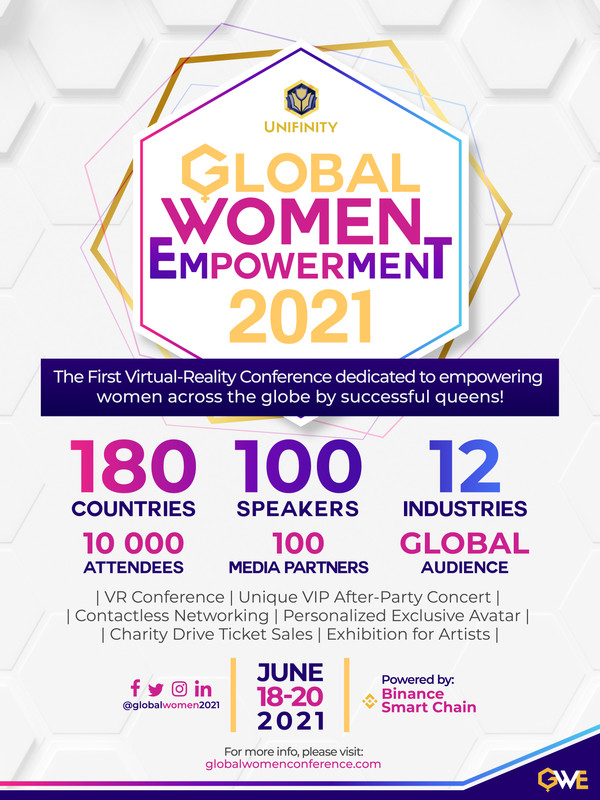 www.globalwomenconference.com
Fb.com/globalwomen2021
Event brite link: https://www.eventbrite.com/e/the-global-women-empowerment-conference-tickets-134371040399?aff=ebdssbeac&keep_tld=1
PROMO CODE: GWEUNIFINITYVIP
Media Contact
Company Name: Unifinity Integrated Solutions Inc & Ltd.
Contact Person: Veronica Andrino
Email: Send Email
Phone: +35679096898
Country: United Kingdom
Website: www.globalwomenconference.com