Distributes thousands of food boxes to families in need
Rome, GA – Camp Bohdi, an organization dedicated to a sustainable future for communities, announces its newly developed Feeding Families Program. The project aims to provide support for families and communities impacted by economic decline, Covid-19, and other difficulties.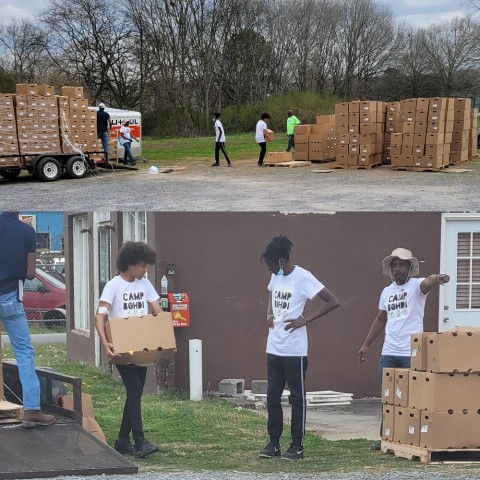 The foundation is excited about the progress they have achieved in the short time since the program started. So far, they have distributed over 2200 food boxes in less than 5 weeks with a team of 7 (3 teenagers and 4 adults), and they plan to distribute another 1200 boxes within the next week.
The next event is March 28th, 2021, in Rome Ga where the nonprofit is located. (check Campbohdi.org for the location to be announced later.) Camp Bohdi needs support from the community and good-spirited people to make the feeding program and projects like NuTerra Ecovillage movements that will greatly impact humanity.
To learn more about the Feeding Families Program or how to support it or join their corporate sponsorship, please contact 706-519-9395 or visit www.campbohdi.org.
Camp Bohdi wants to create a sustainable future by researching better ways of living and educating people on adopting them. They hope to achieve this by creating small communities of people who work together for common goals, self-sufficiency, social, economic, and environmental sustainability.
They have a team of passionate futurists and philanthropists, headed by the energetic and passionate President and CEO, Twyla Jackson. She is leading an assembly of creative minds who want to build a future where everyone is more comfortable and have the opportunity to survive. Camp Bohdi combines humanitarian ideologies, creative tendencies, and cutting-edge technology to offer simple solutions that generate outstanding results.
Feeding Families Program is one of their various programs that has been created to impact society directly and provide assistance for people in need, especially during this period of economic downturn and global pandemic. More than ever before, families require support to meet their daily needs of food, nutrient, and energy.
Children are the most affected because they need daily feeding to get the minimum essential nutrient for mental, physical, and psychological growth. Since the COVID-19 pandemic, tens of millions of Americans faced hunger, with many turning to food banks. Supporting and sustaining community-based food provisions like Camp Bohdi's Feeding Families Program is the best way to get essential meals and nutrients to people who need them. It's an opportunity to give back to society, save lives, promote good health, and secure the future.
Media Contact
Company Name: Camp Bohdi Inc
Contact Person: Twyla Jackson
Email: Send Email
Phone: 706-519-9395
Country: United States
Website: www.campbohdi.org