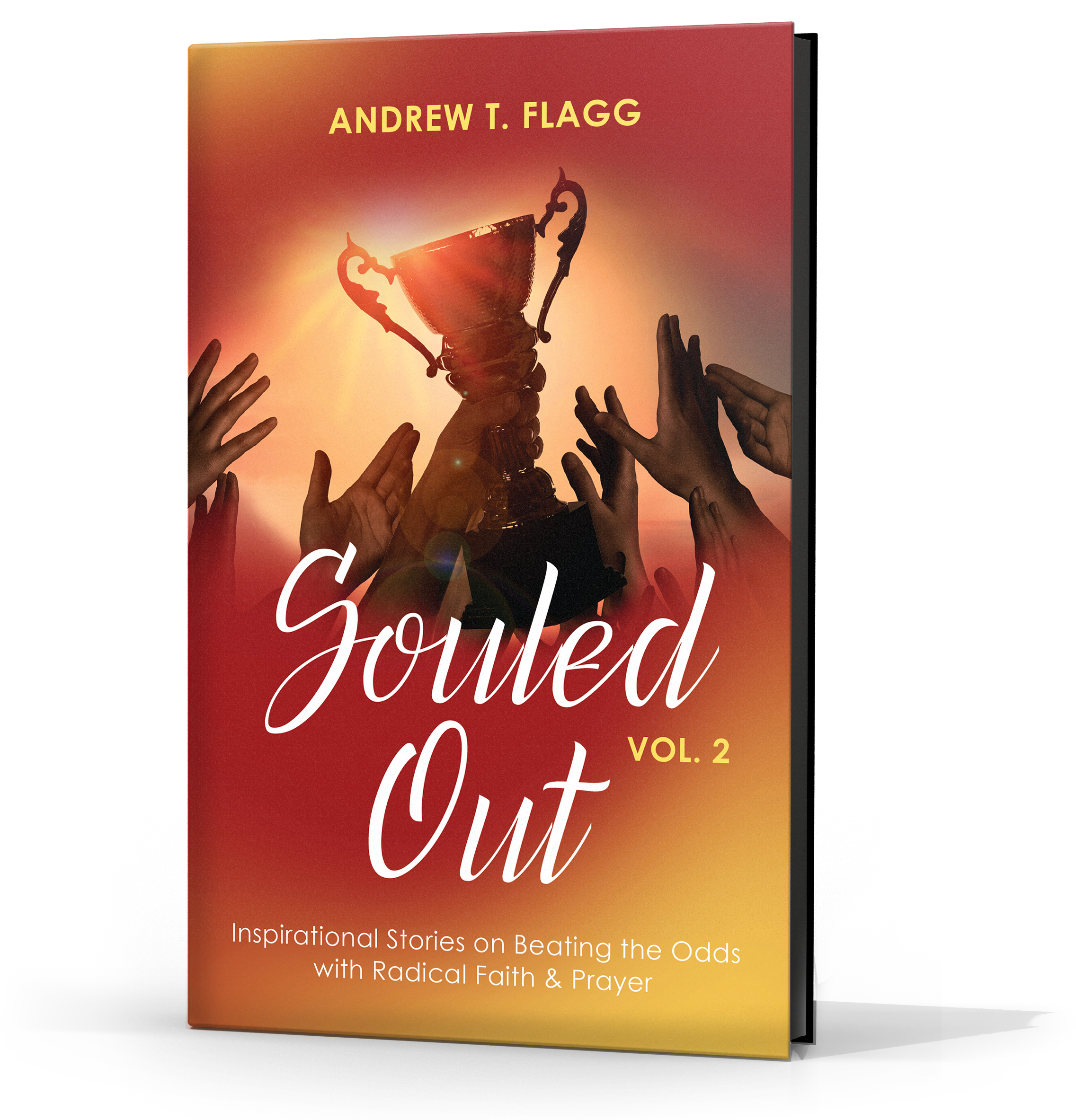 When unopposed, pain, loss, and tragedies can leave us distressed, broken, shattered, and hopeless. Yet knowing who we are in Christ and taking hold of His best for us will change every aspect of our being. To help readers bolster their faith and live unabridged lives without limits, Andrew T. Flagg and twenty-four other storytellers have released Souled Out, Vol. 2: Inspirational Stories on Beating the Odds with Radical Faith & Prayer.
BALTIMORE, MD – March 23, 2021 – In Souled Out, Vol. 2 bestselling author, Andrew T. Flagg and twenty-four other women of faith share their life-giving narratives of clinging to God through dark times and valley experiences. Their testaments of transforming pain into purpose despite facing life-altering obstacles such as cancer, losing a loved one, being imprisoned, battling depression, and much more, will remind readers that they too are overcomers.
"'There is great power in realizing who you are in Christ' is a statement that bears repeating over and over until the revelation of it pierces you in places the mysteries of God haven't yet reached. It is not a cliché nor is it intended for rhyme. It is more than an emotional high point of the best-crafted sermon. It is a fact that will change every aspect of your life if allowed," says Visionary Polote-Williamson.
The topics covered in Souled Out, Vol. 2 will propel readers to be bold, incite them not to shrink back, and embolden them to never let challenges flicker their faith. Through this powerful collaborative work, readers will have their pity parties disrupted while being reminded that deception has no place in their lives. Every chapter of this riveting book will convince readers that despite what anyone else believes or what others might say about their path, they can rise above all hurdles and enter the rhythm and flow that makes all things possible through Jesus Christ.
Souled Out, Vol. 2 will empower readers to fully believe and receive the fruitful benefits of being fully committed to Christ, even when it looks like all hope is gone. "Nothing is too hard for God. Nothing is impossible for Him."
Andrew Flagg is always carefully perfecting the many gifts he has been blessed to receive because he understands that to be viewed as perfectly finished can only happen when nothing can be added or taken away. He etched the statement "Never let your gifts be bigger than your character" into his mind and has thereby been kept grounded. Andrew is a singer, songwriter, playwright, actor, screenwriter, and now co-author of a bestselling book.
Published by Publish Your Gift®, Souled Out, Vol. 2: Inspirational Stories on Beating the Odds with Radical Faith & Prayer is now available for purchase at www.cherylpwilliamson.com.
Media Contact
Company Name: Purposely Created Publishing Group
Contact Person: Shani McIlwain
Email: Send Email
Phone: (888) 949-6228
Country: United States
Website: www.publishyourgift.com