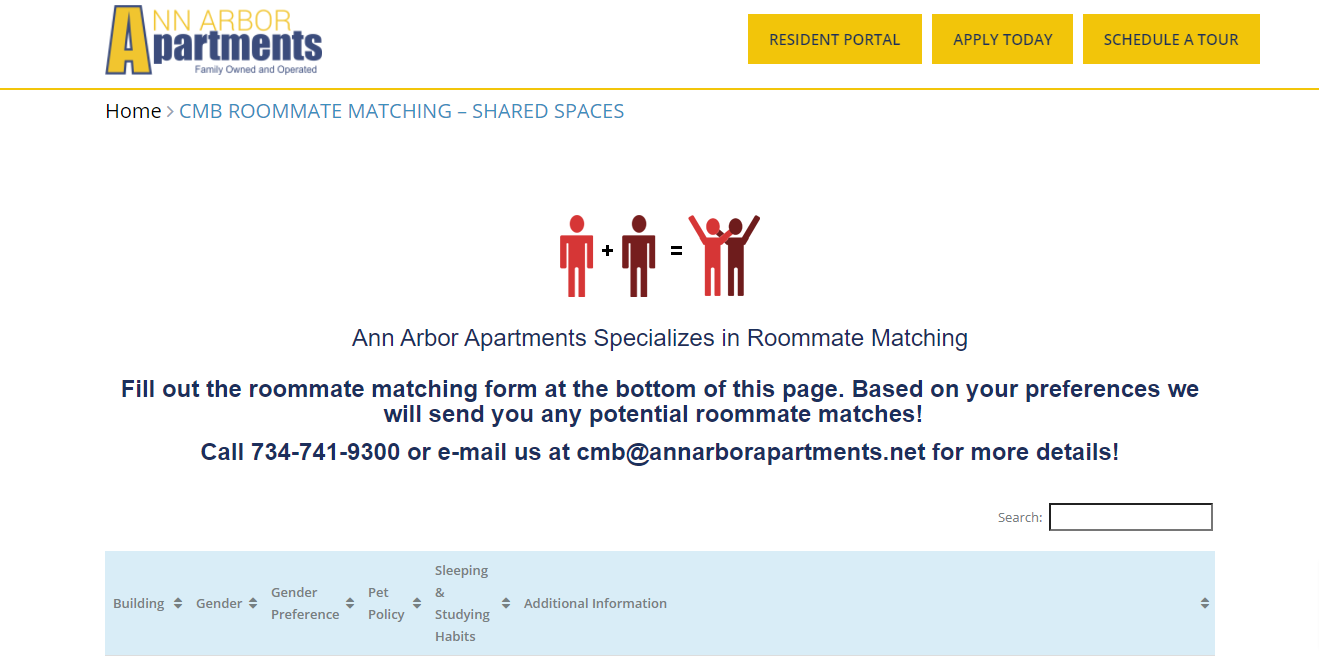 University of Michigan (UoM) students can now enjoy the services of a top rated property rental company in Ann Arbor Michigan in getting compatible roommates. The property rental company has scaled its roommate matching services. While making the announcement, the company representative says that this comes at a time when the economy is experiencing a recession. "We understand that students like everyone else are experiencing financial challenges occasioned by the current pandemic. We are scaling our roommate matching services to allow the UoM students to not only get a compatible roommate but also save on the house rent," said the AAA representative while appreciating that it is hard finding a roommate especially at the middle of a pandemic.
Roommate matching services at AAA involves filling out a roommate matching form which is available at their website. At the page, the applicant provides relevant information including the qualities of a preferred roommate. Some of the qualities include: gender, course being undertaken, pet policy, building among others.
The application form will provide the information required to get a person who is interested in getting a partner. "We have added sections that will make getting a matching partner easy and quickly. We require the applicant to provide this information. We treat the information provided to us with utmost confidence, ensuring that no third party has access," said the company representative while outlining some of the areas that have been up scaled up. The property rental company is now asking for additional information and at the same time it has upgraded its information privacy features. This according to the company representative will allow them to serve their customers better.
Once the applicant has filled the form, AAA will send any potential roommate matches. With enhanced roommate matching algorithms, AAA is providing its clients with quick results.
"Getting a perfect roommate can be a daunting task. You want to get it right as living with somebody who is not compatible in the same roof can be one of the most stressing thing. However, with the roommate matching services provided by AAA, getting somebody whom you can share a house and rent was an easy process. I would recommend their services to anybody searching for a roommate, they not only offer the necessary help but also ensure that you get what you want," said a student who had used the AAA roommate matching services.
About Ann Arbor Apartment
Ann Arbor Apartment (AAA) is a top rated property rental company in Ann Arbor area of Michigan, United States of America. The property firm was started 1992 and since then it has been serving students and staff of University of Michigan and other residents in the neighboring areas. The company has grown to be a preferred property rental company in Ann Arbor and surrounding areas. They have strived to provide the best to their residents, offering services and assistance that make their stay in Ann Arbor comfortable. With its team of highly professional managers from CMB property management, Ann Arbor Apartment offers reliable and effective services aiming at providing utmost satisfaction all the time.
Media Contact
Company Name: Ann Arbor Apartments
Contact Person: Media Relations
Email: Send Email
Phone: 734.741.9300
City: Ann Arbor
State: MI
Country: United States
Website: https://annarborapartments.net/