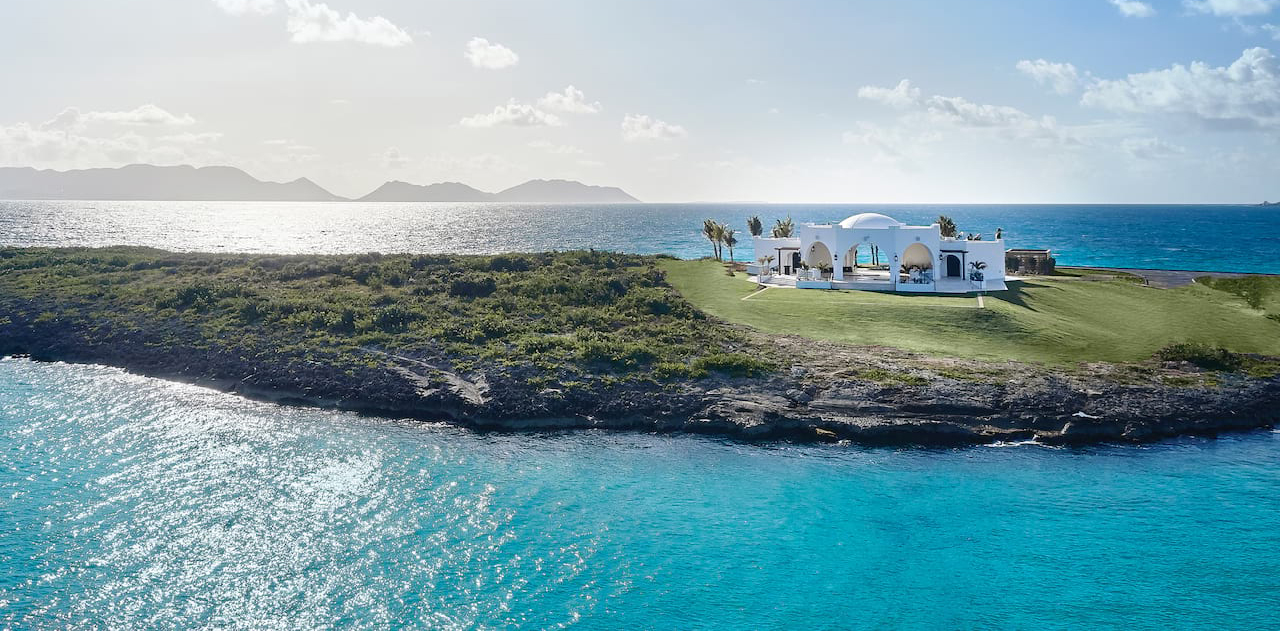 A press release, published in this edition of The Anguillian, issued on behalf of Charles Hickox, has announced an auction sale of a portion of Cap Juluca, according to David Brillembourg.
The announcement has also resulted in a response from Brilla Group, a real estate private equity firm focused on the luxury beachfront hotel and resort asset class world-wide. Along with the Brilla Group are investors Marc Rowan, Manfredi Lefebvre and Dion Friedland.
Speaking about the situation at Cap Juluca, Mr. Colmer said the hotel was now not even in the top ten resorts. "If you go on Google search, one of the top things you will see is Cap Juluca's bankruptcy, and that was before Mr. Hickcox released a press release yesterday, that he was auctioning part of the hotel under his charge," he went on. "Announcing that, in the way he did, notifies not only everyone in the hospitality industry of the bankruptcy, and the auction that is going to take place, but it is going to alert every single guest, every travel agency [and] everyone that is going to look to come to Cap Juluca. It is a very important and damaging event. It is also worth noting that he did that in the midst of settlement proceedings that were going on under the direction of the Government of Anguilla.
"They had asked us all not to proceed with any legal proceedings to protect our interests. That includes the Brilla Group, Mr. Roman and all the other stakeholders, and including Mr.Hickcox …, in the hope of reaching a consensual solution. That would at least be at a point where the Government could give a statement as to how it was going to help resolve the current situation. Mr. Hickox precipitously acted, and ignored what the Government had requested that we all do; and has acted in a way that we feel not only damages the hotel, but puts everyone, including all the stakeholders, in particular the employees – the Julucans – in a great deal of risk.
Brilla Group's Managing Director, Bradley W. Colmer, told reporters at a press conference inAnguillaon Tuesday this week that his company made a 14-million-dollar investment in Cap Juluca. "We purchased three villas…and [in addition] close to almost 50 million dollars was invested between Mr. Marc Rowan, who is with the Apollo Group out of New York, a famous private equity investor in the resort and leisure space, and Manfredi Lefebvre who is an Italian investor and owner of Silversea Cruises," he disclosed. "They were originally equity investors, and most of their money went in with Adam Aron. That money has been lost. After their equity investment was lost, Mr. Rowan purchased villa 17 in 2011 and Mr. Lefebvre purchased half of villa 8. That money came in to help Cap Juluca when it was threatened with potential closure because of operating losses incurred under Mr. Aron's management of the hotel."Colmer said 8 million dollars went from Brilla's account to Mr. Hickcox's account, and that the Brilla Group was now involved in the resort and was seeking, along with the other villa owners and Mr. Friedland, to resolve the current insolvency at the resort.
"We think this action, if it is not met swiftly with a response from the other stakeholders, and in particular the Government of Anguilla, will almost certainly result in the closure of the hotel. Even if Mr. Hickcox is successful in auctioning a part of the resort, Brilla, Rowan and Mr. Lefebvre would all still own their villas. He cannot auction our property. He can only auction a part of the resort. He doesn't own any of the furniture or any of the fixtures. He doesn't even own the name Cap Juluca."
Mr. Adam Denmark Cohen, another Managing Director of theBrilla Group, made the point that Adam Aron was no longer a partner of his group which includes Rowan and Lefebvre. "This group, that I mentioned, including Brilla, has 60 million dollars of cash, real money, invested in Cap Juluca. Mr. Hickox alleges that he has 16 and a half million dollars of cash invested in the resort.
"Of that money, Mr. Hickcox received 8 million dollars from Brilla when we invested in the resort and when Adam Aron was owner – and that occurred in February 2011. But the other creditors, who have 60 million dollars invested in the resort, have not received one dollar in return. These investors, including Brilla, own 30 percent of the room product at Cap Juluca, all of the furniture, furnishings, fixtures, equipment and the intellectual property. So a great deal of the resort is actually owned by these other investors including Brilla."
David Brillembourg explained that "We can collectively come and restore Cap Juluca. We don't need to go anywhere else to find the money to invest. As we stated to Government, in absolute and clear terms yesterday (Monday), we are prepared to write a cheque for nearly 30 million dollars tomorrow to invest back into Cap Juluca, including 5 million dollars, to ensure that the resort does not close."
Also at the press conference were Richard J. Cotter, a third Managing Director of the Brilla Group, and Clive Metz of Magnum.com.
Media Contact
Company Name: About Brilla Group:
Contact Person: Media Relations
Email: Send Email
Address:1441 Brickell Ave., Suite 1220
City: Miami
State: FL
Country: United States
Website: http://www.brillagroup.com/