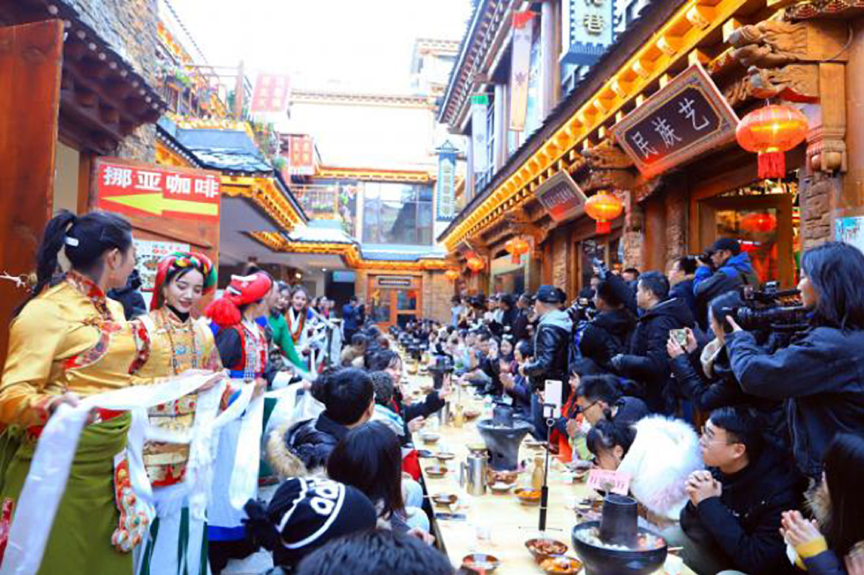 On the evening of December 31, 2020, Shangri-La 2021 New Year's Eve was held in Dukezong Romantic Village. The New Year's Eve with unique Tibetan characteristics, which was hosted by Diqing Prefecture Culture and Tourism Bureau and organized by Dukezong Romantic Village, attracted a number of national tourists and brought cozy warmth to the cold winter. Some folk activities with local characteristics such as long table banquet, Tibetan dance, costumes as intangible cultural heritage, Internet celebrity live broadcast, pilgrimage blessing, demonstrated the unique charm of Shangri-La and led the new trend of cultural tourism in the new year.
The long table banquet with Tibetan characteristics is the most solemn ceremony of the Tibetans to receive guests. The banquet integrated with the Tibetan performance mainly serves the traditional eight-treasure hotpot as well as the selected dishes cooked with specialty ingredients in Shangri-La. The banquet is usually mixed with the show of folk wedding with a history of thousand years in Dukezong Ancient City, the place where the ancient tea-horse road must pass. Meanwhile, Nixi black pottery, the intangible cultural heritage, is used as the hotpot utensil for the guests to feel the profoundness of culture during the dining process.
Most Ritual Blessing on New Year's Eve
On the site, people enjoyed the unique Tibetan dance, Tibetan string dance, Naxi traditional dance, the performance of gorgeous costumes as intangible cultural heritage as well as the singing and dancing with Tibetan characteristics. With the wonderful melody, the tourists danced to enjoy the carnival and the Tibetan culture was perfectly interpreted in every detail.
Create extreme tour experience full of national culture
The New Year's Eve activity has enabled the tourists to experience the authentic humanities and customs of Shangri-La. Meanwhile, it's also an important attempt for Dukezong Romantic Village to explore a new model of marketing tourist destination and start a new journey in off-season tourism.
Media Contact
Contact Person: Emma Yan
Email: Send Email
Country: United States
Website: www.godiqing.com