NEW YORK, NY – Mar 23, 2021 – R.P. Brennan is pleased to share the construction of the 18th and 17th floors of corporate interior office space for the prestigious law firm Abrams and Fensterman LLC.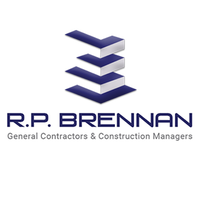 Project Summary
R.P. Brennan was initially hired by Abrams and Fensterman, a large law firm in NYC, to build out 4,500 square feet of adjacent empty office space on the 17th floor of 1 MetroTech Center. The space was built to better support their working practices and needs as a growing firm. For the project, R.P. Brennan partnered with the architect, Vocon and designer, Interior Motives Corp.
Following, R.P. Brennan was again recruited as the general contractor to make building improvements to their office space on the 18th floor at 1 Metrotech Center. The work on this floor covered 3,500 square feet. R.P. Brennan partnered with the architect Tuller, Mcnealus Feld, and designer Interior Motives Corp.
Background
Abrams Fensterman is a multi-specialty law firm that serves clients throughout the New York metropolitan area from offices in Lake Success, Long Island, Brooklyn, Manhattan, White Plains and Rochester. The law firm specializes in white-collar criminal defense and mental health law. The law firms Brooklyn headquarters are located at 1 MetroTech Center, where R.P. Brennan completed the work.
Details
In conjunction with the architect Vocon and designer Interior Motives Corp, the project on the 17th floor included an entire interior fit-out for their second expansion adding additional primary office space. This included building open office spaces, glass-enclosed office suites, break rooms, entryway reception, bathrooms and critical infrastructure. R.P. Brennan installed custom finishes throughout the space and advanced teledata systems and standard electrical, plumbing, and mechanical.
On the 18th floor, we worked with architect Tuller, Mcnealus Feld and designer Interior Motives Corp to build-out 3,500 square feet of office space. The project entailed upgrading office spaces with glass enclosures and functional enhancements. This included upgrades of new mechanical, electrical and plumbing installations. We also installed critical communication systems with advanced teledata to improve the video, audio, internet, telephone and security.
R.P. Brennan has completed two floors for the law firm at 1 MetroTech Center in Brooklyn, NY. R.P. Brennan looks forward to the continued relationship with this prestigious law firm.
About R.P. Brennan
R.P. Brennan is a general contractor and construction manager based in New York City. Founded in 1987, the company continues to grow upon its annual revenue of over 50 million dollars. The firm specializes in construction within the educational, corporate, healthcare, entertainment, hospitality industries. R.P. Brennan is proud to have maintained well-known clientele on a repeat basis, such as New York University and Columbia University.
For more information, visit our website at www.rpbrennan.com
Media Contact
Company Name: R.P. Brennan
Contact Person: Tara Walsh
Email: Send Email
Phone: 212-462-2542
Country: United States
Website: https://rpbrennan.com/