Clopidogrel and Ticagrelor are P2Y12 receptor antagonists that inhibit plateboard adenosine diphosphate (ADP) by selectively inhibiting the binding of adenosine diphosphate (ADP) to its plateboard P2Y12 receptor and the activity of the secondary ADP-mediated glycoprotein GPII.b/III.a complex.
Clopidogrel and Ticagrelor are clinically commonly used antiplatellers, which can be used to prevent thrombosis in patients with chronic stable angina, acute coronary artery syndrome, and ischemic stroke. So what's the difference?
1, The starting time
Ticagrelor is more effective, and for patients with acute coronary artery syndrome, it can quickly act to inhibit plateplate aggregation, while Clopidogrel is less effective.
2, Take the dose frequency
The half-life of Clopidogrel is 6 hours, while the half-life of Ticagrelor is 7.2 hours.
However, the active metabolites of Clopidogrel are irreversibly binding to the P2Y12 subject, while the Ticagrelor and P2Y12 subject are reversible.
Therefore, Clopidogrel is taken once a day, while Ticagrelor is given twice a day.
3, Antiplatelet action
Ticagrelor's antiplatelets were more effective, and studies showed that Ticagrelor had no difference in reducing cardiovascular death and myocardial infarction, which was higher than in the Clopidogrel group, and in stroke.
Based on the benefits of Ticagrelor treatment to patients with acute coronary syndrome (ACS), relevant guidelines at home and abroad recommend that Ticagrelor be used for antiplatelet plate treatment in ACS patients. In two authoritative guidelines from the European Heart Association (ESC NSTE-ACS Guidelines 2011 and STEMI Guidelines 2012), Clopidogrel can only be used in patients who cannot be treated with Ticagrelor.
4, Risk of bleeding
The risk of bleeding from long-term application of Ticagrelor was slightly higher than that of Clopidogrel, but the risk of bleeding was similar in short-term use.
Studies by KAMIR-NIH based on the East Asian population show that the risk of TIMI haemorrhage was significantly higher in patients aged ≥ 75 than in Clopidogrel. Therefore, for acS patients ≥ 75 years of age, it is recommended to select Clopidogrete as the preferred P2Y12 inhibitor on the basis of aspirin.
Antiplate platepett therapy for patients with low plate small plate counts should also avoid the option of Ticagrelor.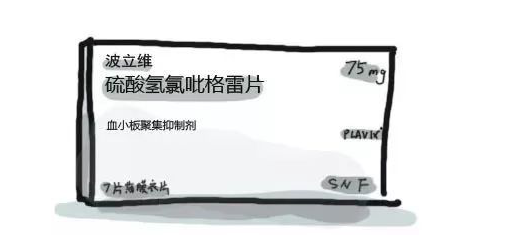 5,Other adverse reactions
The most commonly reported adverse reactions in patients treated with Ticagrelor were difficulty breathing, bruising and nosebleeds, which occurred at a higher rate than in the Clopidogrel group.
6,Drug interactions
Clopidogrel is a presuperial drug, which is metabolized in part by CYP2C19 as its active metabolite, and taking a drug that inhibits the activity of this enzyme may reduce the level at which Clopidogrel is converted into an active metabolite. Therefore, the combined use of strong or moderate CYP2C19 inhibitors such as omeprazole, Esomeprazole, fluoronazole, voliconazole, fluoxetine, fluorovolsamine, cycloproxacin, camasi is not recommended.
Ticagrelor is mainly metabolized by CYP3A4, and a small part is metabolized by CYP3A5.Combined use of CYP3A inhibitors can increase Cmax and AUC of ticagrelor. Therefore, combination use of ticagrelor with potent CYP3A inhibitors such as ketoconazole, itraconazole, voriconazole, clarithromycin, etc., should be avoided.However, combined use of CYP3A inducer can reduce Cmax and AUC of ticagrelor, respectively. Therefore, combined use of CYP3A strong inducer, such as dexamethasone, phenytoin sodium, phenobarbital and carbamazepine, should be avoided.
7,Antiplatelet therapy in patients with renal insufficiency
PLATO, in a study of patients with acute coronary syndrome with renal insufficiency, showed a significant increase in serum creatinine in the ticagrelor group compared with clopidogrel; Further analysis of patients treated with ARB showed a 50% increase in serum creatinine >, renal related adverse events, and renal function related adverse events were significantly higher in the ticagrelor group than in the clopidogrel group. Therefore, clopidogrel + aspirin should be the first choice for patients with renal insufficiency.
8,Antiplatelet therapy in patients with gout/hyperuricemia
Prolonged use of ticagrelor has been shown to increase the risk of gout.Gout is a common adverse reaction of ticagrelor treatment, which may be related to the effect of active metabolites of ticagrelor on uric acid metabolism. Therefore clopidogrel is the optimal antiplatelet therapy for gout/hyperuricemia patients.
9,Antiplatelet therapy before CABG (coronary artery bypass grafting)
Patients scheduled for CABG who are taking low-dose aspirin (75 to 100 mg) do not need to stop preoperatively; Patients receiving a P2Y12 inhibitor should consider discontinuing ticagrelor for at least 3 days and clopidogrel for at least 5 days preoperatively.
10,Low reactivity of clopidogrel
The low reactivity of platelets to clopidogrel may lead to ischemia time. In order to overcome the low reactivity of clopidogrel, increasing the dose of clopidogrel or replacing it with ticagrelor are common choices.
In conclusion, ticagrelor acts quickly and has a stronger inhibitory effect plate. In the treatment of acute coronary syndrome, ticagrelor has a better antithrombotic effect, which can further reduce mortality, but it has a higher risk of bleeding, and has higher adverse reactions such as dyspnea, contusion, bradycardia, gout and so on than clopidogrel.
Media Contact
Company Name: Changzhou Pharmaceutical Factory
Email: Send Email
Phone: +86 519 88821493
Address:NO. 518 Laodong East Road
City: Changzhou
State: Jiangsu
Country: China
Website: https://www.cz-pharma.com/