Talented music producer and entertainer, "PromoBoi," to star in "Behind The Pen," a new reality show that is set to hit the screens soon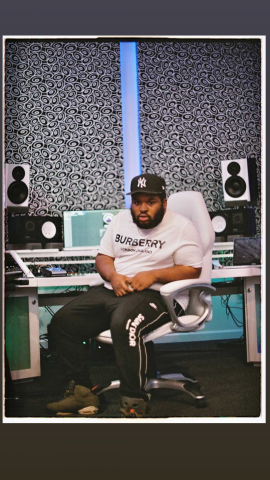 "PromoBoi" is undoubtedly one of the fastest rising music producers in Los Angeles and probably the United States, as he has been able to work with several big names in the industry in recent times. The uprising producer "PromoBoi" is looking to bring his fans and music enthusiasts into his journey of creating hits as he recently signed a deal for a new reality show titled "Behind The Pen," which premieres on April 1, 2021.
The music and entertainment industry has evolved over the years, featuring different categories of stakeholders delivering amazing songs to meet the diverse needs of the audience. Music producers remain a major part of the multi-billion-dollar market as they actually create the beats that make the hits. Unfortunately, producers tend to be undercelebrated with seemingly little recognition given to their efforts, considering the heat they bear with while cooking the beats. However, makers of "Behind The Pen" are looking to connect music lovers with major acts behind the scenes and who else suits the debut season than LA-based producer "PromoBoi."
Born Nigel Bond, "PromoBoi" is a multifaceted American entertainer known for his works as a rapper and record producer. Over the years, he has worked with the likes of Mila J, Pnb Rock, and Tory Lanez. "PromoBoi" also gained popularity for his mixtape series titled "Take Care Forever' 1, 2 & 3," with the project landing him a record deal with AWAL. He also recently dropped his debut single, "Braxton," which went viral almost immediately, hitting more than 100k plays on Spotify and Soundcloud.
In "Behind The Pen," "PromoBoi" shows the audience the life of a producer emerging to the LA music scene. The show starts with episodes showing viewers what it feels like to be an artist in Philadelphia, the home to entertainment giants like Meek Mill and Will Smith. As seen in the trailer, Promo bares it all in the show, holding nothing back as he serves his fans facts that were hitherto unknown to them.
No information has been made available in relation to the network that will be airing the show, even as Promo continues to throw hints on social media that it is going to be huge. However, close sources say the network will probably be a Hulu or Zeus Premiere.
For more information about "Behind The Pen" and other projects from "PromoBoi," please visit Soundcloud and Instagram.
Media Contact
Company Name: Hits Only
Contact Person: Mark
Email: Send Email
Phone: 4372336888
Country: United States
Website: http://www.instagram.com/PromoBoiNYC