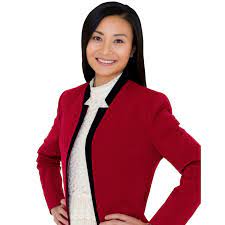 COLLEYVILLE, TX – March 24, 2021 –
For the last decade,
Angeline Wehmeyer
has been helping others achieve their financial dreams using the same simple wealth strategy and blueprint that has helped her achieve hers. Now, she's dedicating the rest of her life to sharing her knowledge with others so people don't have to go through the same challenges she did.
Angeline Wehmeyer is an accomplished entrepreneur, investor, and national speaker, but she wasn't always this way. Angeline comes from humble beginnings in China. At age five, Angeline lived in a barbershop where her family worked and lived paycheck to paycheck. Until one day, when her parents decided to make more money to pay for Angeline to go to college, they'd have to leave their village for better-paying jobs. They left Angeline behind, and she lived with her grandparents.
Thanks to her parents' sacrifice, she was able to attend college. With her hard work, she ended up being top of her class with straight A's, winning the Golden Key award, and getting to speak in front of her whole class at commencement.
Soon after, Angeline came to America and received her MBA from Fairleigh Dickinson University, but she realized that it was still hard to find a decent paying job even with an MBA. "I came to America in 2009, and I got a master's degree. Many people think that in order to be successful and have financial freedom, you need to go to school, get a degree, and get a safe and secure job. I went that route, and it didn't work out for me," says Angeline.
One day, she discovered the book Rich Dad, Poor Dad by Robert Kiyosaki, and her life changed forever. Angeline wanted out of the "Rat Race" and into a life full of financial freedom, so she did what the book suggested, she started investing in real estate. After spending years studying the financial industry's secrets, Angeline not only grew her real estate portfolio to over 1000 apartment units, she also developed a well diversified financial portfolio that produced generational wealth for herself and her family.
"I read a lot of books on entrepreneurship and business, but they provided no guidance on where to start. For the past 11 years, I've had great success and failure in real estate and other investments by trial and error. In this time, I discovered what it really takes to have a secure foundation for myself and my family. I invested a lot in personal development, and I took what I learned and applied it to myself, and I had great financial success. Now, I'm devoting the rest of my life to teaching people how to be the master of their finances," says Angeline.
So why does Angeline want to help others achieve their financial goals?
"When I grew up, I didn't have a childhood because of money. When I was five years old, my mom had to go to another city to make a living. And growing up, I started thinking I didn't want my family to have to suffer because of money either, so I devoted a lot of time and energy to cracking the wealth code. It took me 11 years to get to where I want to be, living in my dream home, and retiring my parents. I want to share my knowledge with other people, so they don't have to go through the challenges I've been through," says Angeline.
Besides co-authoring Cracking the Rich Code, alongside Jim Britt and Kevin Harrington, Angeline speaks all over the country, teaching people how to master their finances. She also helps clients invest their money following the same principles that led to her success.
"You can think of me as an architect. When you build a new house, you go to an architect for a blueprint. I'm a financial architect. I help people have clarity of what they truly want, and I help them put together a strategic wealth plan to help them reach their goals," says Angeline.
Angeline has three tips to help you avoid the most common investing mistakes she sees people making to help you get started quickly on your journey to financial freedom.
"Tip number one is to start with a goal in mind. Clarity is power. The mistake people make is they don't know how much money it takes to have financial independence. They never sit down and truly figure it out. If you're not crystal clear on your goals and how you're going to have financial security, independence, and freedom, you're never going to reach that level."
"Tip number two is to avoid the next shiny object. Wealth creation is not a get rich quick scheme. It takes time. It's like building a house, do you want a house that can last any storm? Or do you want a house that'll blow over with a strong gust of wind? If you're always chasing the next shiny object, you're not following a strategic plan, and without a strategic plan, you'll fail."
"Tip number three is to add protection. People are so focused on growing and making money that they forget about protecting what they have if something happens. It's not about how much money you can make. It's about how much money you can keep. Protect your money, health, and your life because peace of mind is PRICELESS."
Angeline wants to help as many people as possible gain the knowledge and mindset they need to create an even stronger financial foundation for their family, one that can weather any storm in life. If you're interested in Angeline's online course or her financial services, you can contact her at www.angelinewehmeyer.com.
Media Contact
Company Name: Financial Genius Academy, Abundant Heart Financial
Contact Person: Angeline Wehmeyer
Email: Send Email
Phone: +1 (817) 609 4594
Country: United States
Website: http://www.angelinewehmeyer.com/