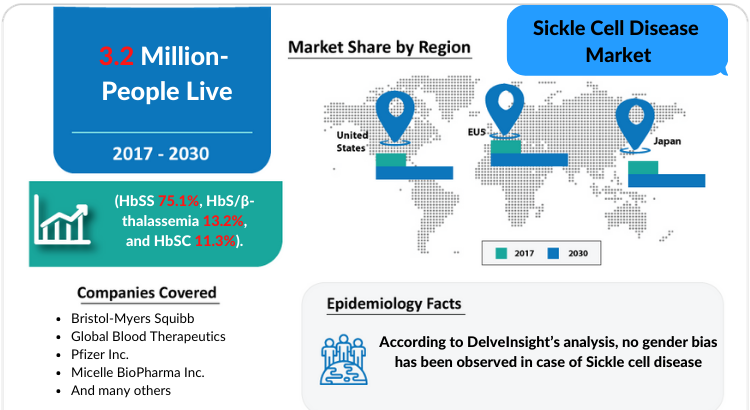 "Sickle Cell Disease Market" report has been added to DelveInsight
The Sickle Cell Disease Market report on gives adjusted data which has the mix of the past, current and future information that assists with understanding the Global Sickle Cell Disease Market better. As such, it is a thorough rundown of the multitude of significant variables that are identified with expanding request development with regards to the market across the world. The report likewise gives subtleties of future prospects which have the most recent patterns that are to be found in the coming a long time in this focused on Sickle Cell Disease Market
Request for free sample copy of Sickle Cell Disease Market Report- https://www.delveinsight.com/sample-request/sickle-cell-disease-market
About Sickle Cell Disease
Sickle cell disease (SCD) is an inherited red blood cell disorder caused by a structural abnormality of hemoglobin called sickle hemoglobin (HbS) which encodes hemoglobin subunit β. HbS is inherited in an autosomal recessive way and can occur due to homozygosity for HbS (HbSS). HbS is functional and soluble when oxygenated, but upon deoxygenation it polymerizes, leading to the generation of deformed red blood cells known as sickled cells and dense erythrocytes.
Sickle Cell Disease Geography covered
The United States
EU5 (Germany, France, Italy, Spain, and the United Kingdom)
Japan
Sickle Cell Disease Key Players
Bristol-Myers Squibb
Global Blood Therapeutics
Pfizer Inc.
Micelle BioPharma Inc.
CSL Behring
BlueBird Bio
Agios Pharmaceuticals
And many others
Sickle Cell Disease Treatment
The current therapies used to prevent the complications of the disease vary in their effectiveness and are associated with serious risks and tolerability issues. Besides this, SCD presents with large unmet medical needs, with no disease-modifying treatment. New approaches for treating SCD, including new medications, advances in transplantation, and gene therapies are being explored these therapies are expected to drive the SCD treatment market during the forecast period (2021-2030)
Sickle Cell Disease Market Report
Sickle Cell Anemia accounts for 60%-70% of SCD worldwide. SCD can also result from the inheritance of βS in combination with a wide range of other HBB mutations, the two most common being a second structural β-globin variant βC (SCDSC) and one of the many β-thalassaemia mutations that lead to the reduced production of normal β-globin (SCD S/β-thalassaemia). SCD SS is the most severe form of SCD.
Sickle Cell Disease Treatment Market
In general, about half of the patients go for blood transfusions and exchanges. Although these are also associated with certain complications, like pain during insertions and development of antibodies to blood types used in transfusions and can lead to certain high levels of iron in the blood, which can cause organ damage. Thus, Iron chelators are used in latter case. Bone marrow transplants have equal positive as well as negative attributes. Currently, three therapies modify the disease course of SCA: hydroxycarbamide, erythrocyte transfusion and haematopoietic stem cell transplantation.
Sickle Cell Disease Market: Report Highlights
In the coming years, Sickle Cell Disease market is set to change due to the rising awareness of the disease, and incremental healthcare spending across the world; which would expand the size of the market to enable the drug manufacturers to penetrate more into the market
The companies and academics are working to assess challenges and seek opportunities that could influence Sickle Cell Disease R&D. The therapies under development are focused on novel approaches to treat/improve the disease condition
Major players are involved in developing therapies for Sickle Cell Disease. Launch of emerging therapies will significantly impact the Sickle Cell Disease market
A better understanding of disease pathogenesis will also contribute to the development of novel therapeutics for Sickle Cell Disease
Our in-depth analysis of the pipeline assets across different stages of development (Phase III and Phase II), different emerging trends and comparative analysis of pipeline products with detailed clinical profiles, key cross-competition, launch date along with product development activities will support the clients in the decision-making process regarding their therapeutic portfolio by identifying the overall scenario of the research and development activities
Request for free sample copy of Sickle Cell Disease Market Report- https://www.delveinsight.com/sample-request/sickle-cell-disease-market
Following is the table of content of Sickle Cell Disease market report
1. Key Insights
2. Executive Summary of Sickle Cell Disease
3. Competitive Intelligence Analysis for Sickle Cell Disease
4. Sickle Cell Disease: Market Overview at a Glance
5. Sickle Cell Disease: Disease Background and Overview
6. Patient Journey
7. Sickle Cell Disease Epidemiology and Patient Population
8. Treatment Algorithm, Current Treatment, and Medical Practices
9. Unmet Needs
10. Key Endpoints of Sickle Cell Disease Treatment
11. Marketed Products
12. Emerging Therapies
13. Sickle Cell Disease: Seven Major Market Analysis
14. Attribute analysis
15. 7MM: Market Outlook
16. Access and Reimbursement Overview of Sickle Cell Disease
17. KOL Views
18. Market Drivers
19. Market Barriers
20. Appendix
21. DelveInsight Capabilities
22. Disclaimer
23. About DelveInsight
What are the important reasons to buy this report?
The report will help in developing business strategies by understanding trends shaping and driving the Sickle Cell Disease market
To understand the future market competition in the Sickle Cell Disease market and Insightful review of the key market drivers and barriers
Organize sales and marketing efforts by identifying the best opportunities for Sickle Cell Disease in the US, Europe (Germany, Spain, Italy, France, and the United Kingdom) and Japan
Identification of strong upcoming players in the market will help in devising strategies that will help in getting ahead of competitors
Organize sales and marketing efforts by identifying the best opportunities for Sickle Cell Disease market
To understand the future market competition in the Sickle Cell Disease market
Media Contact
Company Name: DelveInsight Business Research LLP
Contact Person: Yash Bhardwaj
Email: Send Email
Phone: +919650213330
Address:304 S. Jones Blvd #2432
City: Las Vegas
State: NV
Country: United States
Website: https://www.delveinsight.com/