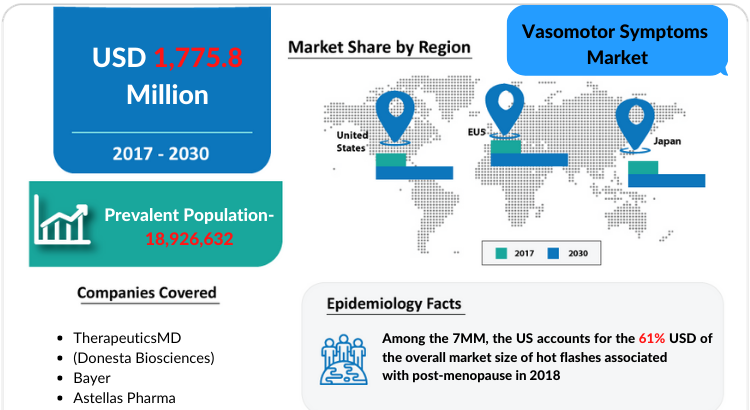 "Vasomotor Symptoms Market" report has been added to DelveInsight
The Vasomotor Symptoms Market report on gives adjusted data which has the mix of the past, current and future information that assists with understanding the Global Vasomotor Symptoms Market better. As such, it is a thorough rundown of the multitude of significant variables that are identified with expanding request development with regards to the market across the world. The report likewise gives subtleties of future prospects which have the most recent patterns that are to be found in the coming a long time in this focused on Vasomotor Symptoms Market
Request for free sample copy of Vasomotor Symptoms Market Report- https://www.delveinsight.com/sample-request/vasomotor-symptoms-market
About Vasomotor Symptoms
Vasomotor symptoms are the most commonly reported menopausal symptoms. These symptoms, often called hot flashes, are characterized by a sudden increase of blood flow, often to the face, neck, and chest that causes the sensation of extreme heat and profuse sweating. When symptoms occur at night they are called "night sweats" and can cause significant sleep disturbances. Episodes of vasomotor symptoms can last 1 to 5 minutes and can be associated with perspiration, flushing, chills, anxiety, and even heart palpitations.
Vasomotor Symptoms Geography Covered
The United States
EU5 (Germany, France, Italy, Spain, and the United Kingdom)
Japan
Vasomotor Symptoms Key Players
Therapeutics MD
Mithra Pharmaceuticals
Bayer
Astellas Pharma
Vasomotor Symptoms Market Report
VMS are a form of temperature dysfunction that occurs due to changes in gonadal hormones. Normally, core body temperature (CBT) remains within a specific range, oscillating with daily circadian rhythms. Physiological processes that conserve and dissipate heat are responsible for maintaining CBT, and tight regulation is important for maintenance of optimal internal organ function. Disruption of this tightly controlled temperature circuit results in exaggerated heat-loss responses and presents as VMS. The mechanistic role related to changes in gonadal hormones associated with VMS is not understood.
Vasomotor Symptoms Treatment Market
Prescription systemic estrogen-containing products remain the therapeutic standard for moderate to severe menopause-related hot flashes. Recommended options for women with concerns or contraindications relating to estrogen-containing treatments include prescription progestogens, venlafaxine, paroxetine, fluoxetine, or gabapentin. Although paroxetine (Paxil) is the only nonhormonal medication approved by the US FDA for this indication.
Vasomotor Symptoms Market: Report Highlights
In the coming years, Vasomotor symptoms (Hot flashes/Night sweats) market is set to change due to the rising awareness of the disease, and incremental healthcare spending across the world; which would expand the size of the market to enable the drug manufacturers to penetrate more into the market.
The companies and academics are working to assess challenges and seek opportunities that could influence Vasomotor symptoms (Hot flashes/Night sweats) R&D. The therapies under development are focused on novel approaches to treat/improve the disease condition.
Major players are involved in developing therapies for Vasomotor symptoms. The launch of emerging therapies will significantly impact the Vasomotor symptoms (Hot flashes/Night sweats) market.
A better understanding of disease pathogenesis will also contribute to the development of novel therapeutics for Vasomotor symptoms.
Our in-depth analysis of the pipeline assets across different stages of development (Phase III and Phase II), different emerging trends, and comparative analysis of pipeline products with detailed clinical profiles, key cross-competition, launch date along with product development activities will support the clients in the decision-making process regarding their therapeutic portfolio by identifying the overall scenario of the research and development activities.
Request for free sample copy of Vasomotor Symptoms Market Report- https://www.delveinsight.com/sample-request/vasomotor-symptoms-market
Following is the Table of content of Vasomotor Symptoms market report
1. Key Insights
2. Vasomotor Symptoms (Hot Flashes/Night Sweats): Market Overview at a Glance
3. Executive summary
4. Organizations
5. Epidemiology and Market Methodology
6. Vasomotor Symptoms (VMS) associated with menopause: Disease Background and Overview
7. Vasomotor Symptoms Epidemiology and Patient Population
8. Total Prevalent cases of Vasomotor Symptoms (Hot Flashes/Night Sweats) in Post-menopause in 7MM
9. Country Wise-Epidemiology of Hot Flashes Associated with Post-menopause
10. Vasomotor Symptoms Treatment Algorithm, Current Treatment, and Medical Practices
11. Unmet Needs
12. Marketed drugs by class
13. Vasomotor Symptoms Emerging Therapies
14. Hot Flashes: 7 Major Market Analysis
15. Seven Major Market Outlook
16. Market Drivers
17. Market Barriers
18. SWOT
19. Case Studies
20. KOL Views
21. Appendix
22. DelveInsight Capabilities
23. Disclaimer
24. About DelveInsight
What are the reasons to buy this report?
The report will help in developing business strategies by understanding trends shaping and driving the Vasomotor symptoms (Hot flashes/Night sweats) market.
To understand the future market competition in the Vasomotor symptoms (Hot flashes/Night sweats) market and Insightful review of the key market drivers and barriers.
Organize sales and marketing efforts by identifying the best opportunities for Vasomotor symptoms (Hot flashes/Night sweats) in the US, Europe (Germany, Spain, Italy, France, and the United Kingdom), and Japan.
Identification of strong upcoming players in the market will help in devising strategies that will help in getting ahead of competitors.
Organize sales and marketing efforts by identifying the best opportunities for Vasomotor symptoms (Hot flashes/Night sweats) market.
To understand the future market competition in the Vasomotor symptoms (Hot flashes/Night sweats) market
Related Reports
Media Contact
Company Name: DelveInsight Business Research LLP
Contact Person: Yash Bhardwaj
Email: Send Email
Phone: +919650213330
Address:304 S. Jones Blvd #2432
City: Las Vegas
State: NV
Country: United States
Website: https://www.delveinsight.com/