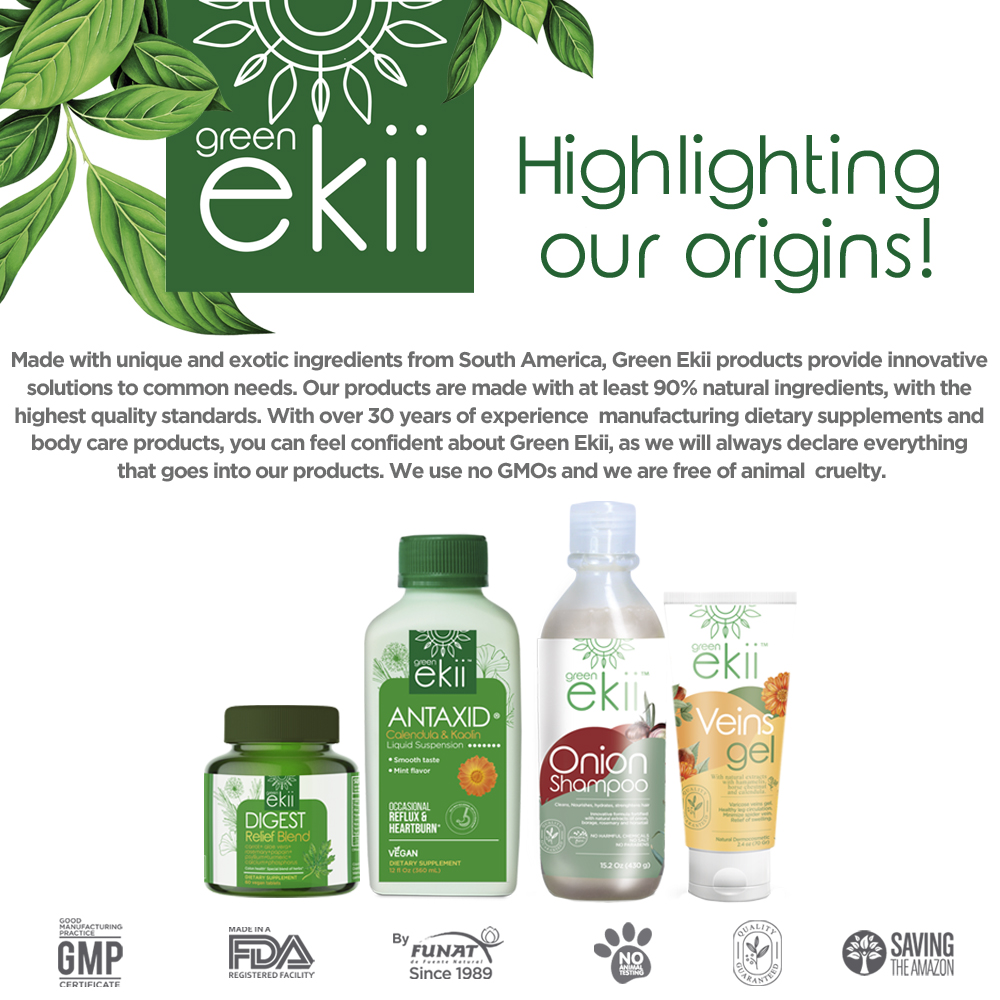 "Green Ekii products stand out for their unique and exotic ingredients, providing innovative solutions to common needs such as cold and flu, varicose veins, skin scars and acid reflux, to name a few."
All of our products are made in Colombia, the second most biodiverse country in the world. We are proud of our origins, that's why our products contain ingredients that are indigenous to this part of the world. Our products are made with at least 90% of natural ingredients, with the highest quality standards. They are all non-GMO, free of animal cruelty and some are vegan compliant.
Green Ekii, dietary supplements and natural cosmetics with new and innovative formulas to treat the most common needs in the United States.
We are proud to present Green Ekii, a brand that uses unique and innovative combinations of natural ingredients to treat the most common problems that Americans face, such as reflux, cold & flu, Irritable Bowel Syndrome (IBS) and varicose veins.
Green Ekii translates to green origin. The word "Ekii" means origin, or source, in Wayu-Arawak, the language of some indigenous communities that live in the Andes mountain range and in the Amazon rainforest of Colombia. For this reason, Green Ekii is a brand that honors the power of nature, respecting our ancestors.
The brand was created by Funat, a company that has been producing natural products for more than 30 years in Colombia, the second most biodiverse country in the world, where some of the most outstanding natural ingredients are found. Our manufacturing facilities are GMP certified and FDA inspected, meeting all standards required by the FDA and Invima, Colombia's local food and drug authority.
Our top products:
Propolis Defense Guard
It is a unique combination with panela, propolis, vitamins A and C, garlic, bee pollen, cashew nuts and mint, which work together to improve the immune system. Safe for everyday use. Sweetened with panela, a unique sweetener made from raw sugar cane over 600 years ago since the arrival of the conquerors in Colombia.
Its combination of propolis, honey and garlic helps reduce the chances of catching cold or flu, as well as reducing the severity of its symptoms. Propolis, considered a superfood, is the beehive's immune system. Cashew nuts are rich in zinc, known to limit the impact of respiratory symptoms.
Antaxid Reflux
According to Euromonitor, indigestion and reflux represent 37% of conditions in the digestive category, being also the most important within dietary supplements, and has been growing over the years due to poor nutritional habits. Antaxid Reflux, our best-selling product for more than 30 years, directly combats this problem with an innovative combination of plants and minerals. Kaolin works to neutralize acid while calendula helps heal stomach tissue, reducing bloating and providing effective relief.
Find it in a liquid suspension to quickly improve symptoms and create a cooling sensation or in chewable tablets, which also include calcium carbonate, a proven ingredient for treating reflux, also with the benefits of calendula and kaolin. No animal origin ingredients, safe for vegans.
Digest Relief Blend:
Intended for use after large meals, Digest Relief Blend combines papaya, papain (papaya enzymes), psyllium, turmeric, carrot and minerals to help reduce bloating and indigestion. Effectively and naturally reduces colon inflammation and irritable bowel syndrome (IBS). It does not worsen the laxative effect because it focuses on relaxing the irritated colon, being an ideal product to regulate bowel movements. No animal origin ingredients, safe for vegans.
Cure gel:
Consumers are always looking for a product that helps heal wounds quickly and in turn improve the healing process. Cure gel provides a natural repair to the skin; acting on scars, cuts, scrapes, burns and minor wounds. Excellent combination of calendula, horse chestnut, aloe vera and onion. Light and innovative formula that acts both on the inside and on the outside of wounds. Calendula reduces inflammation and helps tissue regeneration, Horse Chestnut improves blood circulation, onion disinfects and aloe vera provides a calming effect. This light and fast-absorbing gel is ideal for taking care of yourself and your family.
Veins gel:
It is a powerful combination of Horse Chestnut, Calendula and Hamamelis (witch hazel) for the treatment of varicose veins and spider veins, with a cooling and calming effect. Horse chestnut and calendula improve circulation and reduce inflammation, while witch hazel is unique for potentiating the effect of horse chestnut in reducing the permeability of blood vessels.
Green Ekii is a brand that believes in the power of nature and that contributes for its protection. Currently, we donate a portion of our sales to help the SAVING THE AMAZON foundation, which provides funds to local indigenous communities to plant and grow trees using their ancestral knowledge, while also providing incentives for the care and conservation of forests.
Media Contact
Company Name: Funat LLC
Contact Person: Daniel Insignares
Email: Send Email
Phone: +573184442288
Country: United States
Website: https://localretailpharmacy.com/featured-item/green-ekii/