Dogs are the most loyal friends of human beings and nowadays many families own one dog at least. For a new dog owner, the must-have are including dog food, a comfortable bed, then is the leash. No matter the age or size of the buyer dog, pet walking is essential. Therefore the buyer want to make sure that the leash material is durable certainly, and the buyer want to ensure the connections of the leash to the collar or harness are well organized. And nowadays, people also would like to choose a nice-looking pet accessory as well except reliable. Customized dog leashes and dog collars become more and more popular, as Pretty Shiny's friend deserves the best.
Pretty Shiny Gifts specialize in manufacturing high-grade lanyards, various colors, fitting, size etc. made to order. Pretty Shiny are re passionate about making dog collars & leashes that are as beautiful as they are functional. Pretty Shiny customized dog collars and dog leashes are durable and fashionable, a great ideal pet accessories set can be used for training, walking, control, identification, fashion, promotion gifts or another purpose.
With more than 37 years of pet experience, Pretty Shiny have a wide variety of styles, colors & accessories to choose. Material/finish can be braided imitation nylon series, PP series, heated transfer series, sewing with printing strap series, sewing with fabric strap series, ultra-soft fabric harness series, satin, grosgrain, organza, cotton, reflective band, elastic bungee and more. Personalized logo and text can be finished by silkscreen printing, offset printing, heat transferring the printing and woven, which offer continual advertising exposure to the buyer logo and message. Pretty Shiny pet leash & collars comes in a variety of length & width to ensure the perfect fit. Besides that, various different fittings can be attached, such as jingle bells, adjustable buckles, leather collar, pet id tags or metal charms.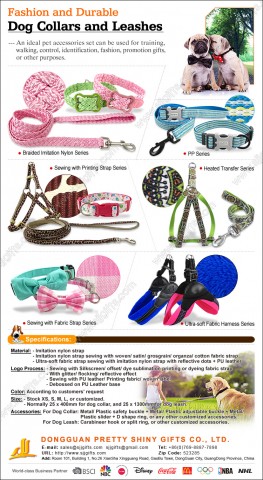 Do the buyer have a logo that the buyer would like a quote on? Pretty Shiny Gifts is always on hand to answer any questions, drop Pretty Shiny an email at sales@sjjgifts.com
Media Contact
Company Name: Dongguan Pretty Shiny Gifts Co., Ltd.
Email: Send Email
Phone: 86-0769-88877898
Country: China
Website: https://www.sjjgifts.com/