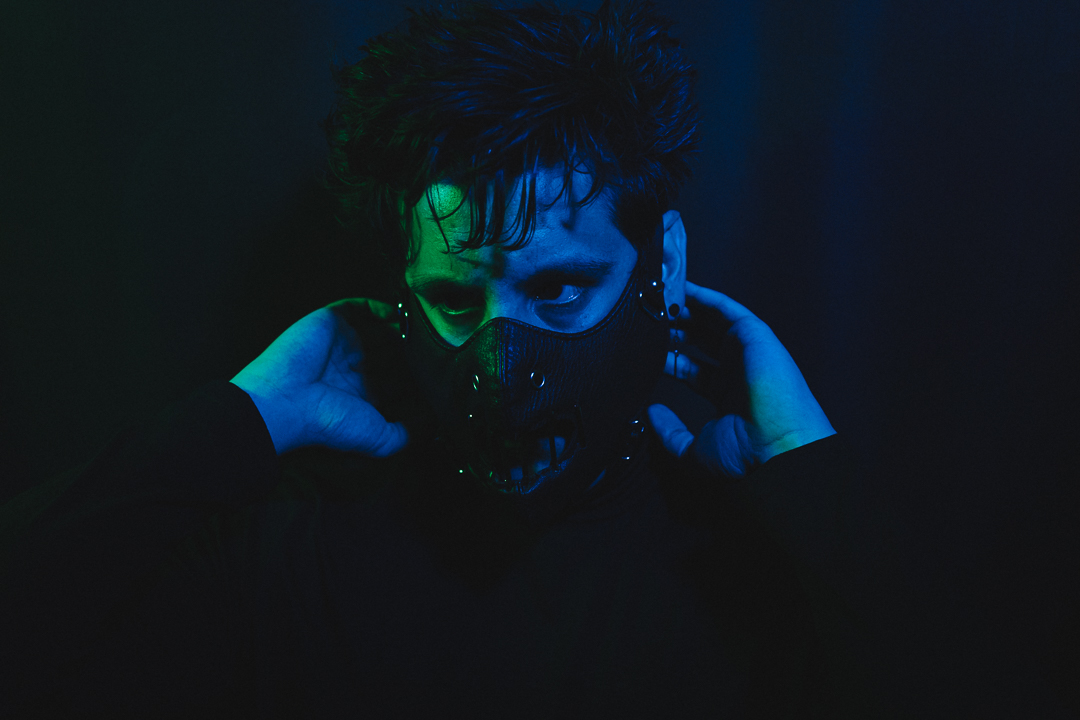 It's tempting to judge Constantine 2:22—Brazilian multi-instrumentalist Julio Mendoza's virtual project—just by its brilliantly satirical debut music video and write the project off as another triumph of style over substance. There's certainly plenty of the former: a Rob Halford-esque COVID mask gleaming with metallic adornments, stage presence that invokes Billy Idol's manic energy and playfulness, and uncanny allusions to pop's recent obsession with 80s synthwave. Mendoza even opens the song dressed in a bright neon tracksuit as Jane Fonda's jazzercise students frolic in the background. But doing so would be to miss the point entirely, as his lyrics paint a picture that is much more somber.
In Mendoza's own words, American Psycho is a commentary on American media culture and how it creates narratives out of every possible source—selling the public both the culture and the counterculture, both the outrage and the solution. "Nothing is off bounds," he says. "Everything is either carefully manufactured or controlled." Inspired partly by fetishized serial killer documentaries and podcasts which, in turn, spawn a new culture of obsession with the macabre, Mendoza wonders if this attention, which we are all so ready to give, sends the wrong message. "Death sells. Outrage sells. What kind of message is this sending out to people who set out to harm others—physically, socially, politically—when the media we consume puts them on a bizarre pedestal?"
Certainly, we are more reliant than ever on our screens. Mendoza points out that our televisions, computers, and especially our phones have become our sole window to reality since March 2020—and he believes that our collective digital exhaustion is no accident. "We are fed new distressing narratives every single day. It's in every news vendor and social media site's interest to vie for our unfaltering attention."
This phenomenon is laid bare for all to see in a music video written, produced, and directed by Asligul Armagan. The Turkish filmmaker's background in narratives about mental health and political documentaries is no happy coincidence, as she brings a solemn sensibility to an otherwise playful concept. Among Mendoza's nostalgic green screen antics are gripping pieces of archival footage that ground the story in harsh realities; not to mention an intro and outro that lay out the narrative arc of a man consumed and overwhelmed by the strobe-like screens he clings to, and, ultimately, rejects.
Fundamentally, Constantine 2:22 is a creative channel for Mendoza, who explains that he would rather take his musings about the world around him and turn them into art; to create a community to feel less alone in this tumultuous time. That's he says unifies his music: not genre, but rebellion—a punk spirit that refuses to be constrained to outdated markers; a playful jab and thoughtful critique against the status quo. When asked why he felt the need to create a persona, Mendoza explains that having a theatrical element to music is essential to him. "The whole is greater than the sum of its parts—take Alice Cooper, take Bowie. We all wear different masks, but live the same lives behind them. The specific has become the universal. All my songs dance the fine line between happiness and sadness, and that's all we can do. We're not shaken, we're not broken, we're still alive."
Bio
Constantine 2:22 is the alternative music project of Brazilian multi-instrumentalist Julio Mendoza who writes, records, performs, and co-produces all of the project's music. Inspired by larger-than-life personas like David Bowie and Alice Cooper, Constantine 2:22 is the creative outlet of a fractured mind; a project which grew out of years of musical expression within multiple genres and was ignited by the limitations and freedoms of an unprecedented pandemic. Behind the iconic mask which has become the most important symbol of our times, Mendoza bends genre and experiments with different sounds, each in an effort to critique its chosen facet of modern society. What results is a punk spirit that refuses to be constrained to outdated markers; a playful jab and thoughtful critique against the status quo.
For more information, visit:
https://constantine222.hearnow.com/
https://instagram.com/iamconstantine222/
https://facebook.com/iamconstantine222
Media Contact
Company Name: Moonlight Music
Contact Person: Edu Corso
Email: Send Email
Country: United States
Website: http://www.constantine222.com/