Video Link: https://www.youtube.com/embed/tpAxuYTU0pc

Buying property in the Grove Resort in Florida is one of the best financial decisions someone will ever make in lifetime. Whether it's a vacation home or commercial property, investing in property is 100% worth it.
The value of property increases over time, especially if it's located in a great location like the Grove Resort in Florida. Therefore, investing in a home today guarantees a high return on investment in the future.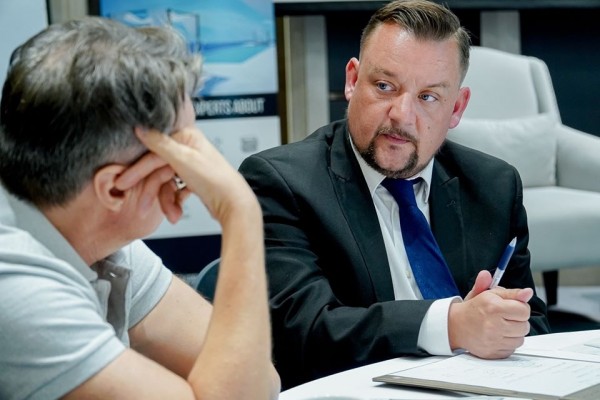 Chris White – The president of ideal homes international
Property prices in Orlando have seen steady growth over the years, and it is expected that they will continue increasing as more and more people gain interest in Orlando's property market. This is the best time to buy a home in the Grove Resort and watch the investment appreciate with time.
Generally, there are many compelling reasons to buy a home in the Grove Resort in Florida. Anyone that is ready to buy property but can't seem to find a good place to buy in, this is the best chance to buy in the Grove Resort in Florida and there'll neverbe any regrets with this decision.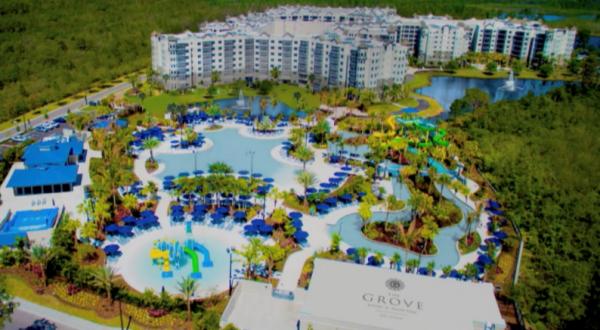 Where is the Grove Resort?
The Grove Resort is located in the Disney West area, just six miles from Walt Disney World Theme Parks. It is a 45-minutes drive from Orlando International Airport and about 10 minutes from Walt Disney World.
Now for the details. Here are ten reasons to buy property in the Grove Resort in Florida:
World-class amenities
The Grove Resort offers the best amenity package, making it a perfect place to buy a home. From fully-equipped residential-style suites and natural adventures to dining establishments and family amenities, the Grove Resort provides all the personal comforts of a home.
The Springs Pool offers three large pools, private cabanas, a large hot tub, and a dining spot in a tranquil setting. There's nothing more fun than soaking in a hot tub in a relaxed setting and thereafter grabbing a favorite snacks and drinks at a nearby full food and beverage service.
Kids can splash into fun at Surfari Water Park which features a FlowRider Double surf simulator, a 695-foot lazy river, dual water slides, and other exciting amenities. Thereafter, they can enjoy delicious foods and drinks at The Springs Bar and Grill.
When it's time for family fun, everyone can proceed to Flip Flop's Family Fun Center where they'll enjoy immersive games that the whole family will love.
If someone is seeking to stay in shape during vacation, the Grove Resort offers world-class fitness centers, jogging paths, and countless activities that will help everyone to stay active.
The Grove Resort has all the modern amenities needed in a neighborhood. From world-class spa services and serene pools to onsite restaurants and fitness centers, it's easy to see why the Grove Resort is a premier destination for thousands of tourists every year.

Perfect location
The Grove Resort sits just six miles from the renowned Walt Disney World and countless other theme parks. It's not only a center of both adventure and tranquility but it's also home to a diverse range of world-class attractions, shopping centers, restaurants, and recreational facilities for kids, teens, and adults.
Moreover, the resort is a 45 minutes drive from Orlando International Airport, so it's a convenient location for anyone who wants to catch a flight.
With the countless things to do at Disney World, the little ones can enjoy magical experiences at all the four theme parks. The parks offer a range of special events for kids and adults throughout the year, so there's always something exciting to do at Disney World at any time of the year.
For adults, there's more to experience in all the theme parks. Apart from discovering enchantment at Magic Kingdom Park, individuals can go wild at Disney's Animal Kingdom theme park and celebrate the beauty of nature.
Considering its convenient location, buying property in the Grove Resort is a good decision. A person will not only be a proud property owner in a prime location in Orlando, but will also enjoy a range of world-class amenities and thrilling outdoor activities.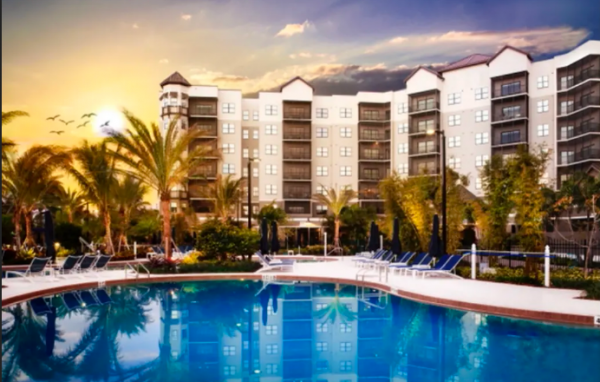 Adventure for the whole family
The Grove Resort offers a wide range of fun activities for everyone. Whether someone wants a peaceful retreat in a serene location, or want to enjoy thrilling activities like watersports, the Grove Resort provides the desired experience.
With Orlando being the theme park capital of the world, the whole family can experience Central Florida's charm and create unforgettable memories. This makes the Grove Resort a perfect place to buy a permanent residence or vacation home. Furthermore, a vacation home can be used to generate rental income when not staying there. There are thousands of visitors looking for vacation rentals in the Grove Resort.
Resort services
The Grove Resort offers 24-hour concierge and bellhop services, giving an unparalleled convenience. These services come in handy for people with busy schedules and anyone who wants to save time. If an assistanceis needed with booking hotels, making a restaurant reservation, or booking transportation, the Grove Resort will facilitate the accomplishment of these tasks.
The Grove Resort also offers indoor and outdoor meeting space for events such as weddings, corporate meetings, private parties, and family reunions. There are state-of-the-art meeting spaces within the Grove Resort with everything needed from on-site catering to audio/video support.
Fully furnished vacation homes
The Grove Resort offers spacious 1, 2, and 3-bedroom suites. The suites come fully furnished with kitchenettes, dinnerware, onsite dining, pool, refrigerator, linens, towels, flat-screen TVs, large closets, full washer/dryer, and more. The fully furnished vacation homes are second to none and the location is ideal.
There's also daily transportation to Walt Disney World making it easier for owners to enjoy a range of fun activities at the theme parks.
The Grove Resort offers everything expected from a world-class vacation home resort. Whoever is looking to buy spacious condominiums in a family-friendly place, look no further than the Grove Resort in Florida.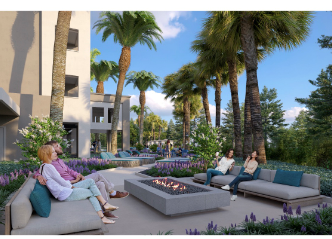 Fun and family
Kids will love all the fun activities they can enjoy at the Grove Resort. The kids' pool & play area features a two-story aquatic jungle gym for kids to have fun. They can also take the plunge down the dueling water slides and ride down the winding 700-foot lazy river while parents pamper themselves at the luxurious Escape Spa.
The Grove Resort is the perfect place for families to have fun at any time of the year.
20-acre activity lake
The Grove Resort is home to Lake Austin which offers a ton of fun activities from paddleboarding to surfing and eating while enjoying the beautiful views of the nature that surrounds the beautiful lake. The lake is home to catfish, sunfish, bass, bluegill, and other types of fish. If someone loves fishing, this is one of the places to spend on weekends doing catch and release fishing.
There's fishing equipment for hire from swan paddle boats to fishing poles and kayaks, so everyone is sure to enjoy fishing at Lake Austin even if they don't have their own fishing equipment.
Foodie hotspot
When it comes to food, the Grove resort has long topped the lists of Orlando's best places to eat and drink. The Grove Resort is home to some of the best lounges, restaurants, and grills with nice specialties.
Valencia Restaurant is a full-service, sit-down restaurant that offers the best Southern European cuisines with traditional continental standards. The restaurant serves breakfast, lunch, and dinner. Breakfast includes a daily al a carte menu with traditional breakfast options like French toast and eggs. Lunch and dinner include salads, sandwiches, and a range of specialties such as Valencia burger, pan-seared salmon, and sirloin steak.
Longboard Bar & Grill is located within the Surfari Water Park and offers burgers, Hawaiian BBQ, craft beer, and specialty cocktails. Everyone can also enjoy specialty cocktails and craft beer while listening to cool music at Element Bar and Lounge.
The Grove Resort is a perfect place for foodies to buy a vacation home and enjoy good food, modern amenities, and adventures.
Secure and hassle-free ownership
The Grove Resort provides a program that allows property owners to rent out their properties when they are not using them. Instead of letting their condominium accrue costs and the're not using it, it makes sense to rent it out and earn money to offset costs. The Grove Resort management makes it possible for property owners to find renters and generate rental income.
Professional management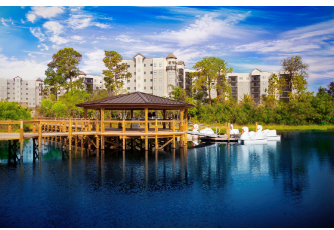 The Grove Resort is managed by a professional hotelier known as Paramount to provide hassle-free vacation and stress-free property ownership. The management is keen to streamline everything to ensure property buyers have the best experience. When they buy property at the Grove Resort, the management will work closely with them to ensure the whole process is smooth.
These are the 10 compelling reasons to buy at the Grove Resort in Florida.
If Someone always had the dream to own a home near Walt Disney World, the Grove Resort offers an opportunity to buy a home at the best price.
Visit their website to find great property deals.
Media Contact
Company Name: Ideal homes international
Contact Person: Chris White – President
Email: Send Email
Phone: +1 (407) 459-9280, +351 289 513 434
Country: United States
Website: https://www.idealhomesinternational.com/ihtv