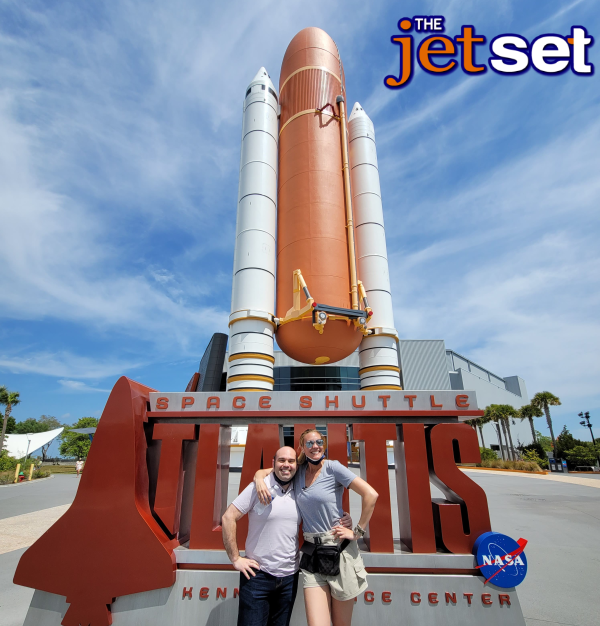 Season 6 of the national travel and lifestyle talk show The Jet Set films in Space Coast, Florida
The Jet Set isn't just ready for the start of their sixth season, but they're also ready to take the show to new heights! The cast and crew of the nationally syndicated travel and lifestyle talk show The Jet Set were on-location at the Kennedy Space Center last week filming segments for an upcoming episode. The show also toured the Brevard Zoo.
In addition to co-hosts Bobby Laurie and Nikki Noya, Jet Set en Espanol host Juan Albarran was also present taping segments to air later this year.
Florida's Space Coast is like no other with over 72 miles of coastline, it's incredibly diverse from north to south and has an adventure for every visitor. Florida's Space Coast is notably the gateway to space. Since the 50's, they've been on the forefront of American space exploration. The Space Coast is home to NASA and the Kennedy Space Center. Companies like SpaceX, Boeing, United Launch Alliance, and Blue Origin also call the Space Coast home and are launching rockets on a monthly basis.
Jet Set en Espanol host Juan Albarran couldn't contain his excitement, sporting a t-shirt featuring an astronaut. "This is amazing!" he said. "I've always wanted to come here. I won't give too much away, but you need to make sure you visit the Atlantis exhibit. The ending will leave you speechless!"
Following the tour of the Kennedy Space Center the crew was spotted at the Brevard Zoo near the giraffes. The Jet Set host Bobby Laurie tweeted: "Just hanging out with my new friend!" and Juan Albarran also posted a photo to social media.
Nikki Noya said of their trip, "we're excited to show our viewers the various attractions in and around Space Coast, Florida. There's so much to see and do, it's a great family destination or one just for a quick getaway with your friends."
The episode featuring Space Coast, Florida will air later this year.
ABOUT THE JET SET
The Jet Set offers viewers a weekly dose of travel news, lifestyle trends and updates, inspiration, interesting and informative guests and destination features shot on-location. The show is hosted by former flight attendant and television travel expert Bobby Laurie along with health and wellness expert and Mom, Nikki Noya. The Jet Set en Espanol is hosted by world traveler and photographer, Juan Albarran.
Media Contact
Company Name: The Jet Set TV Show
Contact Person: Executive Producer
Email: Send Email
Phone: 8889191917
Country: United States
Website: http://thejetset.tv