Alternet Systems, Inc. (OTC Pink: ALYI) stock is having a great start to the week. Better still, gains are adding to a more than 7% increase made last Friday. Investors turned bullish after ALYI confirmed it's on schedule to deliver 2000 of its ReVolt EV motorbikes to the Kenya market later this year. That deal will help the company penetrate the massive African rideshare (boda-boda) market in 2021. Interest in the stock was immediate.
Shares surged more than 19% after a late-day video demonstration of the Retro ReVolt provided a sneak peek of the bike's innovative design features. More importantly, investors embraced the fact that ALYI said it is on track to deliver its potentially game-changing EV motorcycle to market by July. The video, supported by a product update, sent shares soaring and pushed against its first line of resistance at $0.10 per share. The chart indicates that a move through that level could extend gains back toward its high of $0.20 made in February. Beyond a ReVolt production update, several potential near-term catalysts could make that happen.
In fact, with ALYI advancing several value-creating deals, a surge could come sooner rather than later.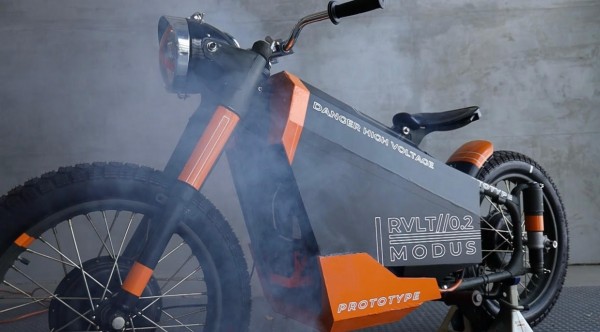 Sneak Peek Of Retro ReVolt
The rally started after investors reacted bullishly to ALYI's video demonstration showing the stylish Retro Revolt Electric Motorcycle in action. That "sneak peek" came during the mid-day trading session on Friday and sent shares higher by 19% before closing at $0.099. Shares closed by pushing against the first resistance level of $0.10 and successfully breached that mark on Monday, taking out chunks of the second level of resistance at $0.11. Charts show that follow-through buying could clear the ceiling for the stock to trade substantially higher, with $0.17 being the next level of congestion. February highs of $0.20 are also in the crosshairs.
Several catalysts are in focus, and the first could be less than four months away. In what could be the revenue-generating turning point for ALYI, it confirmed last week that it is on track to deliver 2000 electric motorcycles to the Kenya market. Not only would delivery be a game-changer for ALYI, but deployment of those bikes into the African motorcycle taxi (boda boda) market could help ALYI establish a leadership role in the region. As noted, ALYI expects to fill that order in July. More bike orders could follow quickly.
In fact, another catalyst is already in play with ALYI expecting to commence production of a 200 unit order for its EV motorcycle. Pre-orders for the bike quickly met its limit, a signal that buyers appreciate the design. The demonstration video confirmed what is already known. The styling of the broad-framed ReVolt is based on the immensely popular BMW R71. It integrates sleek lines, attractive "retro" features, and a battery design expected to substantially increase the electric motorcycle's cruising range. And while the demo video concealed some of the bike's features, what did show is a durable, quick accelerating EV vehicle that fits perfectly within the African boda-boda market ecosystem. In fact, it fits into any market, professional and leisure.
Better yet, from an investment perspective, production and sales of the Retro ReVolt are only a single part of ALYI's mission. The company is also entrenching itself deeper into the EV market by developing a comprehensive EV Ecosystem that can extend its product and services far beyond being only an EV motorcycle manufacturer.
Partnerships To Develop An EV Ecosystem
A partnership with iQSTEL, Inc. (OTC: IQST) is accelerating that mission. Already, the two are advancing new battery designs that could be technological game-changers in the sector. They are integrating HD thin-film technology in one and industrial hemp in another. Both are innovative and could generate more power, storage, and durability than existing EV batteries.
The team is also working on implementing software and communications technology that integrates geolocation, battery management, theft and accident interfacing with EMS, and remote maintenance management. The comprehensive system will support vehicle body and component leasing management, driver and passenger personal mobile interface, and a rideshare interface to benefit an expanding market. That asset could earn substantial demand in the sector, even from competing companies.
Of course, the value-proposition wouldn't be complete without mentioning RevoltTOKEN, the company's financing partner. Recent coverage discusses how RevoltTOKEN can expedite ALYI's growth. The short version is that it is committing to provide upwards of $100 million in partner financing to ALYI for the specific purpose of building its extensive EV ecosystem. The great news is that the RevoltTOKEN is now available to investors who visit the RVLT website. And dollars invested there benefit ALYI.
Undoubtedly, the success of the RVLT token could transform ALYI overnight. It will also make them a serious long-term contender in the massive African markets. Following a "soft" launch of the token in March, RevoltTOKEN said last week that sales are "picking up steam."
Being that sales of RevoltTOKEN translate to money in the bank for ALYI, investors should watch for news on that asset's sales growth.
Year To Date Gain Of 645%
Obviously, investors are liking what they see. Since the start of the year, ALYI shares are currently higher by more than 645%. And the updates, videos included, show that ALYI is closer to delivering on its first of several potential near-term catalysts. Moreover, the value from its deals with IQSTEL, Inc. to create innovative battery designs and plans to host a global EV Symposium to showcase everything EV could contribute to likely gains from a production update. Better yet, while the prospects are good now, they are likely to get better in the coming quarters.
Thus, at $0.08 per share and with at least three near-term catalysts in play, ALYI could be a massive bargain at these levels. Moreover, the stock is bumping against its resistance and chewing up shares at the $0.10 level on heavy volume. Therefore, while longer-term investors enjoy enormous YTD gains, new shareholders could be treated to a more than 100% move if the markets firm. Keep in mind, ALYI is in the EV sector, and it does tend to follow in sympathy with other stocks in the industry. A 3-month comparison chart of Tesla (TSLA) shows the correlation.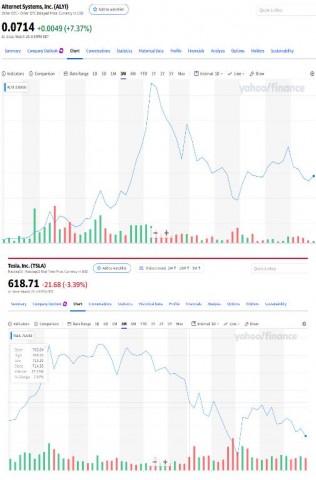 Investors have been bullish, and they should be. ALYI is positioned to deliver a powerful catalyst in June with ReVolt production. However, additional ones shouldn't be far behind, with investment updates from RevoltTOKEN, development progress on its EV ecosystem buildout, and technical advances made through its partnerships all in play during the first half of 2021.
Thus, getting ahead on this trade may be wise.
Media Contact
Company Name: Hawk Point Media
Contact Person: KL Feigeles
Email: Send Email
City: Miami Beach
State: Florida
Country: United States
Website: https://www.greenlightstocks.com