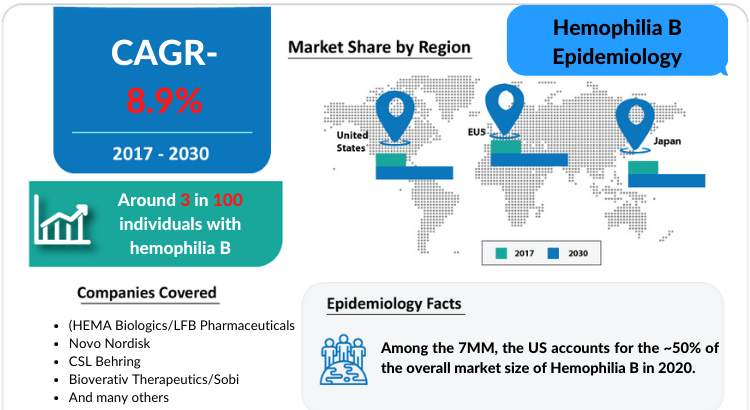 "Hemophilia B Epidemiology" has been added to DelveInsight
Overview of Hemophilia B Epidemiology, pathophysiology, various diagnostic approaches, and treatment algorithm, including detailed chapters for marketed products and emerging therapies
Request free sample copy here- https://www.delveinsight.com/sample-request/hemophilia-b-epidemiology-forecast
Important facts of Hemophilia B Epidemiology Report
The total prevalent population of Hemophilia B in the 7MM in 2020 was 10,739 and expected to rise by 2030, during the study period [2018–2030].
Moderate and severe accounts for ~75% of the Hemophilia B patient pool. In the 7MM, there were around 8,054 moderate and severe Hemophilia B cases in 2020.
According to DelveInsight's analysis, the highest prevalent population of Hemophilia B is in the United States with 4,134 cases in 2020.
Inhibitors occur in approximately 5% of patients with hemophilia B which is undoubtedly the most difficult complication of hemophilia therapy.
Hemophilia B Epidemiology Cause
The primary cause behind this disorder is a mutation or change, in Factor IX gene, that provides instructions for making the clotting factor proteins. On the X chromosome, the hemophilia mutation is located, meaning mothers pass this genetic defect on to their children; therefore it is called X-linked inheritance.
Hemophilia B Treatment
The most common treatment for hemophilia B is called Replacement therapy. Concentrates of clotting factor IX are the foundation of this treatment and are administered as an infusion. BeneFIX, Rixubis, Ixinity, Alprolix, Idelvion, and Rebinyn are the some available recombinant factor IX products in the US. Plasma-Derived Factor IX Concentrates and Fresh Frozen Plasma is also used for the treatment.
Hemophilia B Epidemiology Segmentation
Total Diagnosed Prevalent Pool of Hemophilia B [2018–2030]
Prevalent population of Hemophilia B with or without Inhibitors [2018–2030]
Severity-specific Prevalent Pool of Hemophilia B [2018–2030]
Treated Prevalent Pool of Hemophilia B [2018–2030]
Hemophilia B Epidemiology: Report Scope
The Hemophilia B report covers a detailed overview explaining its causes, symptoms, and classification, pathophysiology, diagnosis and treatment patterns
The Hemophilia B Epidemiology Report and Model provide an overview of the risk factors and global trends of Hemophilia B in the seven major markets (7MM:US, France, Germany, Italy, Spain, UK, and Japan)
The report provides insight about the historical and forecasted patient pool of Hemophilia B in seven major markets covering the United States, EU5 (Germany, Spain, France, Italy, UK), and Japan
The report helps to recognize the growth opportunities in the 7MM with respect to the patient population
The report assesses the disease risk and burden and highlights the unmet needs of Hemophilia B
The report provides the segmentation of the Hemophilia B epidemiology
Following is the table of content of Hemophilia B report
1. Key Insights
2. Executive Summary of Hemophilia B
3. Hemophilia B: Disease Background and Overview
4. Patient Journey
5. Epidemiology and Patient Population
5.5. EU-5 Country-wise Epidemiology
6. Treatment Algorithm, Current Treatment, and Medical Practices
7. KOL Views
8. Unmet Needs
9. Appendix
10. DelveInsight Capabilities
11. Disclaimer
12. About DelveInsight
Hemophilia B Epidemiology: Reasons to buy
The Hemophilia B Epidemiology report will allow the user to –
Develop business strategies by understanding the trends shaping and driving the global Hemophilia B market
Quantify patient populations in the global Hemophilia B market to improve product design, pricing, and launch plans
Organize sales and marketing efforts by identifying the age groups and sex that present the best opportunities for Hemophilia B therapeutics in each of the markets covered
Understand the magnitude of Hemophilia B population by its epidemiology
The Hemophilia B Epidemiology Model developed by DelveInsight is easy to navigate, interactive with dashboards, and epidemiology based with transparent and consistent methodologies. Moreover, the model supports data presented in the report and showcases disease trends over 11-year forecast period using reputable sources
Related Reports
Media Contact
Company Name: DelveInsight Business Research LLP
Contact Person: Yash Bhardwaj
Email: Send Email
Phone: +919650213330
Address:304 S. Jones Blvd #2432
City: Las Vegas
State: NV
Country: United States
Website: https://www.delveinsight.com/