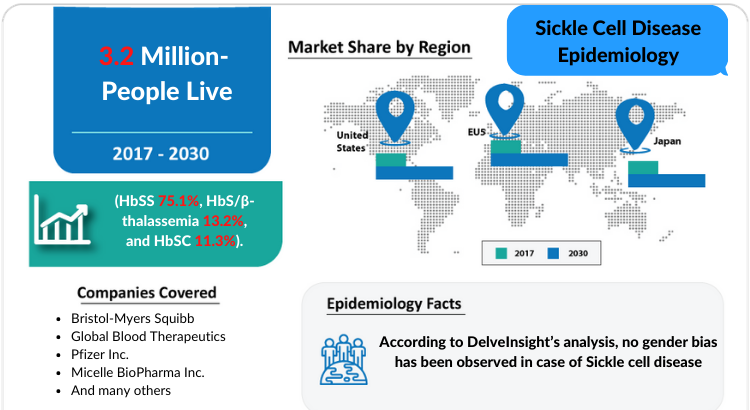 "Sickle Cell Disease Epidemiology" has been added to DelveInsight
Overview of Sickle Cell Disease epidemiology, pathophysiology, various diagnostic approaches, and treatment algorithm, including detailed chapters for marketed products and emerging therapies
Request free sample copy here- https://www.delveinsight.com/sample-request/sickle-cell-disease-epidemiology-forecast
Important facts of Sickle Cell Disease report
As per a study by Wastnedge et al. (2018), the global meta-estimate for the birth prevalence of homozygous sickle cell disease was 111.91 per 100 ,000 live births and that for heterozygous sickle cell disease was 4229.72 per 100 ,000, and it was least in Europe, i.e., 803.57 per 100,000 live births.
A study published by Kato et al. (2018), titled "Sickle cell disease" quoted that demographical projections estimate that the annual number of newborn babies with SCD worldwide will exceed 400,000 by 2050.
A study titled "Pathophysiology of Sickle Cell Disease", (2018), quoted that according to the systematic analysis of the Global Burden of Disease Study, 3.2 million people live with SCD, 43 million people have sickle cell trait (i.e., are carriers of the mutation), and 176,000 people die of SCD related complications per year.
Sickle Cell Disease Treatment
The current therapies used to prevent the complications of the disease vary in their effectiveness and are associated with serious risks and tolerability issues. Besides this, SCD presents with large unmet medical needs, with no disease-modifying treatment. New approaches for treating SCD, including new medications, advances in transplantation, and gene therapies are being explored These therapies are expected to drive the SCD treatment market during the forecast period (2021-2030)
Sickle Cell Disease Epidemiology Segmentation
Total Prevalent Cases of SCD trait in EU5 countries [2018–2030]
Clinical manifestations of SCD in EU5 countries [2018–2030]
Total Prevalent Cases of SCD in EU5 countries [2018–2030]
Type-specific prevalent cases of SCD in EU5 countries [2018–2030]
Diagnosed and Treatable Cases of SCD in the EU5 countries [2018–2030]
Sickle Cell Disease Epidemiology: Report Scope
The Sickle Cell Disease report covers a detailed overview explaining its causes, symptoms, classification, pathophysiology, diagnosis and treatment patterns
The Sickle Cell Disease Epidemiology Report and Model provide an overview of the risk factors and global trends of Sickle Cell Disease in the seven major markets (7MM:US, France, Germany, Italy, Spain, UK, and Japan)
The report provides insight about the historical and forecasted patient pool of Sickle Cell Disease in seven major markets covering the United States, EU5 (Germany, Spain, France, Italy, UK), and Japan
The report helps to recognize the growth opportunities in the 7MM with respect to the patient population
The report assesses the disease risk and burden and highlights the unmet needs of Sickle Cell Disease
The report provides the segmentation of the Sickle Cell Disease epidemiology
Following is the table of content of Sickle Cell Disease Report
1. Key Insights
2. Executive Summary of Sickle Cell Disease
3. Sickle Cell Disease: Disease Background and Overview
4. Patient Journey
5. Epidemiology and Patient Population
6. Treatment Algorithm, Current Treatment, and Medical Practices
7. KOL Views
8. Unmet Needs
9. Appendix
10. DelveInsight Capabilities
11. Disclaimer
12. About DelveInsight
Sickle cell disease epidemiology: Reasons to buy
Develop business strategies by understanding the trends shaping and driving the global Sickle Cell Disease market
Quantify patient populations in the global Sickle Cell Disease market to improve product design, pricing, and launch plans
Organize sales and marketing efforts by identifying the age groups and sex that present the best opportunities for Sickle Cell Disease therapeutics in each of the markets covered
Understand the magnitude of Sickle Cell Disease population by its epidemiology
The Sickle Cell Disease Epidemiology Model developed by DelveInsight is easy to navigate, interactive with dashboards, and epidemiology based with transparent and consistent methodologies. Moreover, the model supports data presented in the report and showcases disease trends over 11-year forecast period using reputable sources
Related Reports
Media Contact
Company Name: DelveInsight Business Research LLP
Contact Person: Yash Bhardwaj
Email: Send Email
Phone: +919650213330
Address:304 S. Jones Blvd #2432
City: Las Vegas
State: NV
Country: United States
Website: https://www.delveinsight.com/