PTFE convoluted hoses is used for stainless steel hose, so that the service life of the hose is longer than rubber hose or rubber wrapped in stainless steel. It has many advantages over rubber products.
Benefits of using PTFE
Nylon braided hose-PTFE-helps prevent gas odors from penetrating the hose itself and allows odors in one's store or garage. This type of hose resists all types of liquids and chemicals, including gas, ethanol, transmission fluid, brake fluid, power steering fluid, and antifreeze. Rubber is not as resistant to these liquids as polytetrafluoroethylene, because chemicals tend to damage rubber.
In addition, PTFE has a higher temperature tolerance than rubber. Therefore, if the engine overheats, have less chance of heat damaging the hose. In addition to the higher heat resistance of PTFE, it also has a higher pressure rating than rubber. Therefore, if one of the systems, such as a cooling system or a power steering failure, causes more pressure than it should, there will be less chance of blowing out the PTFE hose. The pressure of AN6 can reach 2500psi.
Finally, if one is buying a nylon braided or stainless steel hose with PTFE instead of rubber, the new hose will give the engine a more professional look.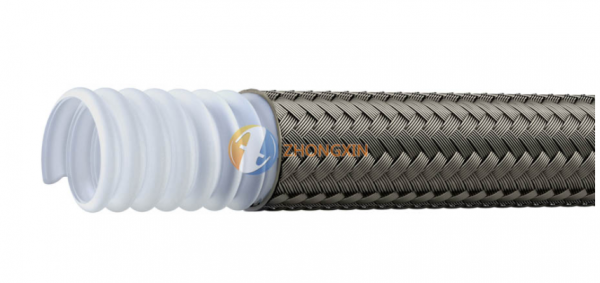 1. The braided PTFE hose is strong and durable.
It is different from other hoses on the market because the braided stainless steel reinforced hose tube gives extra strength.
2. Braided PTFE hose has good performance under high pressure.
Very good! In fact, PTFE braided hoses perform under high pressure more than most other hoses.
3. Braided PTFE hose is extremely high-temperature resistant.
When the hose is exposed to extreme weather conditions, PTFE braided hose is a good choice.
4. The PTFE braided hose is resistant to almost all common chemicals on the market today.
The only known chemicals that can destroy PTFE are molten alkali metals and halogenated chemicals, making braided PTFE hose ideal for various manufacturing surroundings. There are still some that need to be considered at high temperatures. For more information, please visit our Chemical Compatibility Matrix.
5. Braided PTFE hose is suitable for food and beverage production.
These hoses will not be damaged by prolonged exposure to moisture. In addition, contact with PTFE will not increase the smell, taste or color of any chemical substances, thus obtaining the US Food and Drug Administration (FDA) approval seal for food contact.
6. Braided PTFE hose provides additional fire safety.
PTFE braided hose assemblies are proven to be safe because they provide fire protection and are therefore often used in fire extinguisher systems and pressure gauge circuits. The hose can also be further protected from high-temperature environments with a stainless steel braided heat jacket.
7. Braided PTFE hose is very flexible.
The reinforcement of the stainless steel braid allows the hose to be used during movement and vibration while maintaining its durability. The hose can be bent significantly, depending on the size and overall structure: smooth holes, twists and turns, or outer cover/s. For information on the minimum bending radius, please refer to our hose product specifications.
8. Braided PTFE hose provides unparalleled cleaning
Since the compounds in the PTFE braided hose are almost completely anti-adhesive, they can resist the damage of the chemicals it transports
Types of braided PTFE hose
SMOOTH BORE PTFE HOSE
Smoothbore is available with a single or double 304 stainless steel braid.
There is a choice of standard wall or medium wall or heavy wall which is more suitable for general purposes.
The anti-static smooth bore is also available along with a range of protective coverings, nylon, PVC, silicone and etc.
All our hose assemblies are available with a wide range of crimped end connections.
Bore sizes range from 1/8'' to 1'' nb.
Convoluted PTFE hose gives excellent flexibility, available with 304 stainless steel or a polymer braid, also supplied anti-static version.
As with smoothbore, convoluted hose assemblies are available with a wide range of end connections. Bore sizes range from 3/8'' to 2'' nb.
Convoluted PTFE hose is resistant to full vacuum up to 1'' nb up to 130 degrees centigrade with a stainless steel braid.
SMOOTH BORE INNER & CONVOLUTED OUTER PTFE HOSE
This kind of hose is unlike any other PTFE hose currently available. The liner has a smooth bore but convoluted on the outer lining, to combine the ease of assembly and high flow rate of smooth bore with the flexibility and kink resistance of a convoluted hose in one product.
Available with 304 stainless steel or an Aramid braid as well as 304 stainless steel helical wire.
An anti-static version is also available.
Bore sizes range from 1/4 to 1''nb.
Huizhou Zhongxin Besteflon Industrial Co., Ltd. is a professional
convoluted PTFE hose manufacturer
.
Media Contact
Company Name: Huizhou Zhongxin Besteflon Industrial Co., Ltd.
Email: Send Email
Phone: 0086 752 7778 829
Country: China
Website: https://www.besteflon.com/