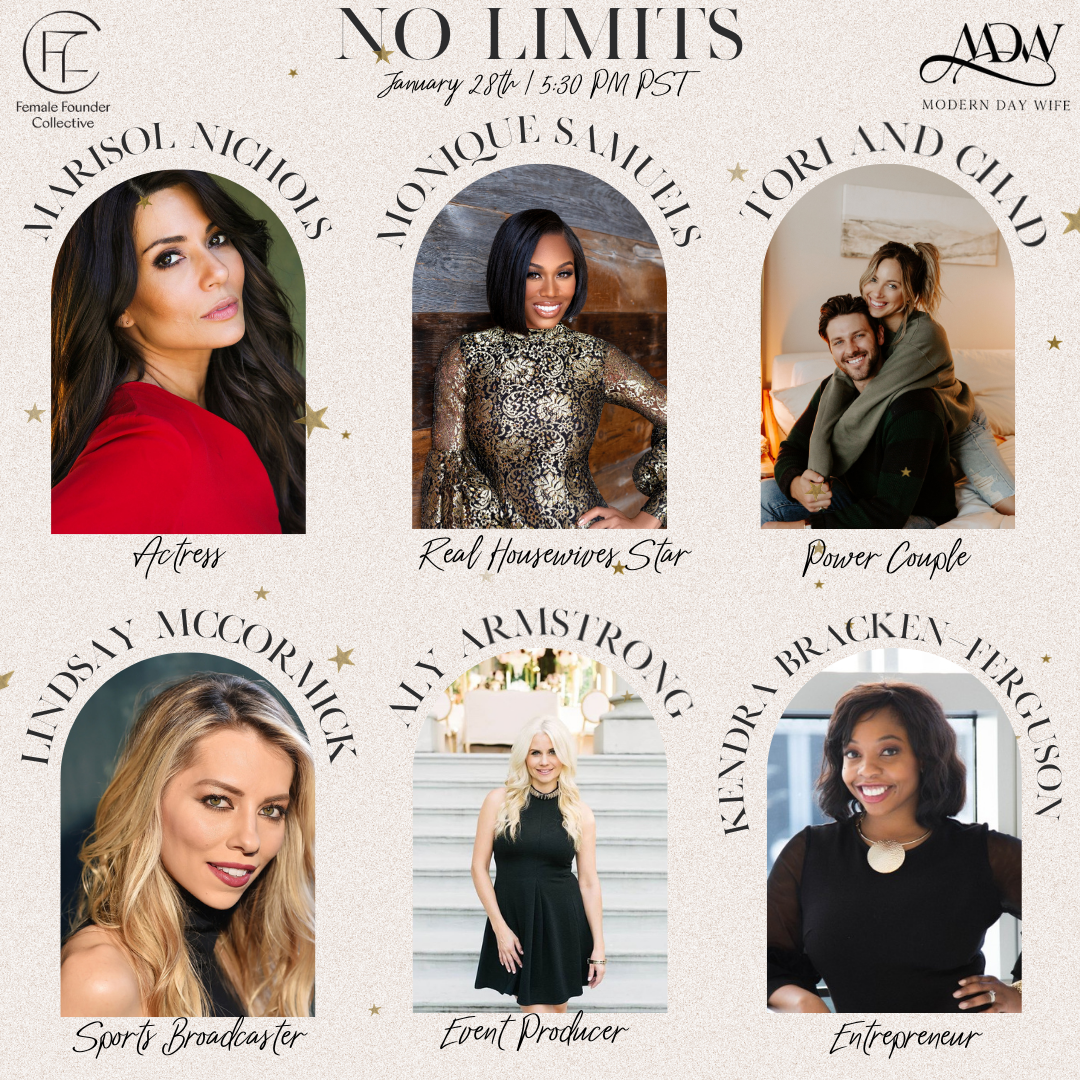 LOS ANGELES, CA – Apr 12, 2021 – On January 28th, Modern Day Wife and The Female Founder Collective hosted their first event of 2021 "No Limits," through the Hopin virtual event platform. The online event boasted a schedule with powerhouse speakers Marisol Nichols (Riverdale, 24), Monique Samuels (Real Housewives of Potomac), Rebecca Minkoff and Ali Koplar Wyatt (Co-Founders of The Female Founder Collective), Kendra Bracken-Ferguson (Entrepreneur), Tori and Chad Masters (Featured Power Couple), Lindsay McCormick (Sports Broadcaster), and Aly Armstrong (Actress, Event Planner).
LA-based DJ Complex Lex kicked off the event followed by pre-show sponsors Oh Snap Photobooth Co., Blended for You, One Hope, and At Your Table. The event proceeded from segment to segment with sponsors Wish Dry Bar (Hair Segment), Daub & Design (Apparel Segment), Somavedic and Beyond the Hot Room (Wellness Segment), and Watchgang (The Modern Day Man). The celebrity panel spoke about topics on: "Keeping it all Together," "Total Confidence – Owning the Room," "Getting Shit Done," and "Building your Brand".
"Keep going. This is the decade of women!" – Marisol Nichols
A portion of all ticket sales was donated to Marisol Nichol's charity Foundation for a Slavery Free World. Their mission is to uphold and instill in others the inalienable rights guaranteed by the UN Declaration of Human Rights, focusing on Article 4 that states, "No one shall be held in slavery or servitude; slavery and the slave trade shall be prohibited in all their form."
ABOUT MODERN DAY WIFE
Modern Day Wife is a growing brand that began in Canada and has now spread throughout the US. We have created a space for women, no matter what stage they are at, to be able to connect and find information that assists with not just their career, but their family life, social life, and relationships. Through our events and resources, women learn from one another and help each other to reach even greater heights in their lives.
Media Contact
Company Name: Modern Day Wife
Contact Person: Meghan Fialkoff
Email: Send Email
Phone: 5166377645
Address:451 Nolan Ave
State: TX – Texas
Country: United States
Website: https://themoderndaywife.com/