Innovative photography equipment dealer Pixco announces new LED ring light that comes with sound card for changing and beautifying sound and delivering professional live broadcast with excellent audio
Pixco, a brand committed to providing innovative photographic equipment, announces its new product, the Pixco RL-495S 18″ LED Ring Light Built-in Live Sound Card. The product is for vloggers, YouTubers, internet celebrities, content creators, and influencers to broadcast high-quality professional content on any platform.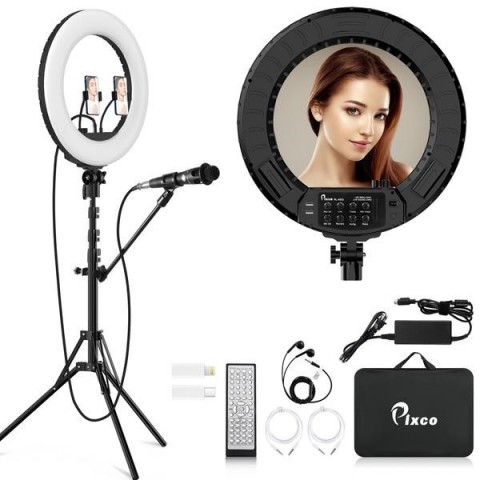 What makes the product unique and better than the competition is the soundcard that gives users the flexibility to change sound and create excellent audio quality and standard.
The 18-inch ring light also comes with a light stand and features a built-in live sound card with stand kit, bi-color temperature and brightness adjustment, and remote control and phone holder.
It comes inside a carrying bag that makes it suitable for both indoor and outdoor use. Content creators now have very functional photography and video equipment, with two power supply options, stands for two phones, and device mounts suitable for traveling.
Professional content creators need simple photography equipment that is easy to set up and operate, allowing them to create high-quality live broadcasts anytime and anywhere. However, most light rings on the market don't have all the features needed to create quality content. Many of them focus more on lighting, beauty, and appearance, forgetting that audio is also essential. That's why this product by Pixco is unique.
The Pixco RL-495S 18″ LED Ring Light has an MC mode that eliminates distracting and annoying background noise to generate quality and clear sound. Users can choose different kinds of modes depending on the type of content they're broadcasting. They can also choose from various inflections like male, female, or baby voices to add amazing effects to their production.
With the 18 inch Ring Light with 480 pcs LED beads, users can comfortably achieve quality pet, products, and human photography, as well as video production. Use the remote control to adjust color, change sound, and do more with ease.
Pixco RL-495S 18″ LED Ring Light is compatible with most mobile phones, computers, and live stream platforms and applications. Use two mobiles, one for main and the other as slave, to get professional video and audio output.
To purchase the light stand, please visit here.
About Pixco
Pixco is a photography equipment production company founded by Foshan Lecheng Photographic Equipment Co,.Ltd. The company is committed to designing, making, and distributing innovative photography devices that make life and work more comfortable for content creators, singers, media workers, and internet celebrities.
Media Contact
Company Name: Foshan Lecheng Photographic Equipment Co,.Ltd
Contact Person: Media Relations
Email: Send Email
Phone: +86-757-81091244
Country: China
Website: https://pixco.com.cn/