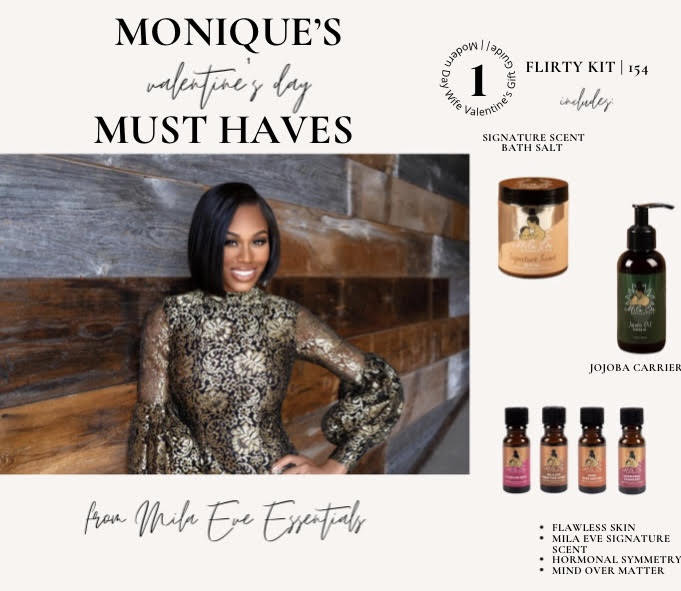 LOS ANGELES, CA – Apr 13, 2021 – On January 31st, Modern Day Wife launched its Valentine's Day Gift Guide featuring Monique Samuel's (Real Housewives of Potomac) Valentine's Day Must-Haves (pgs. 2-3).
Their gift guide has a range of categories from "Beauty Needs," "Gifts for the Modern Day Man," to "Fitness Goals" – and everything in between.
They are firm believers in supporting small businesses and so curated a plethora of small business brands for the guide including LA-based Beyond the Hot Room and Barre Essentials, and Canada-based Malvados, Poppy and Peonies, Taurus and Leo, and others.
Monique's must-haves include her favorites from her Mila Eve Essentials line, which are high-quality, pure, therapeutic essential oils, with no synthetic chemicals or preservatives.
They are non-GMO, gluten-free, cruelty-free, with 0% parabens, and are eco-friendly. Her picks are directly related to sprucing up a Valentines' Day experience.
The catalog is live on https://issuu.com/themoderndaywife/docs/valentine_s_day_gift_guide with clickable pages so viewers can immediately support the featured brands by purchasing the items.
Media Contact
Company Name: Modern Day Wife
Contact Person: Meghan Fialkoff
Email: Send Email
Phone: 5166377645
Address:451 Nolan Ave
State: Texas
Country: United States
Website: https://themoderndaywife.com/