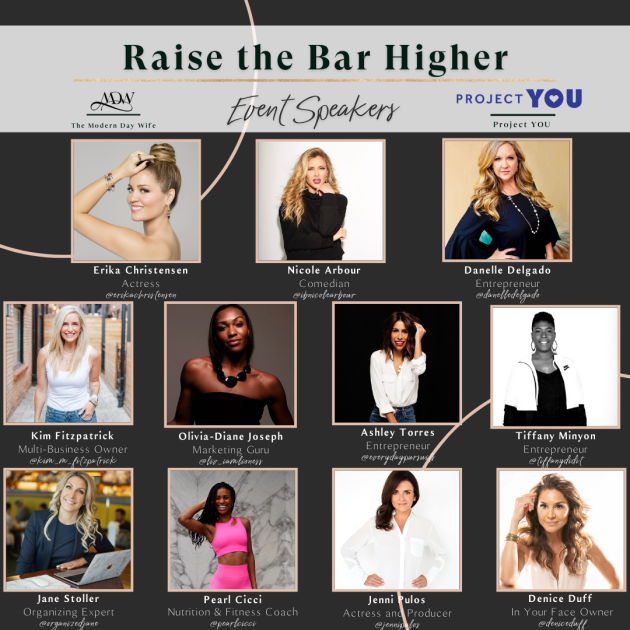 LOS ANGELES, CA – Apr 13, 2021 – On October 27th, The Modern Day Wife along with Project YOU hosted its second virtual event in the "Think Outside the Box" speaker series – "Raise the Bar, Level Up Your Lifestyle." To the women who are doing it all, we want to help you take specific areas of your life from hot mess to organized and thriving.
The digital event featured the following 20 Minute How-To Segments from expert speakers:
• Balancing Family & Workplace Schedule – Jenni Pulos
• How to Wear a Leadership Role in all Areas of your Life – Ashley Torres
• Marketing 101 – Olivia-Diane Joseph
• Organizing your Finances – Jane Stoller
• Being an Influencer online and life — How to Monetize Social Media – Nicole Arbour & Danelle Delgado
• Morning Mindset Success Routine – Kim Fitzpatrick
The event was opened by LA-based DJ Complex Lex and was followed by sponsors of the event including Tailwind App, Elate Cosmetics, Pudus and Chickadee Boutique, Axis Hair Salon, Four Sigmatic Coffee, Kitsch Wines, Granola Girl, Pyur Vodka Soda, and In Your Face Skincare (Denice Duff).
BACKGROUND
Modern Day Wife is a growing brand that began in Canada and has now spread throughout the US. Our mission is to educate, empower, bring together women who are learning to do it all — being a career woman, wife, mother, friend. The "Think Outside the Box" series featured speakers who have proven results in handling their careers and who are not just juggling, but are thriving in this capacity, along with their role as mothers.
Media Contact
Company Name: Modern Day Wife
Contact Person: Meghan Fialkoff
Email: Send Email
Phone: 5166377645
Address:451 Nolan Ave
State: Texas
Country: United States
Website: https://themoderndaywife.com/