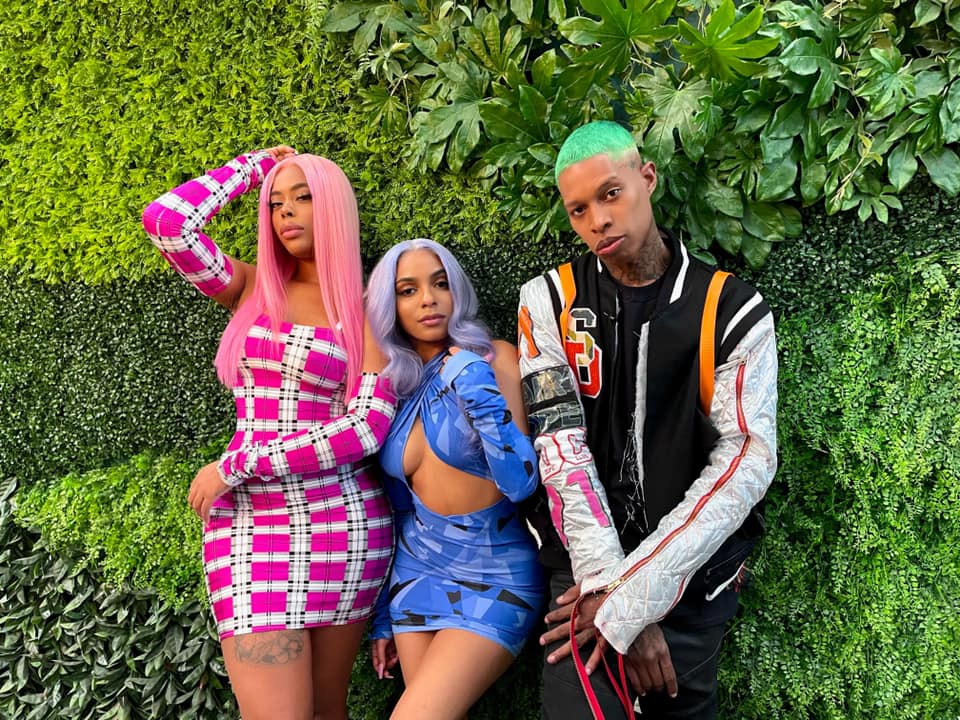 "As a stylist, I know hair can be the accessory that makes any outfit over the top. I want to encourage people to be one of a kind, unique, Dope. HAIR DOPE is meant to do just that. It gives people the freedom to experiment and push their look to the next level.
– SuperDope Q"
SuperDope Q and Cre8or Global Partner to Launch Trendy Temporary and Semi-Permanent Hair Color, Available Exclusively on FanVestor.com
Celebrity stylist, artist, and entrepreneur, known as one of the stars in VH1's Black Ink Crew SuperDope Q will launch his new hair color line "HAIR DOPE" on April 15, 2021 at 11:00 AM PST/2:00 PM EST during a live virtual press conference, moderated by Jezlan Moyet, host of The FanVestor Report.
SuperDope Q, BrainTrust, a brand development and digital marketing consultancy, and Cre8or Global, a disruptive blended digital technology and manufacturing platform in the beauty, health, wellness space, collaborated on the product line's creation and formulation.
"As Q's brand management partners, we wanted to build a brand around his unique vision and perspective while also playing to his love of fashion and beauty as a stylist and artist. Through our proprietary Influencer Data Mapping™ tool, we leveraged technology and market white space to ultimately work with Q to create the concept for HAIR DOPE," shares BrainTrust founder Kendra Bracken-Ferguson.
"As a stylist, I know hair can be the accessory that makes any outfit over the top. I want to encourage people to be one of a kind, unique, Dope," comments SuperDope Q. "HAIR DOPE is meant to do just that. It gives people the freedom to experiment and push their look to the next level."
Quinton Maurice, better known by his fans and followers as SuperDope Q, is a celebrity stylist, artist, entrepreneur, and television superstar. The quadruple threat is known for styling some of entertainment's most iconic and influential figures including Keke Palmer, YFN Lucci, Jaquees, Mulatto, and the Migos. On the constant move between Atlanta and New York City, he is a native of Milwaukee, where his love for fashion and music originated.
"The ideation and launch of Hair Dope are a great example of how Cre8or Global is able to customize and develop a complete product line that is a perfect match to Q's personality and colorful celebrity brand," adds co-founder Cre8or Global David Feuerstein.
With Hair Dope, one's hair is literally one's canvas. The line features colorful dyes that are water-based with no ammonia and last for several washes.
Offering a new way for fans to connect and interact with their favorite entertainment and sports stars, all-in-one securities crowdfunding platform FanVestor will host an exclusive SuperDope Q microsite on FanVestor.com. At launch, Q's fans will be the first to have the opportunity to purchase the Hair Dope line, and such perks as limited-edition branded merchandise, and once in a lifetime experiences with the entrepreneurial star.
"The launch of Hair Dope clearly demonstrates how this new platform supports the diverse universe of celebrities to easily connect to their fan bases as they launch new products and businesses," comments FanVestor COO Larry Namer.
What: Live Zoom Press Conference: "Product Launch: HAIR DOPE by SuperDope Q"
Who: SuperDope Q, Moderator Jezlan Moyet
When: April 15, 2021 11 AM PST/2:00 PM EST
Register at: https://www.eventbrite.com/e/live-press-conference-product-launch-hair-dope-by-super-dope-q-registration-150113719175
Please send media questions in advance to nicolekultura@gmail.com
*product samples available to select media and influencers upon request.
About BrainTrust
BrainTrust is a brand management and digital marketing consultancy focused on building transformative brands of the future. Over the last 6 years, BrainTrust has partnered with over 100 brands to help launch, grow or accelerate their online and off-line presence.
About Cre8or Global
Cre8or Global is a disruptive blended digital technology and manufacturing platform focused on creating and building talent-led indie brands and products across the beauty, health, and wellness space.
About FanVestor
FanVestor.com offers an all-in-one securities crowdfunding (through FanVestor CF), commerce, auction (Q2 2021), and charity sweepstakes platform designed specifically to support the multitude ventures of celebrities. Founded by Michael Golomb, an innovator in the world of business and fintech, FanVestor's robust technology platform will allow athletes, media and music celebrities, fashion icons, and artists to leverage their influence by offering their fans an opportunity to participate in their latest projects or charitable initiatives. The company's leadership team and Board of Directors is highlighted by E! founder Larry Namer as the company's COO, former News Corp. executive Marty Pompadur, former President of Korea Telecom, Yung Kim, and Marvin Liao, former head of 500 StartUps Accelerator, along with several other successful executives. For more information on FanVestor's Reg A+ offering, visit investor.fanvestor.com.
Securities offered through FanVestor LLC funding portal, Member FINRA, 2055 Lombard St. #470217 San Francisco, CA 94147. Securities offered pursuant to SEC Regulation CF. Reg D and Reg A+ securities offerings are conducted through the Dalmore Group LLC, Member FINRA, SPIC. This material does not constitute an offer to sell nor a solicitation of an offer to buy any security. All investments involve risk including the potential for loss of principal invested and illiquidity. Investors are responsible for preforming their own due diligence and ensuring investments meet their level of risk tolerance, investment objectives and level investment of knowledge.
#crowdfunding #fintech #haircolor #fashionforward #celebritybrand
Media Contact
Company Name: Kultura PR
Contact Person: Nicole Goesseringer
Email: Send Email
Phone: 310-804-0964
Address:13603 Marina Pointe Dr A315
City: Marina Del Rey
State: California
Country: United States
Website: www.kulturapr.com